DARRAGHGIRL DOES SOME NAVAL GAZING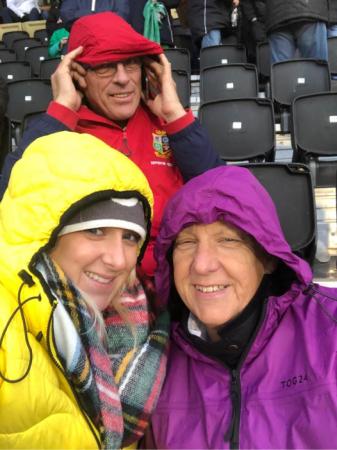 By TheSaracens.com
June 12 2020
My first Saracens game was memorable for all the wrong reasons. Wind the clock back to March 2000. Little DG had already been attending Sarries games for a while with her friend and her friend's mum and she kept trying to persuade me to come along. I was the daughter of a cricketer and Arsenal fan so rugby was a foreign language to me. I vaguely remembered a black and white David Duckham on TV and more recently seeing a lot of extremely dirty fat guys roiling around in the mud (must have been The Rec). It didn't seem a particularly attractive way of spending an afternoon! On this particular Sunday there was a ticket going spare and I had nothing better to do so off I went.
We parked in the hospital car park and wandered up Vicarage road to the ground. We squeezed through the turnstile then took a tortuous route along concrete paths, up stairs, through the upper tier of the old East Stand, along the back of the dressing rooms (the smell of embrocation filling the air), past the single ladies' toilet and the tea bar and finally took our seats in the old East Stand. I have to admit I was hooked from that first minute. Maybe it was being so close to the action, maybe it was the friendliness of the supporters (not something I was used to at football), maybe it was the way the players interacted with the fans – I don't know. I didn't have a clue about the rules (sorry laws) but the sheer physicality of the game was very quickly apparent and in a way I didn't expect. The opposition that day were Sale and within a few minutes, a young Sale centre called Andy Blyth ran into a tackle and got caught up in a ruck and the game stopped. I remember it took a while to realise this was potentially a serious injury and I also remember thinking it was a good job the hospital was next door. I don't remember much else. Apparently Saracens won (it turned out I was a "good omen" for some months because I didn't see them lose for a long time). Apparently Darragh was playing. I have no idea who else might or might not have been on the pitch that day.
I started going more regularly the following season and lived through the mostly lows and the few highs of being a Sarries fan. Even to me it was apparent that Saracens weren't a popular club, especially when they dared to start winning! I remember my first away trip – to Newcastle's new Kingston Park (a certain Jonny Wilkinson could have been involved) at the end of the 2002-3 season and Little DG's sheer delight to find we were staying in the same hotel as the team (she shared a Jacuzzi with Tim Horan). The losing bonus point was almost enough to ensure our survival and I remember the home game the following week where the 4th try (against Sale again) was enough to confirm safety.
Our first trip to Europe was a weekend in Carcassonne to watch Sarries play Narbonne in the old Parker Pen Cup. My love for rugby crept up another notch – it was a great weekend. The excuse of going to a game of rugby meant a weekend away, there were supporters from Leicester & Wasps at the hotel (both playing in the south of France) and we had a brilliant evening and the whole experience of watching my team on a warm autumn evening in another country was something else (I think I wrote my first report for the message board on that game). Since then our trips abroad have included our friends the "farmers". We have gone from visiting fun places like Treviso and Castres to the big boys: Clermont, Toulouse, Toulon, Lyon and Paris. We have gone from a happy weekend, good food and wine, and a jolly defeat to even better food and wine and the expectation of victory.
I was there at The Ricoh when Munster broke our hearts. I was there for the infamous night of the long knives (and the end of Darragh). I was there in 2009 when we beat the might of South Africa (and some guy won a quarter of a million pounds on the cross-bar challenge). I was there for that gut-wrenching defeat to Leicester in the 2010 Premiership Final which made that amazing victory the following year even better. I was there when we stopped being Nomads and finally had a home of our own in Barnet. I was there in that nearly year of 2014: the incredible win over Clermont followed by the debacle of the trip to Cardiff (who can forget those coaches!) and the bottom-spanking by Toulon (aka Jonny's last hurrah). This was followed by that almost unbearable defeat to Northampton which made the victory over Bath the following year even sweeter. I was there when we finally got our hands on the European Cup in Lyon in 2016. Now we expected to win as Exeter discovered in 2016, (the Double) 2018 & incredibly in 2019 (another double!). I was there in Edinburgh for that amazing win over Clermont – the only one I missed was Newcastle last year – but I was in Botswana! Salary cap transgressions may have since been revealed but nothing can take away that feeling of euphoria that came with victory after supporting my team through thick and thin.
So I will be there next season. Little DG and I have always enjoyed a trip to Bedford. We are looking forward to visiting Ampthill and Jersey and Penzance. We are looking forward to a "real" rugby experience. We are looking forward to seeing our young players growing into the jersey as they always have at Sarries. We are looking forward to turning our backs on our "partners" in the Premiership for a year. Let them play ball without us! It will be interesting to see who end up the biggest losers?
COVID has put all this in perspective – a season incomplete, a European Cup competition suspended. Who knows where we go from here? Our coaches and our players have almost universally committed to the club. We did wrong, we will take our punishment, we will move on, we will rise again. And I'll be there.
View a Printer Friendly version of this Story.
DARRAGHGIRL DOES SOME NAVAL GAZING
Discussion started by TheSaracens.com , 12/06/2020 19:05
TheSaracens.com
12/06/2020 19:05
Anyone else fancy sharing their Saracens memories - how they came to support the club, what they think the future holds etc etc
Please get in touch



Edited 2 time(s). Last edit at 2020:07:19:21:44:43 by Darraghgirl.
I see no ships ...

My own history with the club and recollections would be so very similar to yours except that I never shared a jacuzzi with Tim Horan.

Successful hills are here to stay
Everything must be this way
Gentle streets where people play
Welcome to the Soft Parade
Hi DG

Do you live in Portsmouth? That's a good place for naval gazing. Od course navel gazing can be done almost anywhere.

Innings

Points win matches: tries win hearts and minds.
myleftboot
13/06/2020 13:18
Quote:

Innings
Hi DG
Do you live in Portsmouth? That's a good place for naval gazing. Od course navel gazing can be done almost anywhere.
beat me to it, I was going to suggest Toulon Harbour, some heavy metal Naval gazing to be had there!
The Bard
14/06/2020 08:44
Some wonderful memories, apart from the very first one. I'd treated myself to a good seat in the east stand that day and it happened right in front of me. The thought the the sport I'd grown to love had made such a devastating impact on someone took a long time to get over..
jonnybrowne
14/06/2020 18:07
Great memories shared and what a lovely read, thank you.
Bram1ey_Road
13/07/2020 10:32
Lol Innings. True but you're probably only going to gaze at Tim H's in a jacuzzi.
Bram1ey_Road
13/07/2020 10:41
Thanks DG. Memory lane can be fun. I sometimes reminisce about my time at Southgate 50+ years ago but my American wife insists that I shut up.
Luckily my 3 boys all played to a high level. Did I ever mention that my youngest helped St George' s win the world's oldest trophy, the Hospital Cup, in his first year? (Plus he got the joint top tackle count). My old stomping ground Westminster Hospital also won it. Ahhh!!!
Sighs dreamily...
HighlanderSarrie
14/07/2020 16:08
Thank you DG - that's a lovely read. and put a smile on my face. My better half was very smitten with Tim Horan when we met and chatted at a car park in Bath (September 2001?). Not sure how she would have coped had it been a jacuzzi.
Sorry, only registered users may post in this forum.