THE SHAPE OF THINGS TO COME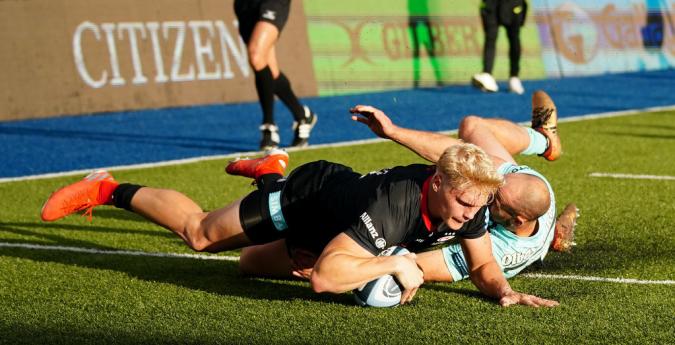 No photos of Woolfie!
By Darraghgirl
August 27 2020
I'm not too keen on 6.00pm kick-offs on a Wednesday. It meant watching the first half whilst making myself presentable to go and "Eat out to help out" (well you have to don't you) so having to delay part 2 until the next day (yes I did look at the result – a very pleasant surprise!)
We saw a glimpse of the future, the Championship Future, (and who knows maybe a Premiership team in the making), in the team which took the field with Elliot Daly the only "regular" member on view. Tom Woolstencroft was captaining for the first time and judging by his performance he should take the arm-band more often! USA International Will Hooley & former 7's star Ben Harris were making their debuts and the team featured 6 Academy graduates: Andy Christie, Elliott Obatoyinbo, Sean Reffell, Joel Kpoku, Manu Vunipola & Tom Whiteley. There was a first start for Alec Clarey & Tim Swinson. On the bench were a number of new faces: Academy lock Cameron Boon, Namibian Jaco Venter and Harry Sloan. The Gloucester team also featured a number of unfamiliar faces but was bolstered with the likes of Henry Trinder, Charlie Sharples and Matt Banahan in the backs and the massive Mulipola in the front row.
Gloucester opened the scoring with a penalty from Evans (what a weird stop-start run-up he has – asking for a charge-down when he takes a conversion surely?) but Daly showed his kicking boots were still firing with 3 points on half way to level things. Both sides were making errors – a lazy off-side from Kpoku could have been expensive but Gloucester's driving maul was apparently no better than ours has been and Sarries were able to clear. Sharples carelessly put his golden boot on the line while fielding a clearance but Sarries failed to look after the ball from the line out allowing Rees-Zammit through. His kick-chase however wasn't quite good enough and a superb tackle from Whiteley dislodged the ball just as he thought he'd scored. Gloucester then wasted yet another opportunity from the 5m scrum. Sarries seemed intent on keeping the ball rather than clearing it and the inevitable happened. It looked like Sharples would score but a superb tackle by Obatoyinbo saved the day and forced another knock-on. It was encouraging to see the scrum performing much better, in no small measure due to the enthusiastic Alec Clarey who won a penalty just inside the Gloucester half. Daly's magic boot was still swinging well and Sarries took the lead at 6-3.
Sharples must have really regretted his golden boots and wished he'd stayed home in Gloucester when he foolishly let a box kick bounce allowing Obatoyinbo to steal the ball from under his nose and eventually the Gloucester defence transgressed, this time allowing Manu a successful shot at the posts. 9-3. Water break and just time for me to run upstairs and put on something half decent for a night out although as we're dining al fresco it needs to be warm too. I returned to a game with a mix of encouraging play (Hooley and Obatoyinbo both looking solid under the high ball) and careless handling but Clarey won a scrum penalty on a Gloucester put-in which was great to see even if Manu couldn't land the kick. Socino nearly managed an intercept when Gloucs tried to run the ball out, just knocking on. Then Gloucester finally put a few moves together finding several defenders out of position which allowed Trinder to break and scrum-half Varney to score. The conversion put Gloucester back in front on 9-10. Sarries replied almost immediately with a superb kick-chase from Andy Christie. There was a suspicion of a forward pass to Ben Harris who evaded a couple of tackles and scored on debut - but the officials checked it and were happy. Manu once again missed the extras but Sarries were back in the lead at 14-10. The half finished with Evans missing a fairly straightforward penalty.
And that was that for now. Mr DG and I joined some friends for a very pleasant tapas night. The EOTHO discount nicely paid for a couple of bottles of fizz and it wasn't even that cold!
The following day, having spent most of it knee deep in water trying (and failing) to fix a pond leak, I finally settled down to watch part 2 – only to find that I can't find it! Highlights only available so far. Grrrrrrr. So this part is a mix of highlights and twitter which is a shame because from what I saw it looked rather a good game!
5 minutes into the 2nd half and Sarries pressure forced an error from Evans who kicked out in his own 22. Sarries set up a maul from the line out and earned a penalty when Gloucester tried to stop it illegally. Woolfie's line out ball was well-taken by Swinson. Sarries set up a dream of a rolling maul and it trundled over just like the old days. Manu converted and Sarries now led 21-10. Elliot Daly departed to be replaced by Charlie Watson. A couple of minutes later a great intercept and carry from Joel Kpoku and a lovely kick from Manu forced another error from Gloucester who could only get the ball out as far as the 5m line leading to almost an exact replica play. Woolfie to Swinson, maul set up and Woolstencroft touched down for his second. Only difference was that Manu missed the conversion. Still at 26-10 things were looking comfortable.
Sarries scrum continued to bully their visitors. Having won yet another scrum penalty, Alec Clarey departed, job well done, to be replaced by Josh Ibunaokpe. Socino was replaced by debutant Harry Sloan. More Sarries' pressure and it looked like Kpoke may have scored the bonus point try but the TMO decided he had infringed – no try and a penalty to Gloucester. The visitors got one back attacking Sarries' 22 and playing advantage for offside. Banahan found replacement Tom Seabrook who slipped the ball to reserve hooker Henry Walker who scored. (Definitely a day for happy Hookers). Evans missed the conversion leaving the score 26 -15. More changes as Alex Day replaced Ben Harris with Tom Whiteley moving to the wing. Manu was again instrumental in gaining a penalty with a lovely kick chase. For the 3rd time that excellent double act of Woolfie & Swinson pulled it off and Woolstencroft scored his 3rd try from yet another driving maul. Once again Manu missed the conversion but at 31-15 it hardly mattered.
Venter came on for his debut replacing Andy Christie who had put in an excellent shift and Woolfie also departed after a superb performance. Cameron Boon came on for his debut too, replacing Joel Kpoku. Into the last 10 minutes and the mostly replacement front row proved just as dominant as its predecessor. Manu plonked the scrum penalty into the Gloucester 22. This time the maul didn't make it to the try line but the ball was recycled out to Will Hooley who chipped the ball on towards Whiteley on the wing. Sharples capped his dismal day by fumbling the ball which allowed Whiteley to run onto it and score a 5th try. Manu hit the post with his conversion attempt but Sarries now led 36-15. As the clock went dead, Sarries were guilty of a concentration lapse when Crean, on for Barrington, was a bit over ambitious and Gloucester turned the ball over deep in their own half. Sharples found winger Rees-Zammit who ran pretty much the length of the pitch, avoided tackles from Hooley and Whiteley and scored in the corner. The conversion missed so it finished 36-20.
All in all a very satisfactory outing. Most of the youngsters acquitted themselves very well, notably Sean Reffel and Andy Christie. Swinson was imperious at the lineout and looks to be a very useful signing. Woolstencroft had probably his best game for the club. Alec Clarey was a breath of fresh air and it was great to see a dominant scrum again and an effective rolling maul. OK they weren't up against the toughest opposition forwards but you can only beat what's in front of you. Manu controlled the game well but needs a bit of kicking practice when it comes to the posts. On another day the 11 points which got away could have been vital.
But if this is the shape of things to come, the future is looking bright.
Saracens: Hooley, Harris (Day), Daly (Watson), Socino (Sloan), Obatoyinbo, Vunipola, Whiteley; Barrington (Crean), Woolstencroft (Pifeleti), Clarey (Ibuanokpe), Kpoku (Boon), Swinson, Clark, Reffell, Christie (Venter).
Gloucester Rugby: Sharples, Banahan, Trinder (Seabrook), Atkinson (Barton), Rees-Zammit, Evans, Varney (Chapman); Mulipola (Fourie), Marais (Walker), Ford-Robinson (Knight), Beckett, Drake (Jordan), Gray, Reid, Clement (Howard)
Saracens (36); Tries (5) – Harris, Woolstencroft (3), Whiteley. Conv: Vunipola; Pens: Daly (2) Vunipola
Gloucester (20); Tries (3) – Varney, Walker, Rees-Zammit; Conv: Evans; Pen: Evans
Referee: Ian Tempest (RFU)
View a Printer Friendly version of this Story.
THE SHAPE OF THINGS TO COME
Discussion started by TheSaracens.com , 27/08/2020 18:18
TheSaracens.com
27/08/2020 18:18
What do you think? You can have your say by posting below.
If you do not already have an account
Click here to Register
.
Edited 1 time(s). Last edit at 2020:09:17:10:02:22 by Darraghgirl.
Thanks, DG.

I guess the shape of things to come is that our games won't be televised!

Successful hills are here to stay
Everything must be this way
Gentle streets where people play
Welcome to the Soft Parade
Rugby is changing faster than the administrators can comprehend. Three examples:

1/. Sevens is the only genuinely global exposure that the game receives, through the Olympic tournament. Rugby is rapidly turning its back on that part of the game, and as the game goes into the shadows we must assume that sevens will not survive as an Olympic sport.

2/. The number of women in rugby is growing as men playing declines. The launch of the Irish women's national team kit this week has brought about the biggest one-day reaction of abuse ever seen in any sport, anywhere. The utter stupidity of everyone involved in that launch is sadly typical of the mind-set of rugby administrators everywhere. Despite the outward assurances, nothing is changing inside the heads of the self-electing bodies that run the sport.

3/. Rugby's finances are totally shot. They were bad before Covid, and now they have placed the sport into existential crisis. It seems that not one national union is running a sustainable business. It is more important to maintain large, over-fed and over-entertained committees than to address the crisis in any reasoned manner. The debts incurred to build bigger and better stadia, with hotels attached to stadia, are now demonstrating again the old saying: In a recession, it's the debt that gets you. All grass-roots activity has to be abandoned in order to maintain the short-term cash-flow of the international fixtures gravy train, the only way to handle the debt crisis. The long-term damage to everything else, like grass-roots, the women's game, (fastest growing part of the overall game), and to international participation, is irrelevant when past folly draws everyone closer to the bankruptcy courts.

The shape of things to come leads me to hope - with great doubt - that some great names in rugby's club past will be able to survive when the game reverts to semi-professionalism at the top level and pure amateurism at every other.

Innings

Points win matches: tries win hearts and minds.
TonyTaff
03/09/2020 15:00
Cheers DG, insightful as ever.
Getting ready during a drinks break? I am beginning to think that you're a bloke! I have never met a lass who could do that 😁
At TonyTaff Towers, it goes more like:
"The match is starting, why don't you start getting ready, darling. I have booked the restaurant for the scheduled final whistle."
Rings the restaurant " Sorry about this, we'll be about 20 minutes late, please hold the table."!
£721.05 (*) donated to the Saracens Foundation due to visits to the Sarries frontpage [
www.rugbynetwork.net
]
Please read and submit articles for publication.
(*) As at October 31, 2018.
Darraghgirl
03/09/2020 20:02
Quote:

TonyTaff
Cheers DG, insightful as ever.
Getting ready during a drinks break? I am beginning to think that you're a bloke! I have never met a lass who could do that 😁

At TonyTaff Towers, it goes more like:
"The match is starting, why don't you start getting ready, darling. I have booked the restaurant for the scheduled final whistle."

Rings the restaurant " Sorry about this, we'll be about 20 minutes late, please hold the table."!
In our house it tends to be me waiting for HIM!!!!
Sorry, only registered users may post in this forum.