LEINSTER V SARACENS - THE RETURN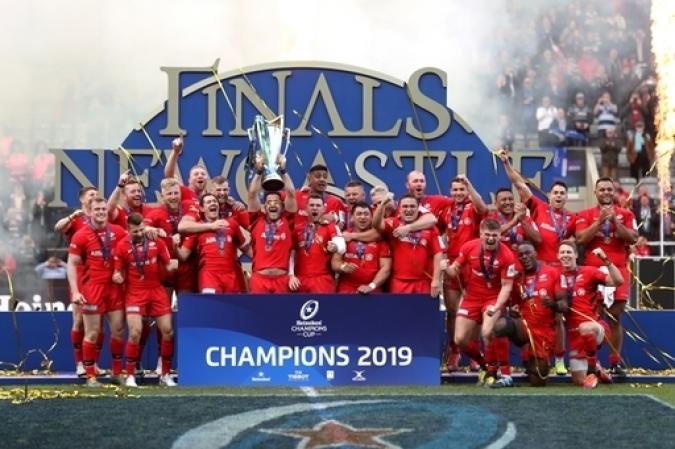 By Darraghgirl
September 17 2020
So it's almost here, our only meaningful game of the season (unless we manage to win of course); the much delayed European Cup quarter final against Leinster. Let's wind the clock back 16 months to that wonderful night in Newcastle when the 2 best club teams in the Northern Hemisphere (and arguably the world) went head to head and after a fabulous performance, Saracens emerged victorious.
Who would have believed, on that magic evening, that the world would have changed so much in such a short time. COVID has turned all our lives upside down and the fall-out from the salary cap palaver has left Sarries with a meaningless season and a year to come in the wilderness. But PRC have not been able to take this last little nugget away from us, although the salary cap ramifications have weakened the Sarries' squad (rather less than some would have hoped?) Owen's red card the other week hasn't helped matters either but oddly, I don't think it is Faz who will be the most sorely missed.
Let's look at the squad who faced Leinster last year:-
Goode, Williams, Lozowski, Barritt, Maitland, Farrell, Spencer, M Vunipola, George, Lamositele, Skelton, Kruis, Itoje, Wray, B Vunipola; Reps: Gray, Barrington, Koch, Isiekwe, S Burger, Wrigglesworth, Tompkins, Strettle.
Of those 23, we have lost Williams, Loz, Spencer, Titi, Skelton, Gray, Isiekwe, Burger, Tompkins, Strettle and possibly Kruis (along with Figallo, Earl & Malins) who didn't feature. In their stead we have promoted a number of Academy players and have gained Daly, Hunter-Hill, Socino, Venter, Swinson, Aled Davies, Clarey, Hooley and Sloane plus Mike Rhodes (and Sean Maitland) back from injury. Hardly like for like but this is no ordinary rugby club, this is Saracens Rugby Club.
Of the players no longer with us, those we will miss the most, I think, are Spencer, Williams and Skelton. Spencer didn't have a great game in last year's final but he has been on fire ever since and in addition to his sniping irritating scrum halfness, he is a brilliant alternate goal-kicker which might just take the pressure of Alex. Liam Williams is just class. He was at his very best in Newcastle and is completely irreplaceable. And Skelton just became a beast who did the work of 2 men.
McCall has no option but to play his strongest team and recent events have forced his hand anyway. I assume we will see something like:
Daly, Lewington, Taylor/Morris, Barritt, Maitland, Goode, Wigglesworth; M Vunipola (fingers crossed), George, Koch, Itoje, Swinson, Rhodes, Wray, B Vunipola with back-up Woolstencroft, Barrington, Ibuanokpe, Hunter-Hill, Reffell, Davies, M Vunipola, Taylor/Morris
So a long way from the 2019 team but let us not forget the togetherness of this squad, the unity which in adversity has made them stronger, and the undoubted desire to prove to the world that Saracens are defending European Champions and have no intention of giving the trophy up lightly.
Leinster are Leinster. On current form Leinster are probably the best team in Europe and possibly the best team in the world. Their squad is strong and experienced but the passage of time is not on their side and some of their stalwarts are not getting any younger. But they have strength in depth and were able to beat Ulster last weekend in the Pro-14 Final with first choice half backs Jonny Sexton & Luke McGrath on the bench. 6 of the 7 backs who played in Newcastle are available for selection. Superstar Tadgh Furlong may well be fit to play along with Dan Leavy and Fergus McFadden. Dan Sheehan, Vakh Abdaladze, Dave Kearney, Conor O'Brien and Adam Byrne are all out with injury.
For once it is Leinster who played a big game last weekend while the Saracen's first choice squad put their feet up and the game will be played behind closed doors at the Aviva which reduces home advantage considerably. Leinster will not be able to call on their 16th man. By all accounts the Leinster line-out didn't function well last weekend so if Maro can make a nuisance of himself, it could be crucial. Pascal Gauzere is in charge supported by George Clancy and Joy Neville.
Can we do it? Can we pull off a miracle? Saracens were the last team to beat Leinster in that Final last year, since then they have been on a 24 game winning streak in all competitions. Well it's a one-off game with both sides starting on zero so anything can happen. I fear the bench will tell. Saracens' first choice 15 can still hold their own with almost anyone but the available replacements look a different class and it's asking a huge amount for these guys to give their all for 80 minutes. We will need luck with injuries and we will absolutely need to maintain our discipline. Heart says Sarries but head says Leinster. Oh how I hope I'm wrong.
View a Printer Friendly version of this Story.
LEINSTER V SARACENS - THE RETURN
Discussion started by TheSaracens.com , 17/09/2020 10:01
TheSaracens.com
17/09/2020 10:01
What do you think? You can have your say by posting below.
If you do not already have an account
Click here to Register
.
Edited 1 time(s). Last edit at 2020:10:02:20:31:45 by Darraghgirl.
OldMarovian
17/09/2020 11:28
Excellent preview DG, that really whets the appetite for Saturdays game.

I had forgotten quite how big a mountain it looked to climb in the first half with an early Leinster penalty, yellow card for Maro, us losing both Mako and Titi and a converted Leinster try. So whilst the challenges this season may already seem mountainous before a ball has even been kicked I feel if anyone has a group of players who could perform in such an environment it's us.

The only slight disappointment in recent day is what sounds like confirmation that Kruis won't be taking part. I had hoped against expectation that he would what with him still being on the revised team sheet and knowing that he was still training and not yet in Japan. It sounds like ultimately insuarance may have been an issue? A shame if that's the case as from your list of players from last season we will miss most I'd have him right at the top especially with Leinsters lineout having wobbled alarmingly in recent games.

I am intrigued as to what the team selected will be. The coaches and players have had this fixture in mind for a long time and I wonder how disruptive Farrells absence will be in terms of moving players around? It felt to me like Daly has been played at 13 with a view to this game. Will Goodes move to 10 and Taylors fitness mean a return to FB for him? Also how will be balance what will envitably be a bench lighter on experience than it might normally be? Fascinating problems.

With a view to attacking Leinster lineout and fully using ours, using our kicking and chase game against their wide defence which has been questionable and balancing experience in the XV and 23 overall I would like something like:

Mako, George, Koch, CHH, Maro, Rhodes, Venter, Billy, Wiggle, Goode, Segun, Barritt, Daly, Lewington, Maitland.
Barrington, Woolstencroft, Ibuanopke, Swinson, Wray, Davies, Vunipola, Morris

Also please kick all available points! COYS.
TonyTaff
17/09/2020 17:00
Cheers DG. A match preview! Not seen one of them for a while.
Is George Clancy really one of the ARs? Has he become French? Don't who Joy Neville is. Is she English? Have we reverted to the partisan touch judges of my youth?
£721.05 (*) donated to the Saracens Foundation due to visits to the Sarries frontpage [
www.rugbynetwork.net
]
Please read and submit articles for publication.
(*) As at October 31, 2018.
Leinster Lady
17/09/2020 20:29
Believe me, George Clancy is no friend of Leinster. We are always fearful when we see his name listed as part of the referee team. Joy Neville is Irish and is a relatively new referee so I don't know too much about her.
Wonderful comment, Leinster Lady - since she's from Limerick. I think your tongue is superglued to your cheek!
See here: [
en.wikipedia.org
]
Apart from captaining Ireland in her playing career, she has cracked the glass ceiling a few times as a referee.
And she's not the sister of Gary and Phil, that's Tracey.
jonnybrowne
18/09/2020 07:52
Brilliant piece of writing, scene set for tomorrow and I can't decide if I'm nervous or excited. or both. Like others, my heart says Sarries but the head says we'll go out, but go down fighting.

But we will be back.



Edited 1 time(s). Last edit at 2020:09:18:20:16:16 by jonnybrowne.
derbyshire fan
18/09/2020 12:33
Thanks for this preview DG; it really is a mountain to climb for the boys tomorrow and we are definitely the underdogs, but I am really looking forward to watching the game - just sad it has to be in front of the tv, and not in Dublin
Sorry, only registered users may post in this forum.