LET THE GOODE TIMES ROLL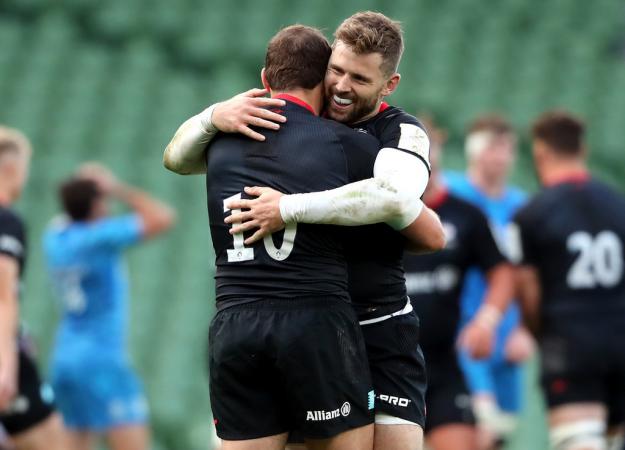 By Purfleet Sarrie
September 21 2020
Ok, so first off, I should really apologise for two things that will be clear in this report…… Firstly, I missed the first few minutes due to embarking on a 19 kilometre cross country run that took longer than I thought and I just kept going……… and secondly, that this report may have a bias towards Sarries! Apology over.
In the days building up to this game, Leinster are hot favourites, as the last time anyone beat them was the European Cup final last year, when they lost to Saracens. However, the Saracens team that is on show for this game is a much weakened version of the team from that final, with a full 12 internationals missing from the available line up, for various reasons that we will not go into here. So, it was with much trepidation that I was looking forward to this match, in which Leinster were expected to dominate and unusually for recent years, Sarries were underdogs.
So the match for me started at Leinster 3 and Sarries 9. Oops. I can say that Goode was kicking well and that Daly has a monster boot.
My initial impressions are wow, Sarries are dominating the scrum and the pressure we are putting through the scrum is crucial to our early success with the penalty count. Another scrum penalty in Sarries half brings a penalty from the (wind assisted) monster boot of Daly, who appears to slot it with ease.
Leinster are out of sorts, but are trying to apply pressure on Sarries to get back into the game but Sarries are defending well, and crucially, Leinster are making errors due to the Sarries pressure. After another phase of defence, we kick the ball clear and chase, but unfortunately Billy V knocks on, resulting in a Leinster scrum. The Leinster scrum today appears frail, and the Sarries pack can sense blood, and go for a big push, but collapse the scrum and a penalty is conceded to Leinster, and Sexton clears to the corner. What becomes apparent through this match is that Leinster are not used to being behind, and rather than take penalties at goal to get the score board ticking over, they are happy to kick to the corner and go for the tries. Brave tactic, but with Sarries' fast defence and spirit, it may prove difficult to score.
Leinster gather the line out and go to the rolling maul, which is collapsed by Rhodes, resulting in another kick to the line. Sarries are definitely under pressure here. Three penalties in a row and we have to be careful. The referee decides to have a chat to Brad, who in turn has a word with the lads. Whatever he said, great work from Vincent and Mako wins a turnover and penalty to clear our lines. When he finally retires, I think Brad should publish a Book of Motivational Words as they clearly worked.
With the score at 15 to 3, Leinster have a period of sustained attacks, trying to get back into the game, but our defence are too good for them…… Did I mention too Goode….. against the run of play (sustained Leinster attacks!) Sarries have a rare foray into the Leinster half, when good movement and a great off load by Duncan Taylor, puts the ever youthful Goode through a gap in the line to sprint through to score the try, after throwing a classic dummy pass. It's just too Goode an opportunity to miss a pun ! Score is now Sarries 22 and Leinster 3. Dream land time !
At this point, I was stunned, nay, shocked, to hear Dallaglio , actually utter praise for Saracens, I'm assuming he forgot his mike was turned on, as he said he was impressed with our energy levels ……. Easy there sir, you may need a doctor!
Another penalty from yet another awesome Saracen's scrum results in Daly attempting to finish the half with a score…. From all of 63 metres. Surely Not, surely this is too far…. Alas his shot fell short and the half ended, Sarries 22 to Leinster 3.
Following on from my run, I decided to keep the fitness spirit going… by having a beer and some spirits to settle my nerves, as there is one thing that you can be sure of… Leinster will come out in the second half and attack, attack, attack. They done a great comeback last season (I can not remember whom against, sorry!) and they are one of the greatest teams in world rugby for a reason. So, I settle back, pen and beer in hand, and await the Irish onslaught and hope that Saracens can maintain their lead.
Second half commences as expected, with Leinster on the front foot. However, Leinster get a turn over in their own half and Sexton launches a great clearing kick to just outside the Saracens 22. I was surprised to see the referee bring this back for a Leinster penalty just outside their own 22. If I was Leinster's pack, I would not be fancying this scrum after they were dominated in the scrum by us in the first half. However, they scrum well and win the penalty, as Billy ventured offside. Sign of things to come perhaps? Leinster again utilise the wind and the kick by Sexton puts Leinster on our 22, for an attacking line out.
It is all Leinster now, as expected, and their line out and resulting phase play is testing the Sarries' defence. Sustained pressure puts Leinster on the try line, with their prop Porter under the sticks, and it looks like they have scored. It goes to the TMO, who can give no reason not to award the try. Being honest, it was a deserved try as all the play has been Leinster. They slot the 2 point conversion and suddenly on 49 minutes it is Leinster 12 and Sarries 22, with Leinster on the front foot.
This is looking ominous, and I am sure the clock has gone backwards or slowed down. My nervous feeling is that Saracens need to slow this game down and retake control of the game, and get the next score. Leinster in full flow are a thing of beauty and very dangerous, so we need to try to disrupt their play. It's difficult to do that as we are playing the second half into the wind, but we did have the wind advantage in the first half.
The Boys are trying to do this, and venture into the Leinster half only to have the ball ripped expertly from our hands, handing away easy possession. Frustrating. Leinster are now putting together some truly great phases of rugby and are really looking dangerous, Saracens are scrambling in defence, and look under pressure.
It looks like Rhodes may be in trouble for a high tackle on Sexton (arms were wrapped surely around the body surely!) but we will have to wait and see as Leinster are continuing the attack without him. Phase after phase, until Saracens turn over the ball. The high tackle is checked, and correctly a penalty is given, giving Leinster back possession. They kick to the corner again and again the pressure piles up on Saracens. You feel it is only a matter of time before Leinster breach our defence. Sure enough, Leinster from the line out set up a rolling maul, only to surprise everyone and go wide, with a pass that took out 3 of our defenders and put Larmour over the try line for an easy try. On 63 minutes, converted try, Leinster were now within 5 points, Leinster 17 Saracens 22. Come on Sarries I was shouting at the screen, along with other choice words, my wife says I only swear when I watch rugby………….
15 minutes to go and Saracens are trying to force something but gift possession back to Leinster, let's keep our heads lads, let's keep possession! As my wife says, stop swearing at the TV ……
Mako grudgingly makes way for Barrington, what a shift he put in today. Leinster are speeding up the play and it is hard to keep up whilst watching through the fingers…. 70 mins.. Is that all… penalty to Sarries who go for the posts and take the full allocated time…. Quite right too. To take all the time possible. I am however unsure if it's the right decision, and feel we should kick to the corner to retain possession. We miss the kick which was difficult into the wind.
8 minutes to go, Rhodes, who was everywhere and immense today, is replaced by Callum Clark, what a shift he has put in. Nail biting times now… can we do this…… YES !!!!!!!!!!! Penalty to Sarries from yet another scrum. Once again missed as into the wind but more precious time is taken up. Come on Boys, game management time… we know how to close out these big games. Leinster are throwing everything at us until the 78th min when back in their half we have a penalty…. Up steps Goode and how Good is that kick ! Nailed it ! We are through ! 25 to 17, no way back for Leinster now. The players can relax and so can the supporters!
Man of the match is no surprise unless you're Sexton, it's Rhodes, what an immense game he has had. That's it, the referee blows and we are through. We are going to France for our semi final, against whom… Clermont or Racing 92…. Being honest, I do not care. What a performance.
This shows the true spirit of Saracens, the team and its supporters. What a year we are having and yet, the dream remains. I for one am looking forward to Saturday and somebody else can write the report…….
Leinster: Larmour, Keenan, Ringrose, Henshaw (O'Loughlin), Lowe, Sexton (Byrne), McGrath (Gibson-Park), Healy, Cronin (Kelleher), Porter (Bent), Toner (Baird), Ryan, Doris, Connors (van der Flier), Conan
Saracens: Daly, Lewington, Taylor, Barritt (Morris 80), Maitland, Goode, Wigglesworth (Davies 67), Vunipola (Barrington 67), George, Koch (Clarey 80), Swinson (Hunter-Hill 63), Rhodes (Clark 72), Wray (Woolstencroft 80) B Vunipola
SCORERS:
Leinster: Tries: Porter, Larmour; Conv: Sexton (2); Pen: Sexton
Saracens: Try: Goode; Conv: Goode; Pens: Goode (3) Daly (2)
Referee: Pascal Gauzere
View a Printer Friendly version of this Story.
LET THE GOODE TIMES ROLL
Discussion started by TheSaracens.com , 21/09/2020 14:51
TheSaracens.com
21/09/2020 14:51
Thanks Terry, even more impressive after a 19k run!

Now can we please have a volunteer for next Saturday..............................



Edited 2 time(s). Last edit at 2020:10:05:22:07:04 by Darraghgirl.
derbyshire fan
21/09/2020 15:43
great report - and you didn't sound out of breath at all!
jonnybrowne
21/09/2020 15:52
Great report - and you were even magnanimous enough not to make sport of the other Jonny's "ref, ref, that big nasty man was being rough" footballer-style reaction to Mike Rhodes' seemingly high tackle..



Edited 1 time(s). Last edit at 2020:09:21:16:03:41 by jonnybrowne.
sarriesgosarries
21/09/2020 19:45
Fantastic report as always. Especially after a 19k run fabulous. Sarries all the way
PurfleetSarrie
21/09/2020 20:06
Quote:

sarriesgosarries
Fantastic report as always. Especially after a 19k run fabulous. Sarries all the way
Go the runners. I hear your also running the marathon in 2 weeks..... hows the training....
sarriesgosarries
21/09/2020 20:11
I am indeed. Definitely not as good as yours as I only did 6.3k but it's a start. Only need to do that 6 and a half times..........wish me luck! 🤣
PurfleetSarrie
21/09/2020 21:21
Quote:

sarriesgosarries
I am indeed. Definitely not as good as yours as I only did 6.3k but it's a start. Only need to do that 6 and a half times..........wish me luck! 🤣
Your a sarries..... You don't need luxk
sarriesgosarries
21/09/2020 21:33
Lol this is true I have sarries behind me all the way............with a bit of luck from my true friends too 😁
Sorry, only registered users may post in this forum.