LET'S GO RACING AGAIN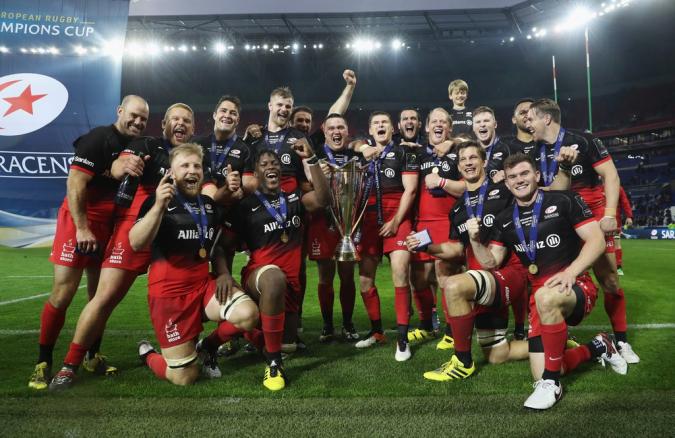 By Darraghgirl
September 24 2020
So it wasn't the last dance in Dublin and the music continues on to gay Paris. Saracens' brilliant performance in Ireland last weekend means that Brad Hood and his Merry Men have at least another week together – and who knows where we might go from here.
This weekend Sarries travel to Paris to meet Racing 92 at La Defense Arena. A slight tweak in the rules whereby home country advantage has become home ground advantage plus the French Government's decision to allow some spectators (not sure how many though as this in an indoor arena!) means that once again Sarries will be up against it but we have learned from this remarkable Team that no challenge is too big.
We know Racing well and there have been some interesting encounters over the years. We met twice in the group stage with Racing beating a second string Sarries 30-10 last November (gosh that weekend in Paris seems like a lifetime ago) in the days when no one had heard of Corona virus and we still believed avoiding relegation was possible then Sarries won a much tighter game 27-24 at Allianz in January. You could say from that that Racing win 57-34 on aggregate, and by 6 points to 4 but as we saw last week, in a knock-out game, both teams start on zero and the best team on the day will almost certainly prevail.
Racing were our opponents on that amazing night in Lyon when Saracens finally became Champions of Europe for the first time winning 21-9 in May 2016. But there are other remarkable games between the 2 clubs as well. Who will ever forget Marcello Bosch's remarkable penalty kick on Easter Sunday in 2015 which gave Sarries victory against a French team who ultimately beat themselves – but they all count! As far back as 2010, Sarries conjured up an unlikely win in a blizzard in Paris defeating Racing 19-14 completely tearing up the form book. Suffice it to say, despite their stellar line-up, Racing will not be looking forward to facing the Londoners again.
Both clubs won their quarter finals away from home, Sarries at Leinster and Racing at another of our old friend's Clermont Auvergne. Racing looked impressive at the Stade Marcel Michelin winning 36-27 although Clermont outscored the Parisians by 4 tries to 2. It was discipline once again which hurt ASM with 24 of Racing's points coming from penalties. Both sides lost 2 players to yellow cards. Last weekend Sarries' discipline was admirable so they will need to continue with the same degree of self-control on Saturday. Racing also made a fast start with Simon Zebo scoring their opening try in just 3 minutes.
I would assume, injuries permitting, both teams will be unchanged. Racing lost Louis Dupichot early in the game so he may be a doubt. One thing the French team have in spades is goal kickers with Teddy Iribanen, Finn Russell, Maxime Marchenaud and Francois Trinh-duc all available whereas Sarries will need to hope Alex Goode and Elliot Daly continue their good form from last week. Racing are a classy team who can also field the likes of Juan Imhoff, Virimi Vakatawa, Camille Chat, Wenceslas Lauret and Simon Zebo (salary cap? What salary cap) but Saracens have shown that respect has to be earned and they fear no one.
Can the miracle continue? Can Captain Brad's Army win yet another battle? As with last week it may be use of the benches which ultimately decides the game. Many of the Saracens warriors played virtually 80 minutes of hard rugby last week, especially tough on the forwards (Jamie George, Vincent Koch, Maro Itoje, Jackson Wray, Billy Vunipola) and Brad himself. Can they really do it all again just a week later? Once again they will need luck with injuries and discipline will be paramount. No cards please! Nigel Owen himself has the whistle. His able assistants have yet to be named. So as last week, heart says Sarries, head says Racing. Once again I hope to be proved wrong.
View a Printer Friendly version of this Story.
LET'S GO RACING AGAIN
Discussion started by TheSaracens.com , 24/09/2020 14:30
TheSaracens.com
24/09/2020 14:30
What do you think? You can have your say by posting below.
If you do not already have an account
Click here to Register
.
Edited 1 time(s). Last edit at 2020:10:11:21:27:58 by Darraghgirl.
TonyTaff
24/09/2020 15:28
Cheers DG.
Vincent and Jamie put in a big shift last weekend, and I am not sure that they can repeat the performance. Perhaps Racing will field a half-fit fly-half again !!
To me, this is an even greater challenge than Dublin. I suspect that Leinster had grown flabby on a diet of unchallenging fixtures. Let's hope the Racing players have grown flabby on French Cuisine! I certainly have (wedding anniversary week!)
£721.05 (*) donated to the Saracens Foundation due to visits to the Sarries frontpage [
www.rugbynetwork.net
]
Please read and submit articles for publication.
(*) As at October 31, 2018.
Edited 2 time(s). Last edit at 2020:09:24:15:31:59 by TonyTaff.
Need to give the 'fat lady' a burst of oxygen so she keeps on singing.
jonnybrowne
25/09/2020 08:02
Being a superstitious man, Iím going with the same forecast as for the Leinster game - lose narrowly and we go down fighting.
P G Tips
25/09/2020 15:34
I see M Rhodes has been named in Sarries lineup.
Has his citing been heard yet?

PG
I see M Rhodes has been named in Sarries lineup.
Has his citing been heard yet?


Keep up at the back; it was on Tuesday night and reported on in the media.
P G Tips
25/09/2020 17:14
tpr
I am out of the country & have been in dodgy coverage
Would it be too Much to answer the question?

PG
( A visitor)
Of course not PG - it was considered unproven - he did commit a foul act but not one that necessarily earned a red card - so he's free to play (my words not the of official ones). Heres the Planet Rugby report
Rhodes case dismissed
P G Tips
25/09/2020 17:46
Thanks.
He plays on the edge.
I guess it might have gone either way - but he is available for you.

PG
TonyTaff
26/09/2020 18:07
I am not at all sure that Vakatawa was onside.
£721.05 (*) donated to the Saracens Foundation due to visits to the Sarries frontpage [
www.rugbynetwork.net
]
Please read and submit articles for publication.
(*) As at October 31, 2018.
Sorry, only registered users may post in this forum.