MATCH REPORT – RACING 92 vs SARRIES 26.09.20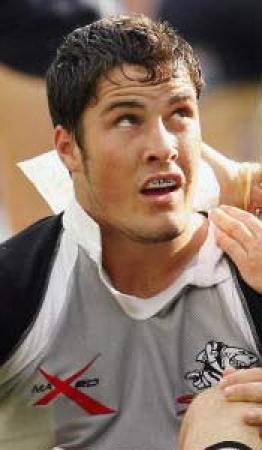 An old photo!
By Jonny Browne
September 29 2020
Following perhaps a little too hard on the heels of the emotional rollercoaster at the Aviva, a very different kind of challenge in a very different setting; although there is no doubt Sarries have enough experience and ability to pull off a second "shock", it is down to three questions – how much physical energy is left in the collective tank only seven days after playing Leinster, how much emotional strength is there after said rollercoaster last week, and will we face a Racing side at its best??
Sarries line up with the same 23 as last week – I'd like to have thought it was a case of "if it ain't broke don't fix it" but in truth it's the best 23 we can currently put out, albeit that it is some 23 with eleven of our players involved the 2016 final on show in Paris today.
Racing, well, what can you say? The back three of Zebo, Thomas and Imhoff is frankly terrifying to see flashed up on the screen at team run-through time: in front of them, the threat of Vakatawa, the sheer quality of Russsell and Iribaren (the latter currently keeping Machenaud on the bench), a truly horrible tight five - and Trinh-Duc also on the bench - make for a bit of challenge….
Mark McCall gives a typically classy and respectful pre-match interview, highlighting the power of Racing and in particular the threat of Finn Russell - the removal of whose tactical options cited as a key target - while admitting that this is an emotional occasion and stressing that in spite of a tough year, Sarries' motivation comes from within the group. Yannick Nyanga is respectful to us in return.
Cue flashing lights swirling all over the pitch, thunderous rock music and a strident voice introducing the Racing team – it can only be La Defense, and the memories of last November, sitting there thoroughly bemused by what I hoped wasn't the future of rugby, come flooding back (NB I revised my stance a week later as sat in the Dyson at a freezing Rec ).
The teams are out, and during the pre-match team presentations, do I see a bit of emotion in Brad Barritt's eyes?
Nigel Owens whistles, Alex Goode kicks off, I open a can of Guinness, and in the first action Iribaren gathers and Russell finds touch. Another Sarries lineout sees Daly almost break through.
Sanconnie is sadly the first casualty of the game, going off injured after only 3 minutes to be replaced by Chouzenoux.
Racing probe forward with good early work from Vakatawa.
The teams exchange scrums, and then at 10 minutes, we have the first score of the game when a Racing penalty (Itoje not rolling away) was slotted over by Iribaren. 3-0.
Racing are slightly edging this, but nothing to panic about.
Sarries drive forward but cough up another penalty (off feet). Iribaren misses the kick.
More worryingly, after 12 minutes, Taylor suffers a shoulder injury and is taken off to be replaced by by the more than able and in-form Dom Morris.
The game continues with Sarries wasting another opportunity when the lineout from a penalty is picked up by Bird, then another penalty ensues, off an out-of-sorts looking Itoje.
Racing advance to 10 metres out but another Sarries penalty (collapsed maul) clears the lines to Racing's 40.
Following a Sarries scrum awarded, unusually, for Iribaren not using the ball as directed, we rumble forward and win a penalty (no attempt at tackle) which Goode slots over to make it 3-3.
Minutes later, brilliant work by Maitland off Thomas wins Sarries a penalty, and from 25 metres Goode slots over to make it 3-6: our joy at nudging in front (and following the celebratory opening of another can of Guinness) was short-lived as a Racing penalty off Koch was stroked over by Iribaren from a similar distance for 6-6.
The game continues to be an evenly contested arm-wrestle with both sides having good spells but neither is really on top; the half closes, however, with confusion and controversy.
A Racing penalty earned by Thomas is apparently hit wide of the sticks by Iribaren, but Nigel Owens sees something I certainly didn't and the score at the interval was 9-6.
Half-time, deep puzzlement, and a rather excellent chorizo hash courtesy of Mrs Jonny.
Finn Russell kicks the second half off, and Sarries start brightly with Morris showing well, and a couple of minutes in we level the scores through a Goode penalty from 25 metres out after what Owens judged to be a deliberate knock-on. 9-9.
A few minutes later it's 9-12 and there's just a feeling we can do this! Following a Racing lineout after a long clearance from Daly, Sarries win a scrum which gives us the penalty near the halfway line. An ice-cool Goode slots it home, and the Browne household goes nuts.
Play continues with the highlight of a seismic hit from Morris which stops Zebo in his tracks, and it feels like "one of those moments" has just occurred.
Owens warns Racing after an in-the-air tackle on Goode.
Morris makes another great hit on Zebo, Barritt batters the line, and Sarries are showing great physicality. It's looking good for our boys.
12 minutes into the half it's 9-15! Another scrum penalty for Sarries, Goode's veins are still full of ice and it's over from 20 metres out. Dare we dream??????
Racing now try to step it up, with Koch and Rhodes doing good work. Racing go long, and from Goode's gather Morris breaks to 10 metres out, but Racing snuff out the threat through Chat.
In a key change, Iribaren is replaced by Machenaud.
Following a lineout from a Sarries penalty, Teddy Thomas gets a rare stretch of the legs but the ball is lost back to Sarries, Daly hacks through and away goes Lewington – is this it??? No…..Lewington elects not to kick and chase, trips, and the moment is gone.
A Sarries surge is stopped by a penalty against Goode, and we see a period of loose play - Racing step it up again, though…..do Sarries look to be tiring a little?
Racing's momentum is stopped by Sarries winning a scrum but we pay a terrible price. Barritt is poleaxed after a tackle on Russell as Ryan falls on him, Nigel Owens is heard to say "he's out", and although thankfully Brad comes round enough to be able to walk off, he looks distraught. Manu's on.
Calum Clark, who we've learned is, amazingly, in the 23 despite having tragically lost his father during the week, replaces Jackson Wray to help marshal the defence and try to hold what we have .
Racing edge closer on the scoreboard when Machenaud slots over a penalty from close range after a penalty for going off-feet. 12-15.
Racing cut loose through Vakatawa then Imhoff, but are stopped by great work from Clark.
A couple of scrums follow, to Sarries then Racing, and another good bit of work from Clark wins another one for Sarries. Barrington's on for an exhausted Mako. Not sure why they aren't changing the whole front row……and then the roof falls in on Sarries…..
With 4 minutes left, Racing push forward. Russell cleverly chips, Vakatawa picks up and offloads to Russell who has continued his run and feeds Imhoff who goes over for 17-15. In fairness it's the one piece of magic in the game….scant consolation…..
Machenaud converts, and it's 19-15.
Can Sarries pull one more rabbit out of the Fez? The answer's no – the game fizzles out as Morris is offside from the restart, Daly concedes a needless penalty, and the game ends as Maitland is stopped by Zebo.
So there we are – it's the end of an era as everyone including Mark McCall is saying, and although we went down fighting with our pride intact, it just felt to me like a sad way to say goodbye to Brad and Wiggy.
But, everyone, let's try and look forward - it may be Autumn 2022 before we play at this level again, but we have adventures ahead of us – the new challenge of the Championship in whatever form that takes place, watching our large crop of exciting young talent develop and grow into stars, welcoming back our lads from their spells in Bristol, Gloucester, Northampton, Montpelier, Japan and Newport (anywhere I've forgotten?) and seeing a new, reinvigorated Sarries scaling the game's heights again.
Teams:
Racing 92: Zebo; Thomas, Vakatawa, Klemenczak, Imhoff; Russell, Iribaren (c); Ben Arous, Chat, Colombe, Bird, Ryan, Lauret, Sanconnie, Claassen
Replacements: Machenaud for Iribaren (56),Kolingar for Ben Arous (53), Baubigny for Chat (56),Oz for Colombe (47), Palu for Ryan (68),Chouzenoux for Sanconnie (3).Not Used: Gibert, Trinh-Duc.
Saracens: Daly; Lewington, Taylor, Barritt (c), Maitland; Goode, Wigglesworth; M Vunipola, George, Koch; Itoje, Swinson; Rhodes, Wray, B Vunipola.
Replacements: Morris for Taylor (13),M. Vunipola for Barritt (65), Davies for Wigglesworth (78),Barrington for M. Vunipola (73), Clarey for Koch (78),Hunter-Hill for Swinson (78), Clark for Wray (67). Not Used: Woolstencroft
View a Printer Friendly version of this Story.
MATCH REPORT – RACING 92 vs SARRIES 26.09.20
Discussion started by TheSaracens.com , 29/09/2020 11:28
TheSaracens.com
29/09/2020 11:28
Another fine report from Jonny Browne.
Your usual publisher is on holiday, so some geriatric had to dust off his publishing tools, and make them work on an out-of-date operating system!
Click here to Register
.
Edited 1 time(s). Last edit at 2020:09:29:11:36:21 by TonyTaff.
jonnybrowne
29/09/2020 17:31
Quote:

TheSaracens.com

Another fine report from Jonny Browne.

Your usual publisher is on holiday, so some geriatric had to dust off his publishing tools, and make them work on an out-of-date operating system!

Click here to Register

.
Thank you TT. Is it me or does the fresh-faced Brad in the photo resemble a young and svelte Jason Leonard?
Sorry, only registered users may post in this forum.