We're bottom and I love it!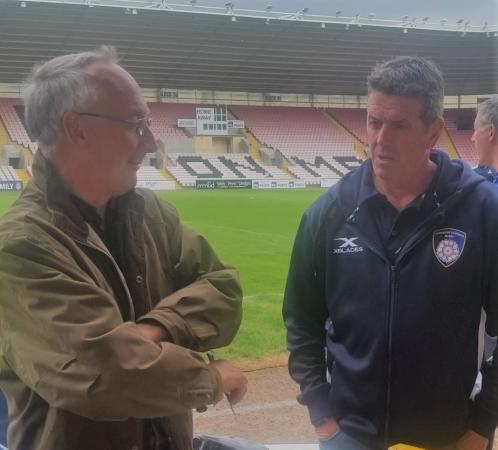 Delivering
By WW
November 2 2018
After the first swatch of games in the Championship Yorkshire Carnegie lies 12th in the table, adrift of the 2nd bottom club by some points. The lads have only managed to win one game. No one would be surprised if the long suffering fans were a tad down at this point in the season and looking at potential trips in National League 1 next season. Well I for one am quite happy.
At the start of the season I adjusted my expectations in line with the squad that we had at that time - clearly too small to mount a serious challenge for promotion. As we stuttered and stumbled through the early fixtures I realised that it could get a lot worse - and it did. However once you have hit the bottom there is only one way to go.
About this time we had a visitation on the messageboard with a not-so-subtle hint of re-inforcements imminent. Within the blink of an eye players were announced as arriving, mainly from the other side of the globe but with some celtic lads mixed in.
Wow! Here was something that could develop into a really tasty rest-of-season. At the last count we had picked up an additional 8 players. The cavalry have arrived! Now all thoughts of relegation have evaporated and my mind has turned to the interesting question of "How far up the league can we go?" I look at the teams above us and straight away I am looking past Xmas to a trip to Castle Park on the 29th - a good place to end 2018 with a resounding win - a marker for the rest of the season. Next I am looking at the home fixture against Ealing. If the new guys are half decent and settle in then I think a realistic target is a home win that day.
Clearly we are not going to win all our remaining games but it will be exciting if we can see progress month by month. The positivity of our DoR is tangible and it is rubbing off on the fans. As one of the clever people said: "In Stirlo we trust"
View a Printer Friendly version of this Story.
We're bottom and I love it!
Discussion started by TykesRugby.co.uk (IP Logged), 02/11/2018 13:04
TykesRugby.co.uk
02/11/2018 13:04
What do you think? You can have your say by posting below.
If you do not already have an account
Click here to Register
.
Edited 1 time(s). Last edit at 2018:11:30:14:40:00 by Wildwillie .
John R
02/11/2018 14:29
Good post Tykes'

That's what we want, pos, pos, pos!!

It is certainly a far cry from our prospects only two months ago and from the bottom, the only way is up !

Chris Stirling suggest mid table by the end of the season at the Forum recently, sounds realistic and good to me.
almostatyke
02/11/2018 20:03
Good post, WW and it keeps the messageboard open for another 14 days too.
BTW, who is that joker in the photo asking Chris about purple ducts?
Selby Kev
08/11/2018 19:00
Good post- I now share your optimism-providing the team can gel and get the basics right.
Yorki
12/11/2018 17:53
I have followed YC/LT for eighteen years now and unfortunately they have been bumping along the bottom for some time, The recent changes in management at the club seems to have provided a new honesty and pragmatic approach to where the club is and what is needed to get it out of the hole the old regime (Hethrington and Co) allowed Leeds rugby as whole to get into. The injection of new young hungry players is very refreshing to see. Chris Sterling's candid approach when interviewed is a breath fresh air. The skill level of the new recruits was very evident on Saturday. It was entertaining to watch, even my wife who has limited understanding of the rules of rugby enjoyed the flow of play and passing by the backs.
Sorry, only registered users may post in this forum.
More Yorkshire Carnegie headlines