Carnegie catches Cov cold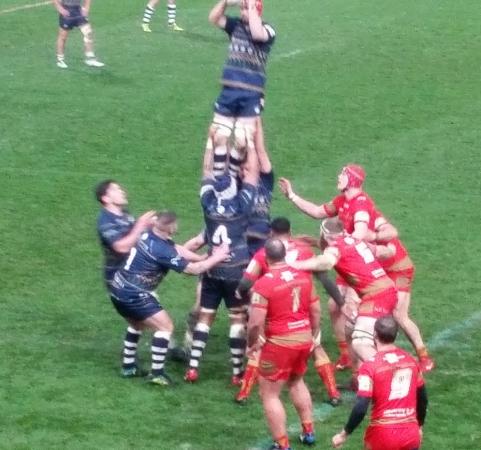 Temm lineout
By WW
December 15 2018
In the final round of the Championship Cup the top two teams in the Northern Group clashed at the Emerald stadium. At stake was a home tie in the next round.
Both clubs fielded strong sides and kicked off in an icy cold stadium. With so much at stake the opening exchanges were somewhat nervy. However the visitors spent much of the first quarter in the home 22 and were unlucky not to convert a penalty. This spurred them on and their driving maul went over for the first score.
After half an hour I wondered what we might do to get into the game. It would appear that the players started to think like me and showed a lot more aggression and urgency. We were rewarded with a penalty which Jade slotted home to get us on the scoreboard. 3-5 without much possession against a strong pack led by Plug and Beechy who were revelling in the harsh conditions.
Just as I was thinking that two points down at half time was OK we woke up and attacked with width. The final miss pass was long & flat into the arms of our big lad ont' wing who ambled over in the corner. Jade converted the extras and we went in at the break leading 10-5.
At half time we had a look under the stand which is very nice and contemplated how we managed to lead without seeing that much of the ball.
It rained in the second half which made life unpleasant for both sides. We played more in their half and a mistake by Cov in the corner let the quick thinking Harry Davey scoop the ball up and dive over for our second try. Jade hit the post from out wide with the conversion but we were 2 scores in front.
A mistake behind the scrum led to a sustained spell of Cov pressure but both side were making them and our defence looked stronger after the break. So despite ceding territory and possession we held out for a deserved win.
This is the last game before we go to Donny on the 29th. The side's confidence is growing and we have enough talent to see us end the year unbeaten. In what should have been a forwards' game I thought our MoM was Jade Te Rure who led the line with courage and conviction.
More Yorkshire Carnegie headlines