Pirate raid for Emerald reward?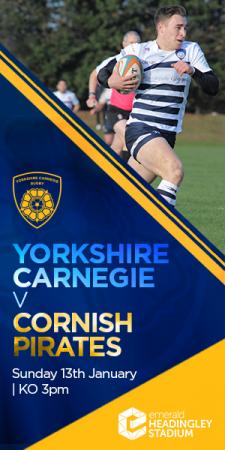 The Big Match
By Beeston Lion
January 6 2019
Next week sees the completion of the first half of the season when Pirates visit Emerald Headingley. They currently occupy the third position in the table amongst a group of four vying for the third and fourth places behind Trailfinders and Irish. As this might be the heights to which Carnegie wish to rise in the second half of the season, the contest will provide further evidence of whether or not this is a viable ambition.
Pirates form this season seems to have been buoyed by recent news regarding plans for the long sought after Stadium For Cornwall which has been approved for a site in Truro and the Pirates name is now included with those quoted as being interested in elevation to the Premiership. Their league position comes from gaining a total of six victories so far this season with third place gained by virtue of a better bonus points accrual than the other three teams in the "mini-group".
There are of course previous links with Pirates for Chris Stirling, who with Harvey Biljon (now at Jersey), formed the coaching team from 2009 to 2013 and the team during that period featured current co-couches Gavin Cattle and Alan Paver at scrum-half and prop respectively. I recall my first visit to The Mennaye and seeing Chris and Harvey occupying their usual position on the scaffold platform down by the trees at the Newlyn end of the ground.
The introduction to this critical phase of the season for Carnegie started brightly with the defeat of the Knights at Castle Park so lets hope we can take the spoils from another clash with historical foes ………………
More Yorkshire Carnegie headlines