Yorkshire 18 Cornwall 13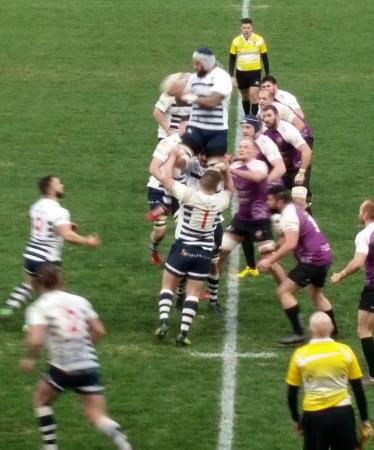 Lineout
By WW
January 13 2019
If this fixture had taken place in November I would have arrived at the ground expecting the high flying Pirates to bury us by a veritable cricket score. However, despite our lowly league position, there has been a definite shift in perception about our capability to handle teams above us in the league. I was looking forward to a win today!
Pirates are a decent team. They have a big pack, lively backs and they defend well. Add to that a swirling west wind then today's fixture was never going to be easy.
Carnegie started well by catching thje kick-off, recycling well and going through the phases. Joe Buckle rumbled over behind the driven wall into the wind after 6 minutes and we were looking OK. Midway through the half a superb break out of defence by the effervescent Dan Temm passed to Elijah Niko who sprinted in for the 2nd try. 12-0 and the game was going to plan.
After half an hour we went to sleep and Pirates acquired 10 points without really being in the game. They had lost their 10, ex-Carnegie player Will Cargill , after a collision with Chris Elder but his replacement looked lively enough. We turned round leading 12-10. The next score would be critical.
Our game management after the break was excellent and we played in the Pirates half. Several penalties came our way as we started to own the scrums. Umaga, who was struggling with the capricious wind, kicked two penalties and we looked solid as the replacements added to our game. Then things went a bit wobbly as Bainbridge started fighting in the Pirates 22 and got a penalty reversed. As the visitors pressed for a score Forsyth joined Bainbridge in the bin. Pirates kicked a penalty and we expected an onslaught on our line but the ref had had enough and blew for time.
A hard fought game in difficult conditions - four point to us, one to Cornish Pirates. That felt about right. Lots of good performances - Craig Mitchell, Pete Lucock, Joe Buckle and Elijah Niko all played well but my MoM was the evergreen Matt Smith who was epic in both the set piece and in defence.
So another win and a trip to the Athletic Ground to look forward to next week. Happy Days!
View a Printer Friendly version of this Story.
Yorkshire 18 Cornwall 13
Discussion started by TykesRugby.co.uk (IP Logged), 13/01/2019 19:21
TykesRugby.co.uk
13/01/2019 19:21
What do you think? You can have your say by posting below.
If you do not already have an account
Click here to Register
.
Edited 1 time(s). Last edit at 2019:01:22:08:06:23 by Wildwillie .
almostatyke
13/01/2019 19:37
It was great to see us competing and winning turnovers at the breakdown, rather than the accustomed penalties against. Plus the pack were dominant in the scrum and I think the lineout was about 100%?

Probably the forwards are wondering why we didn't win by a few more.

But an enjoyable game.

Excellent summary WW.
ellishicks
13/01/2019 19:55
By WW
January 13 2019
If this fixture had taken place in November I would have arrived at the ground expecting the high flying Pirates to bury us by a veritable cricket score

which is probably why I didn't come in November!

..but having watched the televised match last week I was expecting a good performance.. and largely got it. Having established a dominance, I began to look forward to a possible bp W. Pirates though seemed to favour an arm wrestle and got lucky really as we failed to establish more than a two scores win with a couple of mistakes and missed kicks. Even then I thought we could make the last few minutes interesting as we went down to their 22 with an extra man on the park. I don't know what Josh did but I had turned away by the time I realised that he had been carded. Andy didn't have much choice with his card and I was expecting a penalty try and thought we might even have blown the win. Lucky escape in the end, but another strong, competitive performance.
Exile_Dave
13/01/2019 20:49
Great result for your guys. (Irish Fan).

I'd rather be a Paddy then a Quin!!

C'mon the boys in Green!!
Madtyke
13/01/2019 21:36
Quote:

ellishicks
Andy didn't have much choice with his card and I was expecting a penalty try.
Spoke to him after the game and he said that as he'd been carded he expected a pen try but the ref consulted with the TJ and decided it was just a pen.
[
www.arborfieldoldboys.co.uk
]
JDH
13/01/2019 22:34
It was lucky. Shouldn't have even been there. The Josh card and reverse pen killed us. Should have been ball in corner and a chance to catch and drive... then game over.

The switch drive for the try was nicely done. As Chris said we are not far away from hammering a team.

The backs move in the 1st half (didn't quite come off but) showed they have been working hard in training.

Work the ball to Niko in space would be a good ploy. I bet there 14 was glad he never got lose 1 on 1.
Carnegiette2
14/01/2019 12:25
Good review.

Hard to watch at times- we were much better than the Pirates (on yesterday's showing) and when we had kicked to the corner, against 14 men there really should only have been 1 outcome.

To then be playing in the wrong area of the field with only 13 men of our own was extremely frustrating. Had Pirates nicked it, it would have been a huge gift.

The wind was obviously tricky - and overall very good to get the win- we are building a habit.

On to next week 11th vs 10th- anyone going? 50% of the #girlsontour are.........
John R
14/01/2019 14:32
Excellent win against a class side.

My first visit since September (been very busy !) and what a transformation our incomers have made.

Fine play, but with the inevitable mistakes and a thoroughly deserved win. Pity about the wind ruining Jacob's kicking stats. From my view, all his misses were on target until the wind intervened...b!oo7y weather !

And we did go to sleep on occasions which you can't do against teams as good as the Pirates.

I agree with WW regarding MoM. Matt Green played an absolute stormer throughout.
WPL
15/01/2019 12:17
1st chance to get to a keyboard since Sunday, its given me chance to reflect on it

...It was a strange game in a way, there was errors yes, the team don't need me to point them out and I'm sure the review has happened already.

However, it was a fairly strange feeling, I actually felt comfortable for pretty much through the match that we would walk away with a W, I've not felt like that for a while even well back into last year. Yes if there was another 5 minutes being down to 13 it might have made it tight.

Our pack dominated a traditionally strong pack and in conditions like that that is key. The defense was very strong, their try came from a spilled ball in contact, apart from that and the late knock on, I don't recall a time I thought they were going to score.

The new players, run of results has definitely had a massive impact - Saturday is going to be a massive game a W there and it's time to start looking upwards.

After that 4 of our next 5 league games are against the top 4/5 currently - that will be a real test and a buffer from below would be ideal!
Bobba
17/01/2019 08:29
One of my now rare visits to Headingley. I was wanting to see how the redevelopment of the stadium was progressing, and also to discover what currently passes as, much improved play by the team.

The stadium is looking good. Ruddy cold on the South Stand terraces though.

As for the Match itself, Cornish Pirates were very poor considering, their lofty position in the league. We were marginally better, and got the win by the skin of our teeth.

Highlights for me, were Pete Lucock's Crunching tackle and, Dan Temm and Jade Te Rure combining for the second try. Shows what can be done with running rugby with ball in hand.

Lowlights were, the usual handling errors, lack of imagination or intention, discipline and rolling mauls in our own half! What's that all about?

That said, it's a win and a step up the ladder.



Edited 1 time(s). Last edit at 2019:01:17:08:38:12 by Bobba.
Sorry, only registered users may post in this forum.
More Yorkshire Carnegie headlines