Jersey preview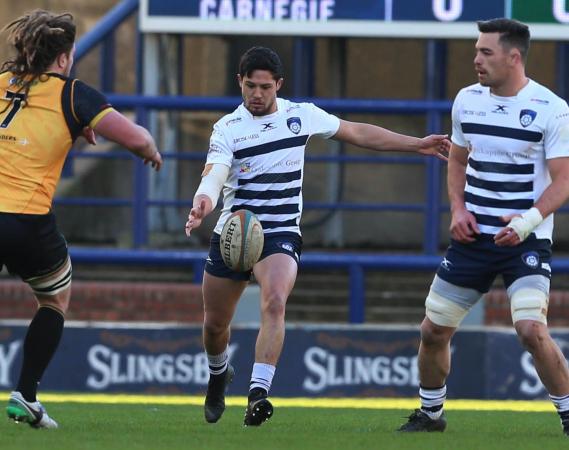 Improving form
By WW
February 9 2019
Next weekend the Jersey boys are in town. It is a long haul from the Channel Islands so the Reds will be looking for points and will not want to go home empty handed. This match has the hallmarks of a good tussle.
After the results of recent weeks it would be foolish to look at our respective league positions and try to glean a clue to the result of this encounter. Jersey are riding high in the top four whilst we are 3rd from bottom and can only rise to 9th if we win this game. More relevant is our form since Xmas with the setback against Ealing Trailfinders as the only blemish on our record. Moreover we have beaten the teams in 3rd, 5th, 6th & 7th so 4th placed Jersey will hold no fears for us. We won convincingly at Nottingham in our last game whereas Jersey went down at home to the Scottish Exiles. Having said that the Islanders are perfectly capable of piddling on our bonfire if we let them.
One factor in our improving form has been the performance of the pack. Despite some erratic lineout work the forwards, whoever is selected, are putting in big shifts both in attack and also when we need to defend. For me our outstanding forward has been Dan Temm who has lit up games with his incisive running.
Behind the pack the consistency of JB coupled with the improving form of Jade Te Rure has been a major factor. Jade is key to our fortunes in the next 3 months. His confidence is growing and he is the crucial link providing attacking ball to our threequarters.
Our DoR has been juggling the backline - moving Elijah into the centre has given the backs a new dynamic and has taken the pressure off our regular centres. Jacob has shown his potential in every game that he has played for us and Harry Davey has developed a try-scoring habit whenever he makes an appearance.
Sunday's game is there to be won. Whatever side Jersey put out should make no difference to us. We have the capability to beat the Reds in every department. At the moment the weather forecast is good - dry & moderate breeze so if we put in an 80 minutes like that against Bedford then we will prevail.
View a Printer Friendly version of this Story.
Jersey preview
Discussion started by TykesRugby.co.uk (IP Logged), 12/02/2019 07:16
TykesRugby.co.uk
12/02/2019 07:16
What do you think? You can have your say by posting below.
If you do not already have an account
Click here to Register
.
Edited 1 time(s). Last edit at 2019:02:23:08:43:11 by almostatyke.
almostatyke
12/02/2019 09:18
Probably the most confident and optimistic preview for one of our games for a long time, and one I agree with!
The team has a spirit and resilience that can only come from a run of victories and I think that will see us through in what could be a tight match.
Great preview WW.
Edited 1 time(s). Last edit at 2019:02:12:18:30:26 by almostatyke.
inside-knowledge
13/02/2019 21:10
Great preview

The team is riding high on the back of recent results but more importantly the the positive support from the rugby people in Yorkshire.

To give you some detail on how we have gone about things, we have an order of needs
1. Needs of the individual
2. Needs of the team are greater than the individual
3. Needs of the club are greater than the team

The process model delivered is servant leadership
ē DOR serves the coaches
ē Coaches serve the players
ē Players serve the club
ē the club serves rugby in the community, supporters and region

This has the region, community and supporters at the top and most important.

I cannot thank you enough for sticking with us. This is just the beginning

Our goal is good to great and we have a way to go.
opuscoitus
13/02/2019 22:11
Cheers I-K

Thanks for sharing on here regularly, know itís appreciated by many who have had to suffer the mushroom syndrome in the past

Refreshing and appreciated

Thanks and roll on Sunday
Bobba
13/02/2019 23:11
Good preview WW. Thanks also to inside-knowledge for his input. It is appreciated.
almostatyke
14/02/2019 08:18
Thanks I-K.
I will make sure your assessment of WW's preview does not go to his head.
Edited 1 time(s). Last edit at 2019:02:14:08:19:31 by almostatyke.
Selby Kev
15/02/2019 19:41
Good preview WW-thanks.Hope you are right. Its been a rocky ride this season!We are 'on the up' as they say...bur Reds have beaten Irish and Ealing at different times...and have been 'there or thereabouts all season-since they beat us!I think we have the capacity and talent now but suspect a close game. Interesting to see how vital kicking game was in 6 Nations. You have to play in the right territory for sure. Looking forward to a huge game for us-playing on the front foot from the off!
almostatyke
15/02/2019 20:19
Hoe to see you at the match on Sunday, Kev.
Selby Kev
15/02/2019 20:41
Definitely....how could I resist...but hope we come with good game plan!
Gelbel
16/02/2019 17:58
Love I-K's post.

BP win and I think by 14+ points

What am I most looking forward to tomorrow? Not shivering my bits off. I must look for my sunnies.
Bobba
17/02/2019 18:38
Nothing to warm you up at Headingley today! In twenty odd years of watching the Club all over the country and beyond. This was the first time I have walked out before the final whistle. Absolute garbage!
opuscoitus
17/02/2019 18:38
Sadly a poor day at the office, restarts yet again and poor lineouts coupled with too many flat passes not going to hand, looked leggy and flat today in a game I firmly thought was there for the taking,

I'm a forward so little flat flip passes close up in back line ain't my forte but if it doesn't go right first couple of times stop doing it and bring in the big lads onto the ball at pace,

Not blaming officials for our defeat it lays firmly at our door but a very poor sir today didn't sort the scrums and gave high tackle penalties at a ratio of 1 in 4, and the blatant obstruction for the second try pretty much summed up my thoughts on sir and he didn't improve

Lino on South stand side no help at scrum time and some of his decisions of where kicks went in defied science and physics,

Endeavour was there and not in question but a bit too one dimensional at times, jersey took the chances offered and lucky to get BP at end as we were throwing it about trying to get one of our own, appeared to be up in the line a bit quick for me but sir and lino were having none of it

Noticed a few of team were sightseeing in London and other places on Instagram this week not questioning commitment or the way management do things but that would have been better served when we actually in london next week, mid table probably a little beyond us now some tricky fixtures still to come and still 2 good wins away from 9th next 2 league games Bedford away and LI at home need to get basics right on training pitch ready to go again,

3rd and 4th have done us at home with try scoring bonus point we have left with nothing, plenty of work to do then as niether Ealing or Jersey looked anything special just clinical when it counted,

Still clear of bottom sides just need to gird our loins and try to be nearer 9th than 11th in a few games time



Edited 1 time(s). Last edit at 2019:02:17:18:43:30 by opuscoitus.
Grybz
17/02/2019 19:06
I agree with Opus, we didnít lose because of the officials but quite frankly they were woeful. As far as I could see he was just making things up when it came to the scrum and the decisions on the high tackles appeared a little on the one sided.

That said we never looked like scoring in the second half. The first intercept pass in their half at the end was bad enough, but to then repeat it was just palin dumb. Credit to Jersey they defended well, but we did seem to make it easy for them, especially where we had numbers but our players took the ball into contact instead.

Not great, from either side, and I did think the scoreline flattered Jersey a bit, but canít say we deserved much from that performance. Letís hope CS can get them fired up and clicking for Friday night in Bedford.
Sorry, only registered users may post in this forum.
More Yorkshire Carnegie headlines