The best Tykes match - ever!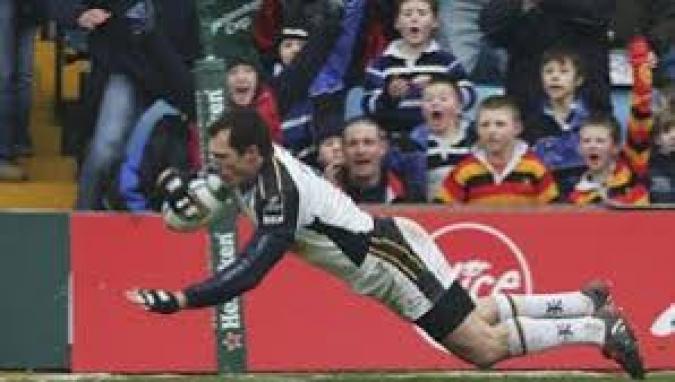 First try!
By WW
July 19 2019
During the bleak summer months when news from the club has been very sparse my thoughts have turned to the Tykes' games which left me breathless, elated or in a state of rapture. Here are just some of them:- Powergen Cup final, Harlequins home win to avoid relegation, HC cup win v Perpignan & the relegation defeat at Northampton
My favourite game ever was a Heineken Cup match on 22nd January 2006 against Cardiff. We had travelled down to Cardiff in the reverse fixture. For half that game we competed and were ahead at the break. Then we capitulated and lost by 46-13. What a disaster! Cardiff came up to Headingley in the new year with one Jonah Lomu on the wing. Another beating was on the cards. Fortunately the lads felt that they had a point to prove.
Justin Marshall opened the scoring with a long range drop goal. The first try followed slick handling by Chris Bell to put Andre Snyman away. Andre rounded Lomu before crossing in the corner. Rossy converted and it was 10-0.
The second try came when Tom Palmer crashed over from a maul. Rossy did the honours - 17-0. Cardiff were awarded a penalty to reduce it to 17-3.
The third try was a pearler. A Chris Bell miss pass to Tom Biggs who ran through two defenders to score. Rossy obliged with the extras, 24-3 at the halftime break. Would we crumble in the second half?
We would not! A canny break from Marshall put Andre in for his second try. With the forwards rampant the Tykes were awarded a penalty try which made it 36-3 after Palmer had been denied a second try.
Marshall was on fire and found the tryline after spotting a gap in the Cardiff defence 41-3. The final try went to Dave Doherty. Rossy converted to make it 48-3. Battling Gav Kerr got binned but it made no difference to the final score.
The match was watched by 7,144 fans , most of whom expected to see Jonah Lomu rampaging through our defence. They did not mainly due to the close attention given to Jonah by Andre Snyman. The other notable performance, for me, was that of the much maligned Justin Marshall who, on that day, showed us what a class act he was.
View a Printer Friendly version of this Story.
The best Tykes match - ever!
Discussion started by TykesRugby.co.uk (IP Logged), 19/07/2019 07:39
TykesRugby.co.uk
19/07/2019 07:39
What do you think? You can have your say by posting below.
If you do not already have an account
Click here to Register
.
Edited 1 time(s). Last edit at 2019:07:25:07:44:12 by Wildwillie .
SideStep
19/07/2019 09:09
Terrific match.
Obviously the powergen cup win was special but I think my favourite was the win over Worcester to stay up.
Alberto Di Bernardo volleyed his own kick chase at one point.

The first Leeds Tykes child mascot...#leedswasps0203season. #cheersbentos
almostatyke
19/07/2019 12:30
Best match v Wuss to stay up.

In miserati mode, worst match Carnegie 0 Donny 6 when ironically we got a losing bonus point despite not scoring any on the pitch.
Wildwillie
19/07/2019 13:53
Quote:

almostatyke
...In miserati mode, worst match Carnegie 0 Donny 6 when ironically we got a losing bonus point despite not scoring any on the pitch.
Leeds Carnegie Signed Flag
19/07/2019 19:46
Thereís just so many really, as said that Cardiff game was absolutely amazing to watch stood in the south stand thinking is this really the same team that was in the premiership?
Probably the most memorable one for me was the Saturday night match against Stade FranÁais Paris yes we lost but I didnít care because I was in my SF Pink top and got on the Sky coverage 3 times that match haha
Also the fact that after the Powergen Cup victory over Bath we could usually manage a win over them at Headingley
Thereís been some cracking matches over the years the Leicester Tigers one is also one that sticks in my head mainly for the chant to Austin Healey and that hair growth advert he was on at that time

Some say he has a Tykes flag with team signatures on.
Others say that he's doing the same to the Carnegie flag,
All we know is that he's called Leeds carnegie signed flag.
Scuffer
25/07/2019 12:09
In the season in the Prem when we were last promoted I enjoyed the away win against Wasps which I think was our first victory that season.
Loosehead
25/07/2019 14:41
My top 5 games

Leicster home 1st game of the 02 season
Bath away, 7 days after beating them in the cup
Wuss home when we beat them to stay up
Powergen Cup final
Exeter home March 2007 in Nat 1
Scuffer
25/07/2019 15:57
Yes, that Wuss game was a good one and was tense at the end when they were going for a drop goal. I remember some of their players had a bit of a fracas with their supporters after the game finished. I recall it was some of the player's parents that were involved.
leemingtyke
25/07/2019 16:19
Quote:

oopnorth
Beating London Irish last season.
Good shout.
Most are looking back to the Prem days but that was an awesome game. I felt properly rejuvenated coming away from that game.
I'd also throw in the play off first leg semi final win over the Falcons.
Sorry, only registered users may post in this forum.