Rugby through the ages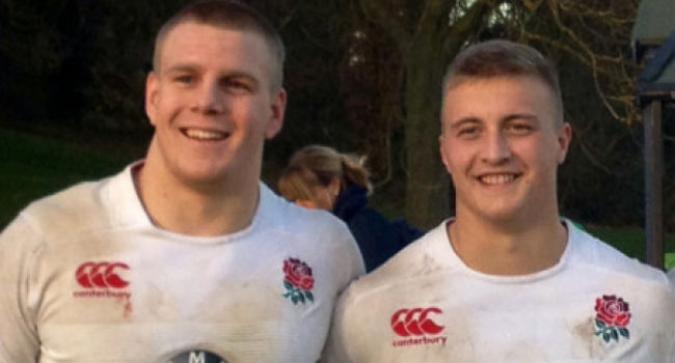 Big lads
By By opuscoitus
May 6 2020
Well-ish. Well not even ish really just in my playing career. (Well erm not a career more a social hobby)
Forgive the header but was thinking whilst taking puppy Opus out for a walk past Bradford & Bingley RUFC how in the time I have spent involved with rugby in one way or another has changed dramatically in such a short space of time.
Blast back in time to the late 70's, yours truly the only kid at school with a home made knitted jumper and haircut by Stevie Wonder and a school bag belonging to my next door neighbours university bound lad (a hand me down), and if I'm honest not exactly the athletic form some of you may have seen at home games…..(you're only human girls) I was a magnet for the school bully. Plenty of digs at break time, sprinting home to avoid more beatings and spending time home alone as a latch key kid playing action man and thumbing through mums freeman's catalogue for a glimpse through a black eye at the lingerie section……..(don't judge we all did it). Nobby no mates with a pile of Famous Five books and Tiswas for company.
Then one day my teacher Mr Bowes (his dad played cricket for England I think) the guy was huge and scared me to death, but the respect I have for him now is even bigger than he was. He told me to stay behind after school and try for the school rugby team. I had no clue what was in store, no idea why but it was a decision that changed my outlook on life in general forever. To start with though, standing on a rainy sodden pitch in my green PE kit (school colour) getting largely ignored by all apart from a few insults wasn't really helping me get enthused about the game.
Then I tried to tackle someone as it appeared he was intent on running right through me, seconds later boot marks all over me, bloody nose and head ringing as it hit his knee, laid like a starfish on Blackpool beach in the mud wondering
A. Where am I?
B. Who am I?
And C. I want my mum,
Cue Mr Bowes "get up lad at least you tried have another go stop snivelling" that was almost a compliment, and I didn't get many of those. I watched how others tackled, got involved in the game and although I didn't understand the rules, what the hell I was doing or what was going on I loved it . People passed me the ball, encouraged me, helped me, it was brilliant. Then he ran at me again, it wasn't the best tackle in the world but I stopped him and he knocked on. Pats on the back instead of getting punched at break time seemed like a plan so threw myself into tackles ran hard with the ball ……didn't make the team but god I loved it. Several training sessions later and hooked on Rugby special on Sunday afternoons I made the team, we got slapped good and proper but I was part of the school team and mates with some hard kids (yes we were 9 but they seemed hard) and it meant the school bullies kept their distance so happy days.
Then one day a knock at the door, Dad answered it was Mr Bowes……"Christ what's the little shit done now?" was Dad's response, nice to have faith dad cheers. Anyhow turns out he knew someone at Bingley Rugby Club and they had a junior set up…..Bingley Bantams and he recommended I went and played as he felt it was doing me the world of good. Not sure what he said or did as Mum and Dad didn't have a pot to piss in to afford for me to go but that Sunday morning he picked me up and took me to Wagon Lane as we didn't have a car, and although I was a little boy lost again in my only kit…….yep the horrid green one we were playing mini rugby and the U10's were my new mates. I even got a nickname….Beanie thanks to the kit.
The following years up every Sunday morning walked down to the club and played through the age groups to full size pitches , line outs, decent scrums I loved it all. Bingley merged with Bradford, I got a paper round morning and afternoon and soon became as fit as a butchers dog and built like a Rangoon racing snake, I had a decent boot on me so Full back was the first proper position I made my own. The U16 tour to Ireland with the Colts opened my eyes to the more social side of the game as most of the Colts while heroes in our eyes had one sniff of the barmaid's apron and were hammered.
Then before I knew it I was a Colt, the last year at U18 was probably my best. Captain, kicking goals scoring tries, trying new things etc, people encouraging me to train with seniors, whispers of maybe getting put forward to area trials, but something that off season changed my whole outlook on the game, step forward Joshua Tetley………yes I admit it's crap now but as a 16/17 year old getting bought a pint from folk at the club I couldn't get enough. I got a job behind the bar and with everyone paying me a pint on when they got a round in, I was almost invincible.
First preseason session we had a new coach. I'd never seen him before but had a good rep apparently with a view to getting us ready for a tilt at the Yorkshire Cup. His name escapes me but as he got on the pitch, as Captain the previous year I introduced myself and he looked me up and down and asked what position I played? Full back I answered confidently…….."not with a beer gut like that lad you're front row now". He had a point- I hadn't kept fit I was either behind the bar or propping it up. I had let myself go big style, natural fitness had decided it didn't want to live with me anymore. I was gutted, I didn't want to be front row, I was top scorer he didn't know sod all I'll show him.
10 mins later after a beasting pre season run/sprint/jog session I was throwing up behind the sticks like a good un. I was wasted I hung my head in shame and trudged off to the scrummage machine to be with the forwards who just sniggered and welcomed me to the engine room…………
View a Printer Friendly version of this Story.
Rugby through the ages
Discussion started by TykesRugby.co.uk (IP Logged), 06/05/2020 13:28
TykesRugby.co.uk
06/05/2020 13:28
What do you think? You can have your say by posting below.
If you do not already have an account
Click here to Register
.
Edited 1 time(s). Last edit at 2020:05:31:07:46:54 by Wildwillie .
almostatyke
06/05/2020 18:46
Brilliant lockdown release opus...... I presume part two is coming?
opuscoitus
06/05/2020 18:54
With the powers that be Almo, I start to ramble and before I know where I am I'm 2000 words in, I just send it in and the gods decide what best to do with it,

Bit like the last one in parts so we keep the network admin happy and not hunting other stories
Billy ba
06/05/2020 19:15
Good read opus. Brings back memories. I finished 1973/74 season as an eleven and half stone stand off and started the next season as a sixteen and half stone second row forward. That's stopping smoking for you
Camquin
07/05/2020 00:20
I think the father was
Bill Bowes
Wildwillie
07/05/2020 08:05
Quote:
opuscoitus
07/05/2020 08:10
Excellent spot camquin looks just like him, had a trawl through and it was his son Tony Bowes,

Turns out decent cricketer himself in Bradford leagues, certainly when he connected with a ball in school cricket practice you had a trek to get it

Great spot thank you
Carnegiette2
10/05/2020 11:28
Great read as ever Opus........
Sorry, only registered users may post in this forum.
More Yorkshire Carnegie headlines