Rugby through the ages - part 2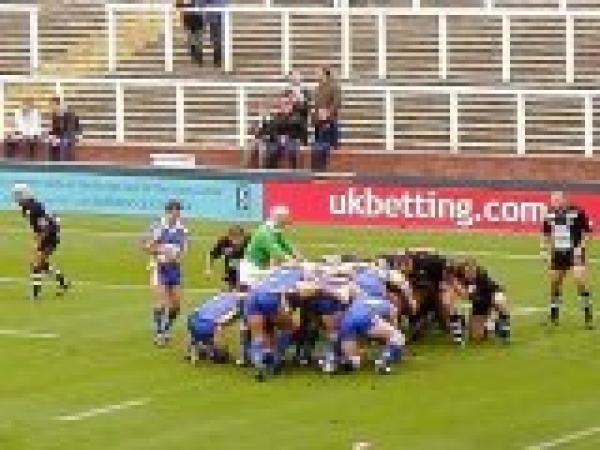 By opuscoitus
May 15 2020
Well-ish. Well not even ish really just in my playing career. (Well erm not a career more a social hobby).
So having discovered beer and consequently been banished to the forwards, this soon became the best time ever. Lifting was allowed in the scrum, we had a powerful pack and learning the dark arts with the seniors during evening training under floodlights was worth running home from work so as not to miss it. I was player of the year and happy in my new home - the front row.
Cue the following year my first taste of senior rugby, 5thXV away at Keighley 3rds, proper social Rugby punch ups, beers, sing songs, so this is what seniors is all about? Then following week the 3rds away at Halifax step up in level and intensity but still welcomed and felt part of the team…..then 25 mins into the game during a scrum felt a sharp pain in my ear and blood trickling down my face - the oppo prop was biting me!!!!! As the scrum broke up he was grinning from ear to ear so I lost it, best punch I ever swung full in his grinning chops, he fell to the floor and I heard the worst noise you can hear just after a bit of foul play…..the shrill sound of the refs whistle…..he was stood right in front of me, straight red……humiliated.
So my chance in a better team probably up in smoke and with apparently a visit to a hotel in Leeds where the Yorkshire committee would be waiting, to look forward to. I got a 6 week ban despite my character witness (3rdteam captain) saying I was colt player of the year and the fact I still had a mark where the 3 stitches were inserted – this only made them say I should know better and to learn from my error. Several games in the vets followed my ban, Port before the game, Sherry at half time and Whisky at full time meant that while I was learning my lesson for the sending off I was also learning a new side of social rugby which I'll be honest I was beginning to enjoy.
Back in the 3rds eventually and occasional bench for the firsts got my appetite back for the more serious side of the game but often players were brought in from afar and the club's only priority was the 1stteam. Opportunities were few and far between which led me to question do I stay or do I go elsewhere to further my game?
About this time I read an article in the paper about Aireborough RUFC looking for players for the new season, lower in structure but League Rugby in Yorkshire 4, maybe just the thing for me, so in 1990 just as David Platt scored the injury time goal to beat Belgium in Italia 90 I left Bees for the last time. Straight to Esholt where Aireborough played then and I was immediately welcomed and quickly realised the effort that goes into running smaller clubs, social committees, tour committees, wives and girlfriend committees to help with the teas raffles etc. If folk didn't chip in nothing got done and they didn't exist. Both myself and Mrs Opus helped out where needed and it was a small family homely club, we were never going to climb the leagues to national level but we held our own in the Yorkshire divisions and were one big happy family.
A move to Nunroyd Park Guiseley followed and a brief flirtation with promotions and cup runs, the clubhouse was rebuilt. Tours were epic everyone knuckled down and we ran 3 teams regularly which at that level was incredible. Yes we took it in turns to sweep the changing rooms, collect subs, do the raffle but it was part of the fabric of a small social club. No-one was allowed to get too big for their boots, that's what the surrounding clubs were for - Yarnbury Otley Ilkley - if you thought ARUFC was too small for you there were other nearby options for you.
Sadly injuries mounted, Ankle ligaments like old rubber bands and a new career in the Prison Service beckoned and whilst still turning out odd times for the seconds and going on the odd tour I pretty much knew that with a young family and potentially a decent pension it was time to pack it in. I'd played from U10's through to seniors and then probably another 15 years so not a bad crack at it and maybe if I hadn't have had all that beer that one summer I might have played at a higher level, but I certainly wouldn't have had the fun and the banter I've had since.
Little Miss Opus has dabbled with playing and loves it, the girls' game is getting bigger, hopefully she will take it back up again once exams finish. I often wander down to watch Bees Juniors on a dog walk and hope that some of the kids get the same out of it I did. Yes it has changed with professionalism and kids want to be Owen Farrell or Billy Vunipola and are encouraged to hit the gym and drink protein shakes. I just hope that the social side for them hasn't been diluted, the sing song on a bus about Dicky Didos and boat race drinking games should always be part of the ageing process of a rugby player in an ever-changing game.
And I hope somewhere, there is still a Mr Bowes looking out for the underdog and encouraging them to give rugby a try………
View a Printer Friendly version of this Story.
Rugby through the ages - part 2
Discussion started by TykesRugby.co.uk (IP Logged), 15/05/2020 09:52
TykesRugby.co.uk
15/05/2020 09:52
What do you think? You can have your say by posting below.
If you do not already have an account
Click here to Register
.
Edited 1 time(s). Last edit at 2020:06:14:08:19:59 by almostatyke.
WPL*
15/05/2020 10:23
Ha Ha Great read again Opus!

There needs to be a space for social rugby, when I started playing it was a game for all shapes and sizes, now it's amazing how far you can go down the levels where everyone is built like the proverbial outhouse.

Hopefully if we can get a season next year we can have some mini-tours as spectators. I doubt I will get sign off for too far a trip - but Sale away (there's an Enya song there somewhere) is one I am aiming for especially as it's right next to a metro stop....a bottle of port and cheese for the journey back I think...
Carnegiette2
17/05/2020 19:54
Excellent article again Opus- I very much enjoy reading your reminiscences
Sorry, only registered users may post in this forum.
More Yorkshire Carnegie headlines