Summer Musings (also known as keeping t'board ticking over)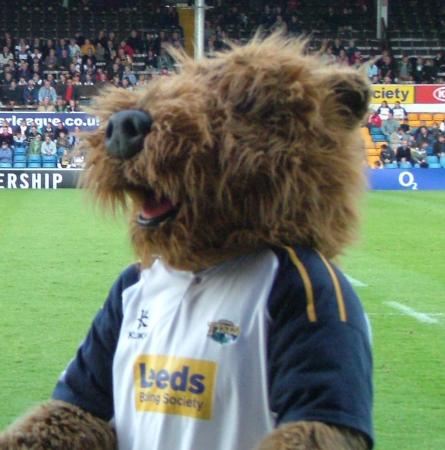 By WPL
June 26 2020
So here we are on a summer's day, the thoughts turning towards the upcoming season, trips to grounds to meet old friends, players looking forward to pre-season starting…
Of course we are not, the premiership final should have been played this weekend just gone, but we still have 8 rounds of the league to play (assuming they don't abandon the season any time soon).
News from the club is limited, part of me is a bit disappointed, but then for once I can understand to an extent – there is great unknowns still to happen add into that from what I've heard the majority of staff at Leeds Rugby are on furlough, given how little of their time we paid for before of this we must be well down their list of priorities.
When will the season start – ignoring the premiership as they are in their own "bubble" the answer is who knows, I've seen guesses from November through to January – could it be longer who knows, I guess that depends on 2nd waves coming in, all I know is I'm itching to get back watching rugby in person! I can't see from a supporter perspective any problems with social distancing – but as it's been said, Rugby and COVID are not good bedfellows!
So, what do we know for certain? Not a lot, we are likely to be changing our name, this seems to have been confirmed by Phil Davies, but there is nothing else, strong rumours on a new venue, but again nothing confirmed. Hopefully we will get some clarity soon – once we have an idea on a return to playing plan.
What has been announced is that We've lost a couple of players, but on the face of it maybe not a huge surprise given the news that ideally players would live less than 1 hour from training – James Robbins (moved to Sale) could still live over Chester way – I would not fancy that journey 3 times a week. James Elliot has had a chance to stay in the championship and move to Jersey – I can't blame him for that decision.
So player recruitment is an unknown, one of our challenges could be that Phil has mentioned building better links with the universities of Leeds – when are they coming back to Leeds? How much of an issue could this be for us? Hopefully there are conversations going on with prospective players, could having a well respected coach linked to the club help? You'd hope so.
There's not much happening elsewhere, there's not a lot of news from our division, a few player resignings, but not much movement – again not surprising, why sign a new player when under the rules of furlough you have to start paying them with no idea when money may becoming in.
Times are a changing in the championship, unless you are Donny, Jersey or Ealing you seem to be losing players. As some people know I have in-law connections with Bedford so I keep an eye on them, they seem to have lost a lot of players who want to carry on playing full time rugby. It seems that a lot of clubs in that division are going to have to cut their cloth accordingly. Whilst technically this won't impact us, it may push higher quality down into our division and we are not going to be looking at it I suspect. Makes it even harder for us next year.
All in all, it is a summer of great unknowns, not just for rugby but for the wider world. In the meantime, I'm off to open a beer in my garden, as I can't see me dashing to the pubs soon.
View a Printer Friendly version of this Story.
Summer Musings (also known as keeping t'board ticking over)
Discussion started by TykesRugby.co.uk (IP Logged), 26/06/2020 08:45
TykesRugby.co.uk
26/06/2020 08:45
What do you think? You can have your say by posting below.
If you do not already have an account
Click here to Register
.
Edited 1 time(s). Last edit at 2020:07:19:23:03:31 by almostatyke.
almostatyke
26/06/2020 09:14
Any news on Terry? Has he been furloughed (alongside Ronnie the Rhino)?
WPL*
26/06/2020 10:00
At the last home match we did see one man and his dog there, it turns out the dog was chief pigeon scarer at Headingley.

Touch smaller than Terry so probably cheaper food bills and kit sizes.

Watch this space our new name will be Leeds Pugs so we can match the new mascot...
leemingtyke
26/06/2020 10:26
Thanks for making the effort to keep the board ticking over WPL, it's appreciated. I used to write the odd article myself but, as I can't find anything positive to say about Carnegie, I've decided I'm best off out of it!

Get the point about furloughed staff (as I understand it, you aren't allowed to to any work or your company whilst on furlough), but the Rhinos official website is ticking over. Getting on for 3 months now since anything was posted on ours. Absolutely standard, we whinge about it every year but nothing changes.

Anyway, enough of the negativity.

I see Bedford have announced a 'partnership' with Saints which at first glance would appear to make them Saints B. Just wondering what your thoughts might be on that? Bedford have said in the past that they're not interested in promotion at the moment so could it work for them?
leemingtyke
26/06/2020 10:31
Quote:

almostatyke

Any news on Terry? Has he been furloughed (alongside Ronnie the Rhino)?
I don't think COVID affects dogs so Terry should be at work as normal!
Perhaps he could be taught to update the offy occasionally, even the odd 'woof' would be more eloquent than what we're currently getting!
WPL*
26/06/2020 12:13
Quote:

leemingtyke

I see Bedford have announced a 'partnership' with Saints which at first glance would appear to make them Saints B. Just wondering what your thoughts might be on that? Bedford have said in the past that they're not interested in promotion at the moment so could it work for them?
I think this is the most formal they have made it, for several years now they have had informal arrangements with Saints, Leicester and Saracens. I've seen several future England players given some game time while I have been down visiting the in laws (which seems to tie in with games for some reason).
From their geography they have always had close ties with saints, be it via a development squad (wanderers) or the annual Mobbs Memorial Match. The time when they had their last cup success it was with several ex-saints in the squad, Matt Allen, Jon Phillips for 2 (this happened to be on the same trip as we beat Bath in the final!)
I think this is the way forward for a lot of clubs. Remember before last season there was rumors of a link between ourselves and Sale - how true I'm not sure, I was a bit disappointed as Sale seem to have a conveyer belt of talent (Curry Brothers, James Brothers, Ross Harrison, Redpath Junior).
Leicester with Nottingham could be another. A few more and will the championship turn into a 'premiership B team' league - who knows, maybe that's the way most will survive.
As for our website, Oh I agree that it's frustrating, I think we've probably had a couple of articles in the YEP since it was updated. Yes the Rhino's is ticking over, though a lot is about the community work, re-showing old matches, interviews with squad members, we are currently in our off season, do we even have a squad. What can be said about ourselves and union at the moment in general, especially as maybe (hopefully) there are negotiations which can't be shared. A bit of news would be good though I agree.
leemingtyke
26/06/2020 14:12
I forgot about the tie in with Sarries. Think the likes of Mako Vunipola, Jamie George and Owen Farrell have all had game time on the slope in the past.

Regarding news from the club, my point is that it doesn't even have to be news. If negotiations are ongoing (regarding either players or location) then just they should just say that. But for crying out loud, when you've got as few remaining supporters as we have at least TRY and keep them engaged!! Let us know there's still a club there to support.
Carnegiette2
27/06/2020 09:32
Iím in 2 minds about the lack of communication. Part of me is as frustrated as anyone- as has been said the Rhinos site is being updated regularly and the odd message for us should not be too difficult.

But on the other hand - with these unprecedented and worrying times thereís bigger things to worry about.

Still hope we hear something soon
Wildwillie
27/06/2020 11:14
Leeds Uni will be re-opening in September according to a lecturer I was talking to this week.
Beeston Lion
30/06/2020 11:14
Nottingham have announced the signing of seven players and it appears these are the first of next seasons squad. They also relate looking for more players who are looking for rugby alongside full time employment.
almostatyke
04/07/2020 17:47
RFU proposals for next season (we are Tier 3 I think):
[
www.englandrugby.com
]
Wildwillie
05/07/2020 09:04
October is only 3 months away. Is that feasible? Nov 28 start seems more realistic to me .
Bobba
06/07/2020 14:36
More bright ideas from the RFU!
If any option, it surely has to be "window one". Anything else, in my opinion, is nonsense. I look forward to further updates from the RFU with trepidation!
Sorry, only registered users may post in this forum.