Hot Dogs in the Sun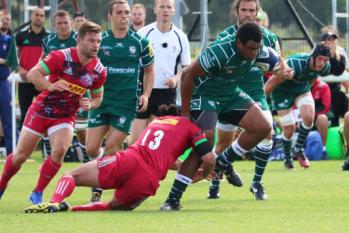 By MattM
August 15 2017
It was a convivial atmosphere at Hazelwood as Exiles and Quins fans gathered on a sunny Saturday afternoon to share a pint, perhaps a hot dog and a good look at their respective teams.
The mood was pretty positive pre-match, the Irish lads looked keen while Quins players were stopping for selfies with the fans and that keen attitude carried over into the game. Irish dominated the early minutes with a strong forward display. Petrus du Plessis immediately showing he is more than capable of deputising for Franks and Josh McNally looked very solid in the second row, getting stuck in at every opportunity. The team were rewarded with the familiar sight of David Paice burrowing through bodies to dot down less than ten minutes into the game. Bell (playing at fly-half) slotted his kick and first blood was ours!
For a few minutes all seemed to go our way… and then I remembered the nondescript bloke on the far wing of Quins was Tim Visser and he showed his quality by scything through to collect a strong kick and get some points on the board for his team.
This might have been pre-season but it was far from friendly as the two sides threw everything into their tackles and 16 minutes in the thing that every fan fears happened as play was stopped for an injured player. Medics rushed on with a scoop stretcher and other equipment as we discovered Luke Wallace was down with what would later be revealed as a dislocated hip. Play was stopped for 20 minutes, LI players taking the time to stretch and ensure they stayed warm while Quins players took to do some jogging and Mike Brown confused everyone by smiling and posing for pictures.
Once play resumed Tommy Bell stepped up to convert a penalty awarded in the tumult leading up to Wallace's injury and moments later du Plessis announced himself with a try, Bell failing to convert on that occasion.
Irish, feeling confident, let their defence slip a little and Quins showed they have some quality of their own as Joe Marchant spotted a gap and seized the moment to score and bring his team to within five points (they missed their conversion again, teenage fly-half Marcus Smith proving solid in open play but woefully underpowered from the tee).
An abridged half time break saw fans tearing back from the beer tents so as not to miss the action and they were subsequently baffled as Quins rolled out a new look 15 for the second half. The likes of Robshaw, Brown and Yarde reminding us that they have plenty of seasoned internationals to call on.
Irish introduced their own changes throughout the half and plenty of new arrivals caught the eye. Nalaga announced himself with a series of bruising hits and seemed to take an instant dislike for Marland Yarde, smashing into him like a freight train at any opportunity. Ben Meehan made his presence felt too. The sort of chippy, niggly scrum-half that every other team will take an instant dislike to, he endeared himself to this LI fan by mimicking Quins calls at every scrum, winding up their 9 and confusing their forwards.
Gordon Reid showed he is a quality addition too. A level-headed addition at loose-head who was strong enough in open play as well as his work in the pack.
The star of the second half for Irish though was Alex Lewington. Scoring a brace with some clever footwork and a burst of blinding speed he showed just how pedestrian Quins' "England winger" Yarde is and if he can keep up this form (and stay fit) Eddie will be wanting a closer look I'm sure.
Unfortunately Quins hooker Dave Ward took advantage of our lack of discipline at the end of the half again, scoring twice and along with Alofa Alofa's try early in the half, Mike Brown throwing three intentional passes to team mates instead of running into touch and the fact that replacement 10 James Lang could kick the ball far enough to reach the posts Quins narrowly won the game and the plate (bowl?).
In all though, a good display from Irish who matched an established Premiership team for skill and strength. Lapses of judgement can be dealt with and with the likes of Franks, Marshall, McKibbin, Filo Paulo and Tiks and more not featuring there are plenty of good solid performers still to come into the side.
Our new signings look to be blending into the team well and there is a real spirit of togetherness around the squad. Even Quins fans were saying we don't look like relegation fodder. The one next to me pointing out that he was more worried about his own lot!