After the Lord Mayor's Parade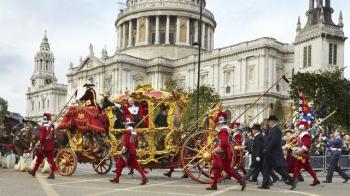 By Griff
September 21 2017
An oft-used phrase, especially in rugby, and even more especially for London Irish supporters - it's the hope that kills you. Fabulous as the opening-day win was against Harlequins it gave us green-bleeders the hope that the season wasn't going to be the expected scrap for relegation but Irish would instead run riot in the Premiership, prove the pundits wrong and qualify for the European Champions' Cup or even win the whole shebang. Of course this was always likely to be a falsehood, we knew that, but it doesn't stop the hope...
The second and third fixtures of this year's campaign were always going to be tough. Exeter away is an almost guaranteed loss for most teams in the AP but the hope led us to believe. Sale away is not quite as tough a proposition but it's still historically proved to be a big ask for us, the hope, though, said different. The hope was wrong.
I have to make an admission here. It's all my fault. When the fixtures came out I spotted that the Exeter away game was early September and my brother lives in Somerset these days so I organized a visit to see him and take him down to the "big smoke" for the game. My Mum and Dad live up in the North West so the Sale game is their local, they expressed an interest in going and so I went to that one too. If I'd stayed away from both the hope may have won... who knows?
We set-off for the A J Bell stadium in good time - I've heard many, many horror stories about the latest Sale ground about the traffic so I insisted we left early. I hadn't noticed it was a 2000 kick-off either so we left the Wirral (for what Google said would be a 50-60min journey) at 1745. We arrived at 1830! I will admit that the A57 improvements are causing an issue around the AJB but it didn't particularly hold us up. Having heard the horror stories I've never visited the AJB before and I have to say I quite like it. It's the sort of place Irish would kill for if they could get similar in West London. Yeah, the beer was a bit crap and the public transport is a bit patchy but none of that is insurmountable as problems go. If you haven't been (and can get up the M6 for a Friday evening kick off - I took the day off work) then I suggest you give it a go, the locals are friendly and it's quite a nice experience.
The match... well that wasn't as good. I'm not sure anyone needs a blow-by-blow (there are many around if you do) but it was, for me, disappointing. I'd expected a home win but I was thinking it'd be quite close (and obviously that we could nick it on a good day). It wasn't close.
The term my mother used and I agree with was "faster". Sale just seemed faster in pretty-much every aspect of the game. Obviously their runners are quick but their big boys were quick to the breakdown, they were quick thinking - changing the play as they went - and they were quick to pick-up Wayne Barnes's interpretation of the laws on the night. We weren't even close.
Another aspect of Sale's game that impressed was their attitude at the tackle. Irish seemed keen to tackle and release quickly to allow us to contest for the ball. This meant a lot of the tackles were really only half-tackles and the Sale guys spun out of them or simply carried-on running. A lot of the Sale set-up has a rugby league backgrond and it really showed. Irish really needed to put-in hits like they managed on Harlequins - taking man-and-ball and driving them back a good distance. The half-tackle approach put us in all sorts of problems.
An early penalty for Sale was followed quickly by a pair of tries and after 15 minutes Irish really had their work cut-out. To the Exiles' credit much of the following play was solid and Irish drove the home side well into their half. Sadly, where patience was needed to use that posession and territory to construct a first score, Irish tried to force the issue and a very loose pass on the left wing was hungrily snaffled by Denny Solomona and run the entire length of the pitch leaving Irish 24 - 0 adrift at the break.
The visitors started the second half with a lot more grit. Sale could no longer dictate the pace and score seemingly at-will but their defence was also solid and Irish made few in-roads. Soon the newly-gritted Irish defence was starting to get run ragged and I gather Blair Cowan was yellow carded for pulling the maul down. I didn't notice at the time which shows how well the remaining 14 guys did. It did allow enough space for the pick of Sale's tries to be scored by Josh Charnley giving the home side a bonus point.
With Blair returned Irish finally made it onto the scoreboard with a big push getting its full credit when Mr Barnes awarded a penalty try and sin-binned Halani Aulika for collapsing what was a sprinting maul.
I don't want to moan about referees (but they make it so necessary!) but I did feel we got the worst of Wayne in the maul (and I didn't know Blair had been sin-binned for a maul offence). Sale (despite being fairly easy-to-spot in their dayglo yellow change-strip) approached defending a maul by sending 3 or 4 chaps swimming up the side who then disrupted the drive from Irish. It was never pinged - have I missed a new law?
Sale pushed-back and spent a good chunk of the rest of the game in Irish's half. Initially it was down to pressure, good running but they couldn't get past the final green wall. While a good defensive effort was holding the home side out Blair Cowan was judged using TMO to have dropped his shoulder into a prone Sale player.
It was a bit tough, both sides had been doing it all game (and I'd been surprised it hadn't been picked-up earlier). Blair hit a guy who had already clashed heads with a Irish defender so it went to TMO while the attacker got medical attention. It was a definite penalty (as had all the previous instances from either side), and a yellow card was possible but since Blair already had a yellow (for what was already a fairly low-end infringement) it seemed churlish to give him a second. Wayne was up for churlish, though, and a second yellow saw Blair's evening complete. Since the subsequent disciplinary has allowed Blair to play immediately I suggest they thought it was a bit harsh too.
With the man advantage Sale upped the pressure and scored the final try of the night to close out a well-deserved and needed win for the Sharks. 36 - 7 final score.
If Irish can learn from the mistakes - for there were many - then it may well be that this was a necessary step on the route to a successful season (where success means not coming last). It was a bit worrying that none of the go-forward or the agressive defence seen in the opening fixture was evident. More worrying was the sights of Mike Coman and Danny Hobbs-Awoyemi limping off both with what looked like knee injuries. I hope neither were as bad as they looked.
More London Irish headlines
London Irish Poll