The Novelty Has Gone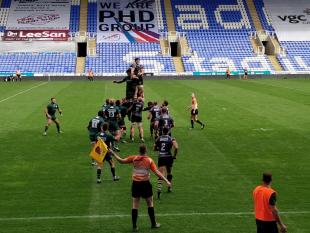 By Iron Lung
September 13 2018
The first home game of the season usually brings an opportunity to get the winter routine down to a tee. Parkrun or the lad's football match before a quick lunch and a dash to the Madjeski, a swift pint and then to our seats, chew the fat with friends not seen for a few months and then the rugby. Win or lose, rain or shine, come on you Irish.
For some reason today felt different, we're in a league we don't want to be in, huge favourtites to go straight up, and had beaten our supposed nearest challengers on their patch the previous week. The crowds were sparse, the hotel bar was never more than 1-2 people deep and seats were available for most. It struck me then that the novelty factor of being in the championshiop had worn off, we've been here, done that, got the t-shirt and visited the more characterful grounds around the country. Between our last trip down and this season we'd been reminded of games against the big boys, England stars, world cup legends and realised that was where we really want to be.
The road to staying there starts here though, whilst we have no right to go up we need to see the shoots ready to bloom to allow us to stay where we feel we belong. Did we see those shoots? It's hard to say when a win comes as easily as this one, so you have to dig a bit deeper.
On our last trip to the Championship I had a running joke with my son about the catch and drive being almost our sole method of scoring, I felt it hid inadequecies elsewhere. Just like last time the forwards were hugely on top, scrums and lineouts were won at will, Jake Schatz pogoing the ball as Irish drove a Nottingham scrum backwards a particular highlight. However, this simply set the platform and the backs would have to do their thing.
This they did to an extent, the backline felt like a work in progress, the ball not quite moving slickly but the moves were bright and full of promise. Myler is a class apart at this level and the centres looked like they could do some real damage with a bit more game time together; Stephenson in particular caught the eye going forward but Campbell also combined well with his fellow backs for our second try. Tom Parton showed why so many fans have been calling for him to start, with a couple of excellent runs from deep and at least one excellent up and under, more of the same please Tom. Topsy put in some good defensive hits and McLean finished off a couple of moves at the end.
The defence does need some work though, we were vulnerable to runners coming back inside and leaked late tries which sounds like a line I could have taken from any match report for the last couple of seasons. We need to improve there.
Are the green shoots sprouting? It's early days yet but seeing us take advantage of a dominant pack by letting the backs loose was encouraging, a ten man game might win this league but we'll soon be back here if that's all we have to offer. I'm also pleased that there's things to improve on, I want to see progress through the season. By the end of the season I want to see that defence watertight, the handling slicker and for us to play for the full eighty minutes. At the end of the season can we say we are better than we are today?
The novelty of the championship has worn off but there's hope for the future.
(Editor's Note: Iron Lung kindly provided an image for this story but the SN site currently won't allow me to upload it...)
More London Irish headlines
London Irish Poll