Stepping up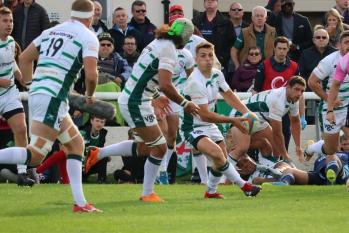 By PV
October 10 2018
Richmond Athletic Ground is another great venue to watch club rugby and the sunny conditions belied the time of year. Scottish made all our travelling supporters feel welcome on a barmy Sunday afternoon – Irish turned out in significant numbers even though the game was on Sky and we were the majority support on the day (certainly sounded like it). Going into the match, Scottish were touted as serious competition who could take a scalp, Nic Rouse has obviously been working his magic as results up until yesterday had been impressive.
London Scottish 17 London Irish 54
On the day though, we really stepped up to the plate, this was the best performance of the season and the game was won by half time, there would be no saviour in Salta for Scottish. That said, they have some decent players and like to move the ball around. Mark Bright seems to have been around forever, the best no 8 to not be playing in the Premiership – until now. He did a decent enough job of man-marking Matt Rogerson, but not quite enough. Rogerson had another great game, his ability to make metres and break tackles seems to defy his physique, but if we do go up, he should pass muster against rivals in the Premiership, perhaps our best signing. Or is he?
Stephen Myler, how we could have done with a signing of this calibre at stand-off years ago, I'm amazed Saints let him go. He slotted every goal, 6 from the left-hand touchline, he plays flat and his timing of the pass is top notch – a great manager of the game. He was up against a decent 10 in Jennings, but there was no real comparison. My only worry would be that our plan B appears to be Meehan. He had an average game, he is quick and breaks well, but he needs to not kick away possession when we win turnover ball and to pass more, he tends to take the ball up too much, that's fine when we don't desperately need the points, but it could be our undoing – so definitely an area for development.
We had eight different scorers, seven of the tries coming down their right channel – which we ruthlessly exploited. Partly down to some much-improved handling by the centres and Parton. All had strong games. Campbell and Macken look a pretty robust pairing, although premature, we might just have centres to rival the heady days of Maps and Elvis. Campbell has gas and power, Macken the same, but he also organises the outside defence well and runs strong lines. Their collective performance and linking up on the day were my personal highlight.
All the pack performed well. Fainga'a and Cowan made some stunning leg-chopping tackles and we dominated the scrum, it really started to take its toll on Scottish from 50 mins on. Special mention to Ben Atkins who came on to replace Fainga'a and make his professional debut, its good to see the Academy pipeline continuing to produce talent – we need to keep hold of them.
It was mentioned on the Craic last week that K&K are empowering the players to apply their own judgments on the pitch and avoid the pre-programming that so often hinders performance. In the warm up yesterday, Captain Josh told the squad that it didn't matter whether we won by 1 or 50 points, the focus needed to be on expressing and enjoying oneself on the pitch – it clearly worked. Whilst Scottish did play well with ball in hand, we were robust in defence and more clinical in attack than we have been for a long time. Maybe it was the cameras? Joking aside though, this was a very accomplished performance, so much so, that we were able to roll out the bench from early in the second half.
I've no doubt that there will be plenty more challenges ahead this season, but the performance against Scottish left me feeling positive about this season and beyond. We've signed some players who can perform at the next level and we continue to grow our own. Let's see if we can continue to build on this platform. Next up – Yorkshire Carnegie at home.
More London Irish headlines
London Irish Poll