Never attempt to win by force...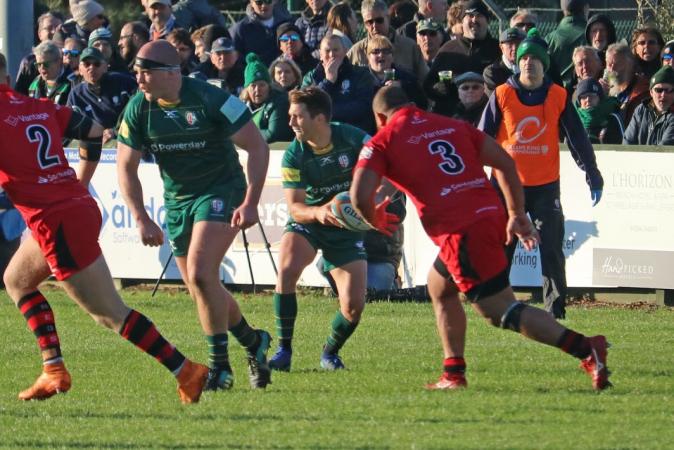 By HMRH
November 7 2018
Firstly, a massive thanks to Jersey RFC and the people of Jersey for what was another great weekend spoilt, once more, only by the rugby. Fortunately, that is not the overwhelming driver otherwise I would watch neither London Irish nor England.
"Never attempt to win by force that which can be won by deception.", as Machiavelli once said.
I accept that all the teams see LI as the ones to knock over and we should also accept that Jersey are a very good side that have recovered from a slow start to beat both Irish and Pirates in recent weeks. I will be disappointed in them if they do not also beat Ealing at the Santander – Jersey management and coaches please take note.
Anyway, on to the match.
It's a windy place to play rugby and that seemed to cause havoc with the lineouts for both sides (I'll return to the set piece theme a little later). The scrums didn't seem to settle and there were a number of penalties and free kicks as a result (see set piece comment above).
McLean was solid at 15 fielding most of his kicks although too many returns from LI found a Jersey player and it occurred to me that we were playing Venterball a little late – kick it back, chase up flat and let the opposition return it. It worked well in the main for the first half and Jersey never really threatened albeit the game was played between both 22s for the majority of the half. For 15 minutes there were no real attacks of note as neither side could get the upper hand.
Irish seemed to grow into the game and we had a series of breaks from the wingers, both made yards and knocked on. Irish were stronger and went forward through Porecki and Cowan, Jersey infringe and penalty to LI in front of the posts. Sticking to our game plan Myler doesn't kick for touch and we opt for the scrum. Jersey collapse and penalty to Irish – a word from Mr Pearce to the Jersey front row which works perfectly as they turn the ball over and kick clear. Set piece in front of the post and we didn't win it. Pressure but no points.
Irish go forward again and don't make it but win the scrum close to the line – no points. Irish maul upfield and hammer away at the Jersey line – their No8 is sent to the bin. We choose to scrum again and Myler offloads beautifully to Topsy who scores in the corner. Well converted by Myler into the wind.
Jersey break down their right wing evading several tackles before a knock on. Campbell looks at the ball trying to remember when he last saw it – I feel the centres are bored. Kick or forwards only today lads.
Half time and Irish in control but not really dominating anything and the seasons strengths – line out, rolling maul, scrums don't seem to be happening today. We are kicking and Jersey haven't done much with the ball they have had. A quick pint and a half time discussion with my travelling companions – we all seem in agreement. Bit dull frankly but we'll be happy with the win either way.
Irish collect the ball cleanly from kick off and try, again, to batter their way upfield. It's all a bit turgid and Irish knock it on. Good shove at the scrum causes consternation as Homer (it would be) tries to avoid being caught behind the line.
As you all know by now he manages it rather well and Jersey raced upfield for a wonderful score – ah running rugby. Tackling wasn't great but electric running and support play made us look a bit flat footed. It's the first time Jersey have been within 15m of our line but one chance and they take it. Our accuracy is not at that level as we've failed to score from 5 (that's a guess) set piece opportunities within 15m of the Jersey line.
Irish quickly reply as Ollie HC feeds Josh who storms through and feeds Cowan who goes under the posts. Jersey 5 L.Irish 14
The Jersey winger modelling himself on "Honey Badger" Nick Cummins then stands up the LI winger with a great step and then leaves him for dead and I mean dead as in roasted. Great 1 on 1 skills – we don't see much of that. Jersey close the gap 10-14.
The LI line out continues to not be a good source of possession and Jersey have their tails up here. No clocks at Championship grounds so we have no idea how long is left.
Note to RFU : If you are serious about the Championship surely there is money available for this and some sponsorship? Try the Russians I'm certain the money is available.
Anyway, with one eye on the clock and the other looking at the far end of the field Jersey score to win the game. It's been coming.
A few points to end on:
LI didn't score when they had the chances and lacked accuracy. Against the better sides we won't get away with it – and didn't here.
Set piece is our scoring route and if it doesn't function we struggle. Some allowance due to injuries in our back line but the Irish nationals amongst us were muttering about DK and his Ireland years.
We looked safe for long periods but a failure to score cost us, the guile and deception behind the force isn't there.
LI lacked intensity and passion. It's neither big nor clever but I longed for one of the forwards to have at least a small handbag moment with the opposition.

We need pace and we need spark – it wasn't there on Saturday. No idea why but we lacked something. Too comfortable was the suggestion as we huddled round the iPhone to watch the second half the England game in the marquee.
Jersey didn't fold under the pressure and their replacements made their scrum stronger. Ours didn't.
View a Printer Friendly version of this Story.
Never attempt to win by force...
Discussion started by The Craic www.londonirish.org , 07/11/2018 14:51
The Craic www.londonirish.org
07/11/2018 14:51
What do you think? You can have your say by posting below.
If you do not already have an account
Click here to Register
.
Shawshank
07/11/2018 15:27
Cheers HMRH, good to get a feel for the game.


As always with good away expeditions, in a couple of months time all you will remember was the social side of the trip...!
Sorry, only registered users may post in this forum.
More London Irish headlines