England Counties - Will they be BIG in Japan?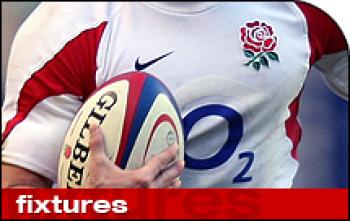 By K
June 2 2009
England Counties will the be BIG in Japan? - Buoyant Counties XV survive Seoul soaking
England Counties Japan 2009

Torrential thunderstorms and lightning cut short the England Counties RU team's first training session in Seoul, South Korea today (Tuesday, June 2), but the weather did nothing to dampen coach Dave Baldwin's delight at the way the squad came together.
"Our first session was tremendous. We've moved on much more rapidly than we have ever done in the past and certainly more quickly than we did for the Spring internationals." said the former England A and Sale lock: "The players have grasped the nettle immediately and we're moving forward at a pace. Unfortunately, after a great morning session, we had to cut short our second spell because of torrential thunderstorms and lightning, but I'm well pleased with the work we've done today."
Although the Counties have a new coaching team and a squad including 14 newcomers, there will be no changes to the ethos of enterprise and ambition that has become the hallmark of the side. New backs coach Tom Borthwick played a part in designing the blueprint when, with Bob Hood, he coached the inaugural tour to Chile in 2002. Since then the representative flagship of club and County rugby outside the Guinness Premiership has stuck by an approach which always finds favour with successive groups of players.

That philosophy, allied to the having such a diverse squad of players to work with and mould into a coherent unit, leaves all concerned facing a daunting test.

Coach Baldwin is very positive about what lies ahead.
He said: "We're all looking forward to the tour. It's a very exciting thing to be involved in and for me, working with Tom for the first time and with a new group of players adds to the anticipation. It's always big challenge."

Said Borthwick: "It's quite challenging to pull players together from all over the country with different concepts of how to play the game. That's the trick - to get the group together in a short time and develop an ethos about what we are trying to do. You have to learn to think on your feet and respond quickly to situations and different players. "When you are coaching a club you get to know how players respond. In situations like this, man management becomes a challenge and you need to react quickly.

"We managed to get a couple of sessions in before we flew out to Chile to get some organisation in place and that helped a great deal, whereas this time we are trying to hit the ground running, but with very little time to work in. "We've some exciting players to work with. There's a lot of potential in the squad and it's a huge opportunity for them. There are always players who come out of the group who go on the play in the Premiership and even higher and this is a chance for them to make their mark."

"Our aim is to win three games and I'm confident we have the players to do it." says Baldwin: "This trip to the Far East is a first for the Counties and it's bringing new challenges, a new environment and new, unknown opposition. It will definitely take the players out of the comfort zone of playing in a familiar club side and that's what Counties XV rugby is all about - going somewhere a bit special and seeing how the players react.
And the difficulty of players being tired at the end of a long club and county season. Says Baldwin:
"With that Red Rose on your chest and a white shirt on your back, you don't need any other motivation. Tiredness won't be an issue. As the lads showed today, there's plenty of gas left in the tank to make this trip a success."
England Counties Squad:
Backs: Chris Bishay (Wasps & Middlesex), Gareth Collins (Leicester Lions & Warwickshire), Nick Royle (Fylde & Lancashire), James Aston (unattached & North Midlands), Jack Harrison (Tynedale & Northumberland), Patrick Leach (Manchester & Cheshire), Kyle Dench (Otley & Yorkshire), Steve Parsons (Otley & Yorkshire), Mark Woodrow (Birmingham & Solihull & Gloucestershire), Tom Eaton (Manchester & Cheshire), Tom Richardson (Stourbridge & Berkshire), Huw Thomas (Nuneaton & Warwickshire).

Forwards: Chris Rowland (Clifton & Somerset), Rob O'Donnell (Sale & Lancashire), Joe Graham (Tynedale & Cumbria), Owen Hambley (Redruth & Cornwall), Matthew Long (Birmingham & Solihull & Gloucestershire), Peter Joyce (Redruth & Cornwall), Matt Owen (Manchester & Cheshire), Paul Ralph (Manchester & Cheshire), Mike Howard (Bedford & Eastern Counties), Eni Gesinde (Tynedale & Northumberland), Chris Rainbow (Hertford & Hertfordshire), Wayne Sprangle (Plymouth Albion & Somerset), Sebastian Moss (Manchester & Lancashire), Jason Smithson (Blaydon & Northumberland).


Tour itinerary:
Friday, June 5 Korea President's XV v England Counties at Seongnam Stadium, Seoul.
Monday, June 8 -East Japan v England Counties in Tokyo
Friday, June 12 - Yamaha Jubilo v England Counties at Yamaha Resort Tsumagoi