England Ref Chris White awarded top job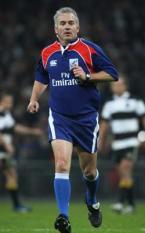 By Kath
September 14 2010
English Referee Chris White has been handed the job of leading the development of the next generation of top English referees.
Chris White lands Top Job
Chris White is the country's most experienced senior match official after taking charge of 50 major internationals, including appearances at the 1999, 2003 and 2007 Rugby World Cups.
Now the 47-year-old from Cheltenham, who took charge of the Aviva Premiership opener between Harlequins and London Wasps at Twickenham on the opening day of the season, has a new role as the RFU's National Referee Academy Manager.
He will help identify those with the talent to reach the top of the game and run the programme by mentoring referees and supplying the technical, analytical, fitness and sports science support needed to maximise their potential.
The aim is to get promising referees into the ranks of Aviva Premiership officials more quickly and better prepared than ever before and to increase the overall number of high quality officials in the English game.
Candidates will be drawn from across the refereeing spectrum, from the National Panel downwards, with a small group to be selected before the end of the year.
"I still have the motivation to continue refereeing at the highest level but I've always had a passion for the development side of the game and improving performance," said White.
"The purpose of this new programme is to provide specific extra support for referees with the potential to progress to the highest level and it adds to the superb development systems we already have in place in England.
"There is a lot of talent out there and we'll focus on maximising the potential of a small group of officials with the potential to succeed at the top end of the game.
"There will be a great deal of concentration on the technical aspects of the game - at the breakdown and scrummage, for example - and we'll look at areas like communication on and off the pitch as well as at analysis and game preparation and fitness and medical support.
"It's all about maximising potential more quickly and we want to make sure we produce a constant stream of officials to take charge in the Premiership."
Ed Morrison, RFU Head of Elite Referee Development, said: "Chris White's credibility in the game is well documented after such an illustrious refereeing career. He is an educator by profession and I believe he's the correct person to lead this exciting new initiative.
"I have every confidence he will be hugely successful in his new role, ensuring that young referees within the academy enjoy the best possible opportunity to develop their refereeing skills."
Richard Glynne-Jones, RFU Head of Referee Development, said: "Some 3,500 referees are qualifying every year and many then go on to join Referee Societies, where their progression can begin.
"Chris's input is intended to complement the excellent work that goes on up and down the country to ensure those referees with exceptional talent are given every opportunity to fulfil their potential."