England v Wales RBS 6Nations Match Thoughts Preview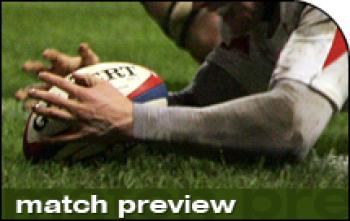 By 'The Mole'
February 2 2011
England v Wales RBS Six Nations 2011 - Match Thoughts Preview. The first opening match of this year's six nations will kick off at Cardiff on Friday night 7.45pm. Tom Wood will win his first England cap against Wales at the Millennium Stadium - Good Luck to Tom and all of the team.
RBS Six Nations 2011
Wales v England – Match Thoughts Preview
England captain Mike Tindall during a training session at Pennyhill Park Hotel, Surrey - Pictures Empics
So after all the namby-pamby ness of the Autumn Internationals, we are now getting to the real business end of the pre- world cup season and what a lot of fans see as the big one – England taking on Wales – in Cardiff!
On paper an England win looks the more likely outcome. A stronger showing in the Autumn Internationals, a larger pool of players, Wales' injury list and talk of disquiet in the welsh camp all add up positively for Martin Johnson's team, but as we all know, this is no ordinary game.
When England fired in the autumn, it was certainly a surprise to many. The sharpness and purpose of their attack against and admittedly sub-par Wallabies was a real highlight and the physicality of England was something that they never managed to come to terms with and although Wales will be much better prepared, this physical dominance is what England will be expecting
Undoubtedly Wales have struggled across the last 12 months to string together a run of performances, but they are always very competitive and ran the Boks very close in November. The loss of some key players has hit Wales hard especially in the pack, but with players like Jamie Roberts, Mike Phillips (when on form) and the genii that are Shane Williams and the sublime James Hook, Wales have the firepower to do a job on England.
In the front 5, England look very strong, even strong enough to absorb the loss of Courtney Lawes and although on his day Alun Wynn-Jones is one of the best in Europe and Bradley Davis improving in the loose with every performance, the loss of 3 quality props in the Jones boys and Gethin Jenkins means that England should have more than enough to dominate the tight exchanges.
The back row has changed considerably, but even there England have replacements who are currently in form with their clubs – the best reason for selection
Englands Tom Wood poses for a picture at Pennyhill Park Hotel, Surrey - Picture Empics
Tom Wood will start his first game after being in excellent for Northampton this season, although how he will fair without Phil Dowson alongside him will be interesting. Many people (myself included) are at a loss to why Dowson isn't starting or at least on the bench.
The one positive for Wales is the recall of Andy Powell. This may be more due to fault than design but there is no doubting that the big ball carrying presence of Powell will mean that James Haskell will have to play with his head up, not something he is noted for.
In the backline there are positives and negatives for both sides.
There is no doubt that Flood & Youngs are in good form for Leicester and have carried this from through from the AI's. Youngs' pace will be an area of attack for England. If Flood continues to develop his game management then England may well be able to dominate territory.
With Mike Phillip's woefully underperforming for the Ospreys this season, it will take all the guise and experience of Stephen Jones to keep his number 9 on track. Phillips' lack of zip from the base of the breakdown was addressed by the regional team by replacing him with someone who had the ability to move the ball away much quicker. Don't be surprised to see Dwayne Peel in the 2nd half.
The centre pairings are the most interesting area. Even in the big win against Australia, the Hape/Tindall axis did look a bit one paced and I'm not sure what more Tindall offers that a Waldouck, Barritt, Twelvetrees or Tuilagi couldn't. Possibly a lot less.
Jamie Roberts is a world class centre and a lot of the welsh attack will certainly emanate though his channels and with Williams and Hook on his shoulder we could see England's lack of midfield pace cruelly exposed.
In the Autumn England's back 3 finally looked like a strong competent attacking unit. Cueto making breaks, Foden solid under the high ball and seemingly better at picking when and where to counter attack from and of course THAT
try from Ashton means that they will go into this game high on confidence.
The Welsh back 3 is of a different make up. Hook and Williams are absolute class but have not played together much and Wales may rue not picking Hook somewhere in the three-quarters as he seems to thrive playing close to the gain line. If Wales van get Hook playing of Roberts, they could cause all sorts of problems
So, prediction time.
As an Englishman I suppose I should say England by a considerable margin, but with doubts over the midfield, the partisan welsh crowd and the undoubted talents of Hook, Williams and Roberts, I feel that would be folly
However, I believe England will be too strong in the front 5 allowing Youngs and Flood to dictate the pace and England will win an error-strewn game, by 10 points.
Wales: James Hook (Ospreys); Morgan Stoddart (Scarlets), Jonathan Davies (Scarlets), Jamie Roberts (Blues), Shane Williams (Ospreys); Stephen Jones (Scarlets), Mike Phillips (Ospreys); Paul James (Ospreys), Matthew Rees (Scarlets, Captain), Craig Mitchell (Ospreys), Alun Wyn Jones (Ospreys), Bradley Davies (Blues), Dan Lydiate (Dragons), Sam Warburton (Blues), Andy Powell (Wasps).
Replacements: R Hibbard (Ospreys), J Yapp (Blues), R Jones (Ospreys), J Thomas (Ospreys), D Peel (Sale), R Priestland (Scarlets), L Byrne (Ospreys).
England: B Foden (Northampton Saints); C Ashton (Northampton Saints), M Tindall (Gloucester, Captain), S Hape (Bath), M Cueto (Sale Sharks); T Flood (Leicester Tigers), B Youngs (Leicester Tigers); A Sheridan (Sale Sharks), D Hartley (Northampton Saints), D Cole (Leicester Tigers), L Deacon (Leicester Tigers), T Palmer (Stade Francais), T Wood (Northampton Saints), J Haskell (Stade Francais), N Easter (Harlequins).
Replacements: S Thompson (Leeds Carnegie), D Wilson (Bath), S Shaw (Wasps), J Worsley (Wasps), D Care (Harlequins), J Wilkinson (Toulon), M Banahan (Bath).