England v France 26/2/11 --- Pre Match Preview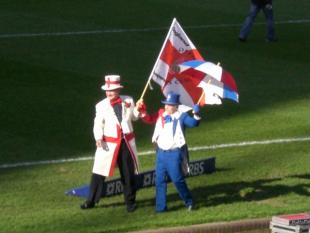 By BLENCATHRA
February 22 2011
England to Win that is what our fan Blencathra has predicted. This of course is the crunch match of this year's tournament. The French have already commented this week they 'don't like the English' ..... Hey Ho what is new! Get ready folks this weekend's match is likely to be a classic.
RBS Six Nations 2011
ENGLAND V FRANCE
Twickenham - 26 February - 1700 kick off

PRE-MATCH PREVIEW
Martin Johnson has become renowned as the world's leading expert in the downplaying of positive expectation of any kind, but even he was finding it hard to do so after the demolition of Italy. There was even a half smile or two.
Yes, it was Italy, yes they were at home but very few predicted this complete rout beforehand; and rout it was.
Yes Italy were disappointing but no-one expected England to completely and utterly dominate all facets of the game like they did (ok the Italians held their own in the scrums), let alone score eight tries in the process; including a couple of very good ones.
This Italian team better than the teams of the past and would have beaten Ireland in their first match had they simply caught the restart after their try. The fact that the same Ireland then managed to score three tries at home to France, whilst not playing particularly well, and blew a fourth to win the game bodes well for England. Although of course sport does not work as simply as that as we all know.........
However, France were, I think, overly lauded by a lot of the pundits after beating Scotland at home. The Scots revival had been overrated (as Wales have now shown). Incidentally extending Andy R's contract at the time they did was tempting cruel fate and also a tad premature.
So, a win for England?
Well, of course, you never know with the French........ but England should win.
Why?
1. They are home, meaning more importantly France are away.
2. They are now confident (an England RU team can almost never be too confident given the team's traditional, indeed almost inherent, conservative tendencies).
James Haskell - Picture by Empics
3. Unless there are new injuries, the team will probably be unchanged or little changed. If Moody is fit this would probably cause Haskell to drop out (eventually maybe entirely from the 22 when both Croft and Lawes are fit, which would be unlucky for him having played his best 40 in the second half v Italy). However, MJ will probably also go for Sheridan if fit – which will also be harsh on Corbisiero but he will be worried about the French scrummage and this won't count as tinkering in his mind.
Picture by Empics

4. They will probably win nearly all their own ball in the lineout and they will disrupt quite a bit of France's; here Wood has been a seamless replacement for Tom Croft.
5. They will have at least parity at scrum time.
6. At the breakdown they will probably just edge it.
7. They have the best half back pairing in the tournament in Youngs and Flood.
8. They have true dynamism allied to mental "edge" in the form of Messrs Youngs, Foden (who also has the priceless ability of being able to beat men easily) and Ashton.
9. In Ashton they have England rugby's first ever equivalent of Jimmy Greaves. Has there ever been an England rugby union player like him for sniffing out a try scoring opportunity? Ok he makes good supporting runs; we all know that but it's more than that. He simply has an innate opportunistic sense, allied to an incredible lust, for scoring tries. If you need proof just look at his third against Italy when he picked up a ball at a ruck and drove over; when did you last see an England winger doing that?
10. Flood's penalty kicking. Whilst France are more disciplined than in times past, they will give penalties away if they are under pressure and the chances are that Flood will kick them.
What about France?
It's a cliché but which France will turn up?
Now that Lievrement (rugby's Tinker Man) seems to finally be close to knowing his best team, will he throw everyone by messing it around again? Probably not; but of course you never really know with him.
France were very disappointing against Ireland. Lacking the turnover and broken field opportunities which the Scotland game provided, they were quite laboured and reverted to the "grind it out" mentality of a couple of years ago.
OK, England it's true, did not set the world alight against Wales in a similar fixture, but their overall performance (under greater adversity and pressure I would say) had much depth to it as well as a bit more polish and sparkle than France showed against Ireland, even if the score-line In Cardiff was quite close at the end.
France's Yachvilli -On the Big Screen at Twickenham Last time out 2007 - Picture by Kath

France do have world class performers at scrum half in Parra and Yachvilli but would either get in a team before Ben Youngs? Not for me. Ditto at fly half where Trindh-duc is undoubtedly a quality player but would you swop him for Flood at the moment? I wouldn't.
Who on current form from France would you pick ahead of their current English counterpart?
For me Rougerie would be a definite in the centre, as would his partner (whether that be Mermoz or any one of another four or five other centres who France can pick there) before our two "labourers" – how about Tuilagi to be given a game v Scotland?
Anyone else? Meddard for Cueto? Yes sorry Mark that's a definite (by the way he really deserved his try v Italy, if only for his dogged cheerfulness during his try drought).
Bonnaire for Haskell? Yes, I'd give you that one. And possibly Harri for Nick Easter. I struggle to see many more. So it's 6 to Les bleus. 9 to Les ros-bifs with England's key men against France being Youngs, Flood, Ashton, Wood and Foden; in that order.
So what can go wrong?
Well a few things. England must have the confidence to keep the ball in hand and not resort to aimless kicking out of hand, as their back three can, and will, hurt them with this type of ball. So the kicking out of hand has to limited and also be top notch. It was too loose at times against Italy, especially Cueto off the kick offs.
And talking of kick offs, tedious though it sounds, we just have to get these, especially defensive ones, right. It's basic stuff but the ball has to be caught and then driven on; so as to at least give Youngs or Flood or Cueto the option of kicking.
Stupid penalties; still too many I think from England. They cannot afford to repeat this against France.
If England get fail to get these nuts and bolts right then they will make the job an awful lot harder than it needs to be.
Prediction – perhaps heart more than head - if England get a good start and score the first try, I will go for England by 12 to 15 points (possibly more depending on how the French react) and to score 3 or 4 tries. Will Ashton score again? Yes. Will he swallow dive? Yes, although it is ridiculous. Foden is due a try, as is Youngs; so I go for them both to score and one for the forwards. France to score one, maybe two.
If France score first, then I still think England will win but probably by 6 to 9 points and score two tries in the process with possibly Flood's penalties being the difference.
England to win anyway!