Wales - England The Aftermath and Moving On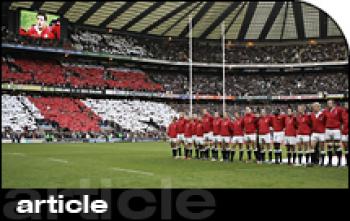 By Kath
August 19 2011
England Rugby a week down the line and things to mull over plenty!
Wales - England The Aftermath and Moving On!
After every Journo has written every possible piece about this debacle............ I would like to add exactly what I said on the message board on the 13th August at 1617 hrs and I quote

"what a load of rubbish - dire......Static, lumbering, ponderous, lost complete interest in this have switched to the Golf see you all next week just can't be bothered even to discuss - other than boring."
The Golf was brilliant by the way!
Now then I have not changed my mind on the above but is was interesting to see that a couple of Journos., picked up on the descriptive word ponderous and used that quite a lot in their pieces. However, I also said that I thought Banahan should have scored a try in the first half all he had to do was stretch out his arm. I am sure others will disagree but if you care to watch the BBC highlights on iplayer here you might change your mind.
The whole team had a swift kick up the backside that day. Wales wanted the win much more and I suppose on reflection it will be useful for the England players to feel the pain of loss and how the fans feel about them.
A difficult match all around for injuries. Our hearts go out to players who now seem to missing out on their Rugby World Cup dreams.
Wales: Gavin Henson will miss the start of the tournament with a dislocated wrist. Matthew Rees, out of the whole of the RWC with a neck injury and Gethin Jenkins will miss at least the first game against South Africa due to foot and calf problems, Ryan Jones out of the Argentina match with a calf injury.
England: Lewis Moody limping off midway through the first test match friendly against Wales, nursing what appeared to be a mild strain of the medial knee ligament. Danny Care will miss the RWC after injuring the big toe on his left foot. Care will undergo surgery this week, with the recovery time expected to be minimum of six weeks. Care will be ruled out of the initial 30-man England squad, which is to be announced on Monday 22nd August.
We wish Danny well and keep our fingers crossed that he makes it at some point.
And so moving on....... Well we have the Irish up on the 27th August at the Aviva Stadium in Dublin just before the team departs for New Zealand the following week. Ireland's talisman Brian O'Driscoll looks like being back for this match. Both Gordon D'Arcy and BOD are playing this weekend against France. So I would think that they would def., be playing against England. It should be fun in Dublin that Bank Holiday weekend.
Being serious for a moment, it will be really tough against the Irish but we need to win, not just for confidence but to restore the belief system before moving onto the Rugby World Cup. We don't need any more wobbles now.