England v France RWC 2011 Quarter Final Post Match Thoughts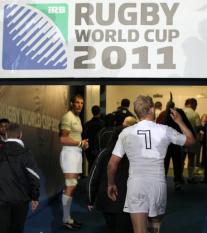 By Kath
October 8 2011
England Rugby World Cup - It's all over now..... just the inquest to follow!
IRB RUGBY WORLD CUP 2011
QUARTER FINAL
England 12 v 19 France
First of all congratulations to the French and the best of luck to both France and Wales next week in the Semi Final. May the best team win! Oh and I must also say well done to the ref., Steve Walsh he also had a good game today.

All pictures Empics

For a neutral rugby fan, this match was probably good even exciting to watch. Who would win?
At the very start, two minutes or more England looked as though they had the French worried. However, that did not last, the French rallied and within minutes it seemed to get the upper hand scoring first a penalty and then two tries and before we knew it England were down 16points and chasing the game. It was simple France wanted this win more, they wanted to win. England looked clueless at times but Manu looked good.

England's Manu Tuilagi (right) holds off a tackle from Frances Jean-Baptiste Poux
They did put more urgency into the second half and managed to score two tries but to be honest it was all too little too late and a total disappointment to many fans.

It has also made many fans very angry and rightly so. Cries for Johnson to go, discord in the camp, cliques, boozing, immature remarks, books being written, diaries being kept and that is without the Altitude Bar antics. How far have England fallen as an example to youngsters playing this game.
The RFU needs to take a long hard look, clear out the rotten apples, because the stench of decay is overpowering from the top to the bottom and on the field.
Some of the players today have lived through the dizzy heights of winning the RWC and you could see etched in their faces how hard this loss was.
Let's hope the loss to the younger members of the team strikes deep into their psyche ........ as Foden is reported to have said after the match ' we blew it'! Yes they blew it big style both on and off the field.
The 'Team England of 2003' were giants of men this lot......... sorry guys but you have let yourselves down, your country and the fans.

Come home and get on with the Day Job eh? You don't belong in the top echelons of Champions.
Tries: Foden, Cueto Cons:Wilkinson
Tries: Clerc, Medard Pens: Yachvili 2 Drop-goal: Trinh-Duc
England: Foden, Ashton, Tuilagi, Flood, Cueto, Wilkinson, Youngs, Stevens, Thompson, Cole, Deacon, Palmer, Croft, Moody, Easter. Replacements: Wigglesworth for Wilkinson (65), Banahan for Youngs (65), Corbisiero for Stevens (49), Hartley for Thompson (56), Shaw for Deacon (49), Lawes for Croft (46), Haskell for Moody (63).
France: Medard, Clerc, Rougerie, Mermoz, Palisson, Parra, Yachvili, Poux, Servat, Mas, Pape, Nallet, Dusautoir, Bonnaire, Harinordoquy. Replacements: Marty for Rougerie (68), Trinh-Duc for Yachvili (53), Barcella for Poux (56), Szarzewski for Servat (56), Pierre for Pape (65), Picamoles for Harinordoquy (72).
Not Used: Heymans
View a Printer Friendly version of this Story.
England v France RWC 2011 Quarter Final Post Match Thoughts
Unofficial England Rugby Union (IP Logged)
08/10/2011 17:42
What do you think? You can have your say by posting below.
If you do not already have an account
Click here to Register
.
Sorry, only registered users may post in this forum.