England Rugby September 2011 - In Review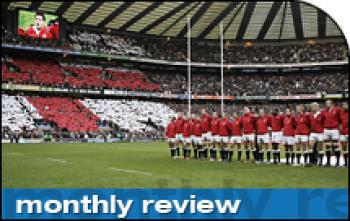 By Kath
November 21 2011
England Rugby September 2011 - In Review
England Rugby September 2011 - In Review
England Rugby September 2011 - In Review. A huge amount going on, with all eyes on the Rugby World Cup in New Zealand. How would England play, who would be on the team sheet? Plus Podcasts, Videos,the Aviva Premiership kicked off, yep we have it all. Phil Vickery's new range and ICE Rugby?
RUGBY WORLD CUP 2011
Well we all got up for England's shaky ride Get up for England Advert & those fans who travelled to New Zealand could use the Get around with a GPS. We also had the RWC Flash HAKAs and everyone in the world giving their opinions on this that & the other England Podcast -Steve Thomson, Delon Armitage etc.,

We had our very own Baggie blogging for us RWC Fan Baggie........ Blogs for us!
Video: Zinzan Brooke, Will Greenwood & Jamie Heaslip
Video: Josh Lewsey talking about England's performances
Video: Danny Grewcock and 'Heroes Rugby Challenge'
The England Squad were enjoying the High Seas - On the field however, England would play on a Hi Tech Pitch for their opening match
And then we had the Pool Stage Games RWC England v Argentina and the result Argentina v England & Middle Earth
Next up England v Georgia RWC Pre Match Thoughts & Post Match Thoughts
Moving swiftly on it was England v Romania Pool Match B and England v Romania - A Tale of Two Fly-Halfs
And so to the old enemy England v Scotland Pool Stages however, England stumbled into the World Cup quarter-finals and almost certainly put Scotland out after an error-ridden victory at Eden Park. England 16 - 12 Scotland: Match Review
England Under 20 Elite Player Squad for the 2011/12 season
ENGLAND SEVENS squad announced for the 2011-12 season
England Sevens however, were doing splendidly England 7s Win Commonwealth Gold
WORLD Cup winner Josh Lewsey will rekindle his partnership with Kenny Logan later this year after both agreed to take part in the 'Heroes Rugby Challenge' at Twickenham on December 3. Josh & Kenny sign up for Help for Heroes Challenge 03Dec2011
Ice Rugby have introduced a unique concept of Rugby equipment hire for Clubs, Schools and other users.
Check out the information her and their website ICE RUGBY
If you are into Gaming then we think you might like to check out Jonah Lomu's Rugby Challenge coming soon from Alternative Software Ltd on PS3 and Xbox360 Jonah Lomu's Rugby Challenge Coming Soon
Rugby inspired brand takes centre stage
With the 2011 Rugby World Cup taking place at the moment, rugby is fast gaining fashion credibility and brands like Raging Bull are seeing the benefit. And as well as working for ITV at the World Cup, former England prop Phil Vickery has been keeping busy with a new range.
Unofficial England Rugby Message Board - Click here