ENGLAND RUGBY
NOVEMBER 2011: IN REVIEW
---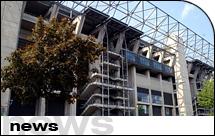 RFU appoints Two Independent Non Executive Directors
Miles Templeman has spent the last seven years as Director General of the Institute of Directors and was previously CEO of Bulmers and Managing Director of Whitbread Beer and Thresher. He has wide experience as a Non Executive Director and Chairman currently with Melrose plc and Shepherd Neame and previously with YO! Sushi, Ben Sherman and Accenture. His early career was with Procter and Gamble, Beecham and Levis in major brand marketing roles.
Andrew Higginson has been a Main Board Director of Tesco plc for the last 14 years, first as Finance and Strategy Director, and for the last three and a half years as Chief Executive of their Retailing Services business. His early career was with Unilever, Guinness, Laura Ashley and the Burton Group, and he has been a Non Executive Director of FirstGroup, Clarks and (currently) BSkyB.
---

Ford named IRB Young Player of the Year
Voted for by team head coaches and match officials, as well as international and local media, Ford is the first Englishman to claim the award, although London Wasps and England scrum half Joe Simpson and Sale Sharks forward Carl Fearns were both nominated in 2008 and 2009 respectively.
At just 18-years-old, Ford was the youngest player at the Junior World Championship in Italy in June and the young Tiger breaks a spell of five years without a northern hemisphere winner – Frenchman Lionel Beauxis was the last in 2006, while Welsh back Gavin Henson remains the only other Briton to have won the prize, back in 2001.
Ford said: "It's a massive honour especially when you consider the calibre of player who have won it in the past as well as the others (Cane and Whitelock) nominated. I couldn't believe it when I found out to be honest, but I've got to be quick to point out that rugby is not an individual sport. All of the lads were awesome throughout the whole campaign and I'd like to think that I'm picking the award up on behalf of them."
---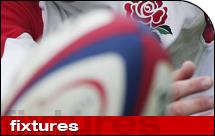 RFU announces QBE Internationals 2012 fixtures
During November and December 2012, England will take on New Zealand, South Africa, Australia and Fiji
The Rugby Football Union (RFU) has today announced the QBE (Business Insurance Specialists) Internationals 2012 fixtures:
Saturday 10 November 2012, KO 2.30pm
England vs. Fiji
Saturday 17 November 2012, KO 2.30pm
England vs. Australia
Saturday 24 November 2012, KO 2.30pm
England vs. South Africa
Saturday 1 December 2012, KO 2.30pm
England vs. New Zealand
The QBE Internationals will deliver an exciting, international competition between the northern and southern hemispheres and see the World Cup winning All Blacks play on English soil for the first time since lifting the Webb Ellis Cup at Eden Park in October.
---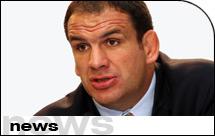 RFU Statement on Martin Johnson
He said: "I've obviously thought long and hard about this and it's the right decision for me and the England team. We have come a long way in the last three-and-a-half years and a lot of credit should go to the coaches, back-room staff and players.
"We have developed some exciting young players in the last 18 months or so and I believe English rugby has a bright future. I've had great support from everyone involved in the England squad, the Elite Rugby Department and the whole of the RFU and I wish them all the best for the future."
RFU Elite Rugby Director Rob Andrew added: "Martin has worked tirelessly to develop this England team, from a position where the team needed a great deal of rebuilding following the 2007 World Cup.
"A whole new group of players has been introduced to the demands of Test match rugby, including: Dylan Hartley, Dan Cole, Courtney Lawes, Tom Croft, Tom Wood, Ben Youngs, Danny Care, Manu Tuilagi, Chris Ashton and Ben Foden. They have experienced winning in the southern hemisphere against Australia and winning the Six Nations title for the first time since 2003. They have also suffered the huge disappointment of the World Cup in New Zealand and how many of these players respond to this disappointment will define their careers.
"We have always insisted that Martin would take the team to the World Cup and we would then assess what steps would be taken. Martin has made this decision and we fully respect that.
---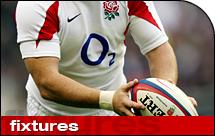 England Counties fly flag in Lancashire
The choice of Lightfoot Green brings an early tie-up with the team for 'Hoppers Director of Rugby Dave Baldwin, who was forward coach for the Counties team 2007 until he retired earlier this year after 25 games with the team.
"We delighted to be hosting the Counties and I'm thrilled that they are coming to Lightfoot Green," says Baldwin: "Having been involved for so long, I know what the Counties are looking for from a venue and we tick all the boxes. It's great to see the team coming to Lancashire and hopefully this will be the first of other visits to places like Yorkshire and the North East and the South West."
In addition to Baldwin, the Lancashire club have previous contributed two players to the Counties XV. Full-back Oliver Viney, who is returning to Preston at Christmas to play after a spell in Australia, played against France and Tunisia in 2006 and toured Russia the following season, while centre Tom Hughes was a member of the squad that toured Spain successfully in June 2011.
---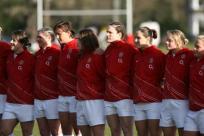 England defeat world champions New Zealand at Twickenham
Gary Street's side, who last took on the Black Ferns 14 months ago and lost 13-10, controlled a superb game at the home of England Rugby to take the hard earned but well deserved victory. A 30th minute try from Margaret Alphonsi, which followed some superb work by Woman of the Match Emily Scarratt, as well as a conversion and drop goal from skipper Katy McLean sealed the victory for the home side.
England Head Coach Street said: "14 months of sheer hard work and preparation went into today's performance. We were not satisfied with our performance in the world cup final and we had a point to prove as much to ourselves as anyone. We played some good expansive rugby and our big players stood up and put the work in all over the park. It feels great that all our hard work has paid off today.
"All that said this is the start of a three test series against the world champions. Although I think we dominated most of the game and a lot of the areas, we have to keep this performance and momentum going. New Zealand are the world champions after all and there is no doubt that they will want to bounce back bigger and stronger on Tuesday at Esher, but we will be ready for that."

---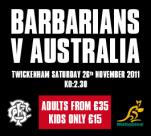 Barbarians 11 - 60 Australia - In Pictures
---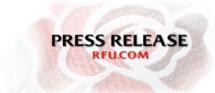 RFU - Statement on Mike Tindall
Mike Tindall's fine for breaches of the England Elite Player Squad Agreement during the 2011 Rugby World Cup has been reduced from £25,000 to £15,000 and he has been reinstated into the England Elite Player Squad.
Regarding Mike Tindall, Martyn Thomas, Acting Chief Executive Officer who heard the appeal, said, "We accept that there were mitigating factors which do not appear to have been taken into account to the extent that they might otherwise have been. These include;
i. Mike did not intentionally mislead the RFU team management when he stated that he could not remember where he was on the night of September 11, and that he was relying on other people's versions of events which were relayed to him
---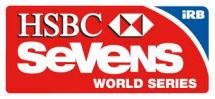 England WIN - IRB Sevens Dubai 2011
England won the Dubai Rugby Sevens in 2010 and this year they are without stalwart Ben Gollings, but the team are confident of putting in a good performance. Last week they did not get off to a good start on the Gold Coast of Australia and Ben Ryan comments:-
"Last week was a mixed bag really from a coach's point of view," said Ryan. "I was quite pleased with some of the processes that we improved upon, but obviously not pleased with the outcomes, and getting knocked out in the Cup quarter-finals was not part of the plan, but we will look to do better this weekend.
"There is plenty to play for. If there is one tournament you want to do well in or come into after having not done so well, places like Hong Kong, Dubai and London for us are real fill ups.
"As soon as we finished in Australia we were very keen to get over and push the reset button. We have great support, the training facilities are fantastic and we are keen to do everything we can to defend our title."

---
Unofficial England Rugby - Message Board