England Rugby in Review September 2013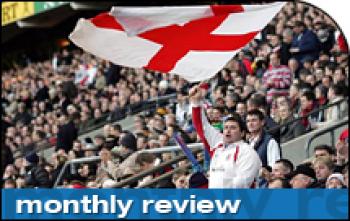 By Kath
October 11 2013
England Rugby September 2013 .. RWC 2015 Posts in the Park, Statements again, Squads, New appointments and those leaving plus lots more....even the Prime Minster
England Rugby September 2013 - In Review
NEWS:
World Cup winner Lawrence Dallaglio was on hand to mark two years until the start of Rugby World Cup 2015 with the installation of the first Posts in the Park at Inwood Park in Hounslow.
VIDEO – Dallaglio launches RWC Posts in the Park initiative
Sets of single rugby posts are being placed in parks in the English host cities as visible symbols of the RFU's commitment to broadening the appeal of rugby and to reaching out to new audiences in new areas.
Two years today, September 18, Rugby World Cup 2015 kicks off in England. To mark this milestone, the UK Prime Minister, David Cameron, and New Zealand Prime Minister, John Key, today exchanged Rugby balls during a bilateral meeting between the two leaders at 10 Downing Street.
Mr Key presented the UK Prime Minister with a Rugby ball signed by the New Zealand team that won Rugby World Cup 2011. Mr Cameron returned the gesture with a specially designed Gilbert Two Years To Go Rugby World Cup 2015 ball. This presentation informally marks the transfer from one Rugby World Cup host to the next and is an example of the many shared activities which bind UK and NZ so closely. The formal Webb Ellis Cup handover will take place later this year.
---------------------------------------------------------
RFU CEO Ian Ritchie Statement regarding European competitions
"In what are complex and passionate on-going negotiations concerning the future of the European competitions, the RFU is encouraging talks to continue in earnest.
"We are, and always have been, supportive of the Premiership clubs seeking greater meritocracy across the competitions and appropriate financial distribution. It is also important to ensure that rugby across Europe continues to thrive and grow. In terms of authorising any future competition, it is critical to see all the confirmed details before being able to assess its merits.
"In order to find a successful conclusion, we are urging discussions to be held with an open mind, with a view to compromise on both sides. We will continue to work with urgency behind closed doors to ensure a consensus is reached that will benefit all parties."
---------------------------------------------------
Jilly Holroyd is set to become the first female Citing Commissioner in Europe when she takes up the role in the Greene King IPA Championship this season. RFU appoints first female Citing Commissioner in Europe
Ed Morrison, the RFU's Head of Elite Referee Development, is leaving his post as the new season opens. Ed Morrison to leave RFU
Jason Leonard visited Rokeby School, an East London inner city state school, where rugby was only introduced a year ago but is already making a significant impact across the whole school. With no rugby pitch and in an area unfamiliar with the sport, it was through the RFU's All Schools programme that Rokeby embraced rugby and its values. VIDEO:All Schools case study: Jason Leonard in Newham
England Elite:England Rugby Autumn Int., Fixtures & TV Coverage England Rugby 2013 Autumn Internationals

England U20s: have named their squad for the new season, with coaches Nick Walshe and Ian Peel leading the side into the new campaign. The 32-man group will be hoping to win a fourth Under 20 Six Nations title in a row in the New Year before heading to New Zealand to defend their IRB Junior World Championship trophy next June. England U20s squad for 2013/2014 Season
England7s NEW England Sevens Coach Simon Amor believes his newly inherited squad has the potential to claim success on the world stage. Video: Simon Amor New England7s Coach
The pools & match schedule for round one of the HSBC 7s World Series 2013/14, Gold Coast Sevens. World Series Fixtures 2013 Australia
The RFU has announced Heathrow Express as the new official principal partner of England 7s. The premium air-rail link will appear on the front of the playing shirt for both the England Men & England Women 7s teams. Heathrow Express teams up with England Sevens
England lifted a second successive European title after cruising to a 31-7 win against France in Bucharest GP Sevens final. England clinch European title
The Manchester 7s is returning for its 6th year on the 16-18 May 2014. After the success of the 2013 Festival, which attracted 165 UK and overseas teams, the organisers are confident that the 2014 festival is set to be the largest in the event's history. More here..... Manchester Rugby 7s and Music Festival 2014
England Women's Elite Playing squad (EPS) for the 2013/14 The expanded 50-woman squad, which is selected from England XVs and Sevens trials, as well as the RFU Divisional and club rugby programmes, includes 11 newcomers this season.
The English Women's Premiership kicked off with eight of the best teams in the country doing battle over what is set to be another thrilling season of domestic rugby. Women's Premiership set for big kick-off
With just 11 months to go until the next Women's Rugby World Cup in France, England's Women will face another competitive Autumn International Series in November with Test matches confirmed against France and Canada in November
Unofficial England Rugby Message Board - Click here