England Rugby November 2013 - In Review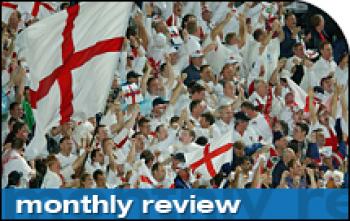 By Kath
December 12 2013
Phew lots going on this month, Statements, Partnerships, New changing rooms and that is without a ball being kicked!
England Rugby November 2013 In Review
RFU Statement on European Competitions
"We are extremely surprised and disappointed not to be involved today. It is right that the outcomes of the mediated meeting held in Dublin on 24th October, which resulted in an agreement for a meritocratic tournament and equitable distribution of revenues, have been reaffirmed. It has been clear for some time that governance is a central outstanding issue and we remain committed to help facilitate a solution so that a truly pan European competition can continue to thrive for the benefit of players and spectators alike." 21/11/13
News: England connect with history in new look changing room
Work undertaken over the past four months includes:
Refurbishment and upgrade of all player changing facilities
Improved warm up, coaching, analyst and tunnel facilities
Distinctive look and feel focusing on the history and core values of the game
New hydrotherapy facilities
Upgrade of medical suite
Gilbert and the RFU extend partnership The Rugby Football Union (RFU) has extended its partnership with Gilbert Rugby, expanding its breadth of support for the game, the Official and Exclusive Ball Supplier of England Rugby will equip all levels and RFU competitions including All Schools
England trio launch NatWest RugbyForce 2014 England's Dave Attwood, Joe Marler and Christian Wade visited Bracknell RFC to launch NatWest RugbyForce 2014. As well as guidance and support, the NatWest RugbyForce programme will also provide grant funding to rugby clubs. Clubs will be selected to receive one of the 175 grants of £500 available to those that register for NatWest RugbyForce before 17th January 2014 and attend one of the workshops.
RFU publishes 2013 Annual Report, published, show Group revenue for 2012/13 reaching over £150m for the first time in the RFU's history and record investment in rugby as a whole rising to just under £64m, up 15% on 2011/12.
In summary the highlights for the year were:
Record £153.5m revenue
Investment in rugby as a whole rise of 15% over previous year
Publication of five-year Strategic Plan
Twickenham Experience Ltd highest ever net profit to the RFU of £4.9m
The hosting of 25 event days, with nine completely sold out
Five concerts hosted for the first time during a financial year
Commercial partnerships refined making them more meaningful across the game.
Continued investment and preparation for Rugby World Cup 2015
First year of Lead Up & Legacy work
UNITY project launched helping development of rugby in 17 European nations.
The first season of complete integration of the women's game into the RFU
Professional Rugby Review facilitates creation of Professional Rugby and International Performance Departments.
Rugby World Cup:
Tickets for Rugby World Cup 2015 to go on sale Sept 2014

In September 2014, one year from the tournament, general sales will begin through a public application process. Fans will be able to apply for tickets with oversubscribed matches being entered into a ballot system. Following a full tender process, England 2015 has appointed Ticketmaster as the official ticketing provider. Much more on the link above.
RWC 2015 Official Travel Agents Announced
RFU announces 2015 Rugby Youth Partnership School children across the country will get a chance to be part of the excitement of Rugby World Cup 2015 (RWC 2015) with the formation of a new youth partnership.
This programme will include:
School Rugby Ambassadors – young people across the country will be selected to become School Rugby Ambassadors and will take a leading role in promoting rugby and RWC 2015 with their peers in school by organising events to mark the important tournament milestones. This programme will be formally launched at the Youth Sport Trust's national conference in February 2014.

– a group of teachers drawn from across the country has begun work this month to develop a teaching resource pack that will be available from summer 2014. The new resources will help teachers and students use rugby union as a tool right across school and celebrate the sport in the run up to and during RWC 2015.School Resource Pack

Welcome Ceremonies – working with the Youth Sport Trust to identify local school pupils to welcome people to the tournament. This will be another opportunity for young people to learn about the history and culture of the teams, and bring a flavour of the local area to Rugby World Cup 2015.
England Elite: England v Australia -Cook Cup 2013 -QBE Autumn Int.,England kicked the outing of the England Legends v Australian Legends and what a super spectacle that was. Anyone who lived through the Rugby World Cup of 2003 would feel even through the TV screen the tangible excitement and glory of that winning side. Oh Happy Days England win the Cook Cup 2013 and more Happy Days.
England v Argentina 9/11/13 - QBE Int., and England 31 v 12 Argentina QBE Int., 2013
Plus...England vArgentina : In Pictures
And then the 'biggy'England take on the 'All Blacks' at Twickenham for the Hilary Shield. And we welcome to our site a new writer Pumba, who has kindly given us a very detailed preview to get our teeth into. England v New Zealand 2013 Preview and England v New Zealand Match Thoughts Review
England Saxons: Paul Gustard to join Saxons set-up Paul Gustard (Saracens) is to join the England Saxons coaching team for January's internationals against the O2 Ireland Wolfhounds and Scotland A.
England Under 18s: England 23 v 3 Australia Schools Two late tries set Head Coach John Fletcher's England Under 18 side on the way to a hard-fought 23-3 victory over Australia Schools at Harrow School. Despite dominating possession for long periods England struggled to break down their southern hemisphere rivals in front of over 1,000 spectators. Full Report Here
http://www.rugbynetwork.net/main/s245/st184304.htm
England7s England 7s Fixtures Dubai 2013
England Women: England Women's team for France and
England Women beat France also England Women beat Canada 32-3
England 7s Women produced three performances full of character to claim the Plate trophy on day two of the IRB Women's Sevens World Series event in Dubai
England Women Win Plate trophy at Dubai Sevens 2013
Unofficial England Rugby Message Board - Click here