Sportsbeat talks to Billy Vunipola / Launchbury & Barritt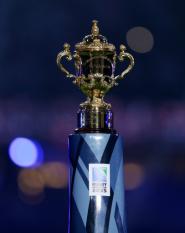 By Kath / Sportsbeat
September 20 2015
Interviews with Billy Vunipola /Joe Launchbury & Brad Barritt
England's Billy Vunipola scores his sides fourth try during the Rugby World Cup match at Twickenham - paimages
BONUS-point hero Billy Vunipola insists he's not nailed down a starting spot for England's clash with Wales after his all-action display off the bench against Fiji. Upon his arrival in the second half, the Saracens No.8 galvanised an England side who at times were run ragged by Fiji and 20-stone powerhouse Nemani Nadolo. It was a combination of poor Fiji kicking and a try-double from Mike Brown that kept the Pacific Islanders at arm's length, while Vunipola saved his best carry of the night for the death. With the clock two minutes into the red, Vunipola rumbled over the whitewash to clinch a 35-11 win and a bonus point that should prove all the more vital in a brutal pool that also contains Wales and Australia.
His performance outshone a largely quiet outing from starting No.8 Ben Morgan, but Vunipola said: "It's more a message to the team that I'm willing to do whatever to help them, whether it's during the week and training, not sulking – taking things on the chin and moving on. "I'd rather be starting than not, but it's just something I need to keep working on. "I think sometimes it's easier for the bench to come on because the game's broken up and we're a bit fresher than everyone else. A lot of credit has to go to the boys who wore them down. "I didn't think my try would be awarded at the time, no. I got up and they pushed the ball off the line. I was in two minds over whether I should recycle the ball or go for the line, if I missed it then it'd probably be game over. "But someone pushed from behind and I managed to get over." There are several areas of concern for England coach Stuart Lancaster ahead of their meeting with Wales next Saturday – not least the set-piece.

England lost three scrums on their own put-in while Fiji were a perfect seven from seven and Vunipola has preached patience to the pack.
"(Their scrum) must have been something they worked on massively, though we prepared for that," Vunipola added. "Three times we got caught out with some of the decisions, but a few times we need to be more patient rather than go for the jugular straight from the off. The Fijian boys did that very well, fair play to them. "The overarching message at half-time was be more direct, the Fijian back-line were very good at drifting off and making the hits on us. We kept passing the ball down the line rather than impacting the gain-line, I think that was the biggest thing when we (the replacements) came on – try and push the team forward rather than side wards."
SSE Customers can win the chance to host the ultimate SSE Reward Rugby House Party on 31 October. Enter now at ssereward.com
IT HAS been a tough year for Joe Launchbury but after helping England pick up maximum points in their Rugby World Cup opener, the Wasps lock admits the worst is well behind him. After making 15 Aviva Premiership Rugby appearances the previous year, Launchbury made just five in the competition last season.
A neck problem resulted in the 24-year-old missing six months of action and, after returning to make two appearances in May, he featured in the Red Rose's gruelling 12-week World Cup training camp. Despite having to settle for a place on the bench against Fiji on Friday night - Northampton Saints' Courtney Lawes and Exeter Chiefs new boy Geoff Parling started in the second row - he made an obvious impact. Launchbury came on and instantly made a crunching tackle on man mountain Nemani Nadolo before helping to lay the foundation for Saracens No.8 Billy Vunipola's last-gasp bonus-point try in the 35-11 win.
"It has been a long 12 weeks but for me it has been a long 12 months," he said. "Being injured is never nice and I've always had it in mind to try and get back fit for this first game and the way the last 12 weeks have gone have been brilliant. "It's job done in terms of the win. We know we have got stuff to work on but it's the first game of the tournament and we did exactly what we needed to do. "It's dangerous to look too far ahead but you want to try and pick up as many points as you can and that bonus point was definitely there for the taking. It would have been a missed opportunity if we had not got it." Fiji went toe-to-toe with the hosts in the opening half, despite making a slow start to proceedings, and went into half-time just 18-8 behind.
They reduced the arrears to seven early in the second-half but Harlequins full-back Mike Brown's second try and Vunipola's late score ensured Stuart Lancaster's side took maximum points.
"We were perhaps a little too loose," reflected Launchbury. "A bit of rain at kick-off probably didn't help and there were a few mistakes. The message [at half-time] was to be a bit more direct and I think we got there in the second half. "They are a great side, they have won some big games in the last few months and we knew why and we knew the threats they had. We are happy with the win."
SSE Customers can win the chance to host the ultimate SSE Reward Rugby House Party on 31 October. Enter now at ssereward.com
BRAD Barritt admits he and his England teammates had to overcome their emotions and produce a full 80-minute performance to see off a spirited Fiji in their World Cup opener. Barritt won his 24th cap at Twickenham on Friday night as Billy Vunipola's last-gasp score secured a 35-11 victory and a four-try bonus point. A penalty try and two Mike Brown scores had established England's lead although Fiji remained in contention throughout, Nemani Nadolo scoring their only try of the night. Had the Pacific Islanders not missed kicks at goal it could have been closer still and Barritt admits after the opening ceremony, the host nation knew they would need to produce their best.
"We knew this Fiji team were a quality side and that it could take 80 minutes to break them down," he said.
"There was a lot of emotion going into this game, a home World Cup in front of 80,000 people was a special moment. One thing we didn't expect was the weather but still wanted to go out there and express ourselves and have our game. "The atmosphere walking out today was pretty exceptional, something I will remember for a long time. There has been so much build-up so it's nice to get this out of the way."
Fiji may have surprised a few people with the strength of their performance last night but not Barritt, the 29-year-old insists he and his teammates were fully prepared. "The way we hung in there, the team rallied together and we scored two quick tries at the start and to be honest a lot of lesser teams might have folded," added the 29-year-old.
"But credit to Fiji, they came back, fought hard and we are really pleased to have got the five points for next week. "We always thought this Fiji team was a strong team, they have guys playing at Premiership clubs, in Super Rugby, some outstanding individuals. "We knew the challenge was there, they have been improving a lot and now have a very structured game, they played territory as well with generals to lead them forward. "We always take it game by game, the first thing was to deal with Fiji. Now all our focus can go to Wales."
SSE Customers can win the chance to host the ultimate SSE Reward Rugby House Party on 31 October. Enter now at ssereward.com