RWC2015 England v Australia - Fan's Thoughts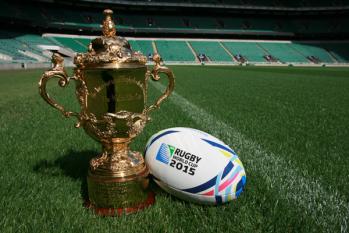 By Kath
October 5 2015
England were dumped out of the RWC2015 by a far better side and they are the first hosts to go out in the group stages.
Rugby World Cup 2015
England 13 v 33 Australia
First of all congratulations to Australia and their fans they were superb on the day and truly good luck with the rest of the competition!
England however, are in a right old mess once again!
I can tell you that the 16th man/woman turned up as I experience the volume and noise on Saturday, I have never heard the crowd so loud at Twickenham apart from when the National Anthem is being sung. I have also never seen the Twickenham crowd start leaving well before the match was finished.
Strangely, after the match I was not as disappointed as I was after the Welsh game because to be really honest I had a feeling that we would be beaten. I hoped not but I just had that feeling so was sort of prepared for it. I know the media were talking the game up as if England would win but common sense told me that they were not good enough.
England have won a couple of Calcutta Cups under Lancaster's reign but that is it. We have never had a really settled side and the indiscipline is just a joke beyond belief.
The only match I can truly say that I had any hope from, was the last of the six nations when England played France and only lost out on the championship by 3points. The final score that day was England 55 v 35 France........ but that was a fantastic match to experience /watch and one I won't forget.
Since then we have be treated to utter drivel. I have always thought that we would not win this RWC and have said so in previous comments but I never thought we would be knocked out at the group stages, embarrassing or what! I actually think it will be South Africa and New Zealand in the final but we shall see.
Stuff coming out in the various social media beggars belief at the moment and if Billy Vunipola had said all he is supposed to have said then I can't see him staying in the England set up, even under new management.
As to the match, England had huge pressure on their shoulders on Saturday (I would actually liken it to the Wimbledon syndrome), they had the fans, the country and the media baying for a win.
Australia however, just came out to play a game of rugby and enjoy it. No doubt about it Australia were the better side and England had no answer whatsoever. England could not get passed the Australian 22, the Wallabies suffocated them at every breakdown and turned them over easily. All credit to Australia because as I said the 16th man was the crowd and they were doing their utmost to drown any calls.
I feel for ex-pats all over the world at the moment, especially in Australia who will be getting some pretty heavy sledging but just remember one day again it will be our turn.
So what is next for England? Well Uruguay of course but are we really interested any more? You bet I want to see who the team will be and whatever team it is I want them to play well and demonstrate good rugby skills as well as code of practice and behaviour.
England fans deserve that at least!
So come on England players pick yourselves up and move forward however, hard the journey.
View a Printer Friendly version of this Story.
RWC2015 England v Australia - Fan's Thoughts
Unofficial England Rugby Union (IP Logged)
05/10/2015 15:53
What do you think? You can have your say by posting below.
If you do not already have an account
Click here to Register
.
Sorry, only registered users may post in this forum.