England v France Post Match thoughts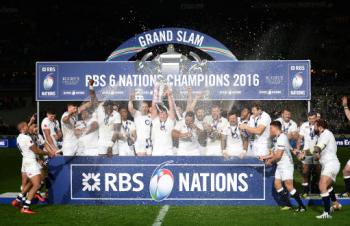 By An Opinion
March 21 2016
England went to France having won the Six Nations Championship, The Triple Crown and The Calcutta Cup.

RBS Six Nations 2016
France 21 v England 31
Saturday 19th March - Stade de France
Congratulations - England 2016 GRAND SLAM Champions!
All that was left in their sights was the GRAND SLAM and they did it! Well done to Eddie Jones, the England Management and especially the players. 13 years England fans we have waited for this, just let's all enjoy this moment in time and hope we don't have to wait another thirteen years.
Many of the players on the field this day had lived through the humiliation and disappointment of the Rugby World Cup, so hats off to them and enjoy! This also applies to Eddie and the new team, they have in just four to five months provided a miracle.
Eddie Jones is like a breath of fresh air. He is honest and says things that no English born coach would dare to say let alone get away with. The fact that the Marler affair was rife in the media prior to this match, brought on the comment from Eddie "I think everyone is keen for England not to win the Grand Slam, let's be real about it. So Wales will be happy if we don't win the Grand Slam and they are happy to do anything to upset us in preparation for the Grand Slam, it's as simple as that." This is a classic example of him being able to say what everyone is thinking but an English born coach would feel uncomfortable saying to the press. In fact if an English coach/manager had said that they would have been lynched.
No I was unsure about Eddie at first but I soon realised that apart from having England's prospects high on his agenda, he also is very shrewd and puts a brilliant slant on the whole rivalry between the Welsh and Scottish etc., The fact that he calls them "Little Brother and Big Brother", is another example of his outlook on the thins. I just love it! He also calls Australia "The New England".
I just wish we had gone for a foreign coach much sooner and things might have been a lot different the last thirteen years.
Of course on the day the French 'turned up' they played some of the best rugby they have played throughout this year's championship. Of course it was irritating and very nervy at times but it is also very flattering that they can only get themselves into gear to play England. We know that most teams especially our neighbours don't like us so what is different. I actually played golf on Friday with a Scottish Women who said up front to me "I will make no bones about it, I don't want to see England win at anything". ................ Charming eh!
So every test England plays, will stem in some way from them not liking us, all the more satisfaction when we win I say! We have tried the humble bit under Sir Clive and Jonny Wilkinson, now it is time for the gloves to come off and under Eddie Jones we are free to be disliked and just get on with it. Who cares if they like us or not! Wonderfully liberating all of this.
The match itself was a good one, as I said very nervy and a brutal one., captain Dylan Hartley can testify to that one!
All in all lot's to work to do though, I keep saying it after every match the discipline is not good and really does have to improve.
We also have seen the emergence of a new young star Maro Itoje, what a fantastic player he is. The whole team/squad gave their all this championship and Dylan Hartley led brilliantly.
The fact that England kept calm heads in those last 10mins of the game showed to me that they had grown up as a group of players. Five straight wins under Eddie Jones (oh and let's not forget Borthwick and Gustard), lifts England up to fourth in the world rankings above Wales (how sweet is that)!
Roll on Australia and the summer tour blimey that will be fun after all 'New England' don't like us either do they - oh the good times are a coming I can just feel it in my bones.
England's 2016 Summer Tour against Australia for the Cook Cup:

Saturday, June 11: Suncorp Stadium, Brisbane
Saturday, June 18: AAMI Park, Melbourne
Saturday, June 25: Allianz Stadium, Sydney
View a Printer Friendly version of this Story.
England v France Post Match thoughts
Unofficial England Rugby Union (IP Logged)
21/03/2016 17:14
What do you think? You can have your say by posting below.
If you do not already have an account
Click here to Register
.
England v Ireland 2016 6ix Nations - Match thoughts
Unofficial England Rugby Union (IP Logged)
28/02/2016 16:04
What do you think? You can have your say by posting below.
If you do not already have an account
Click here to Register
.
Sorry, only registered users may post in this forum.