England's Will Greenwood talks Ozzy Tour and more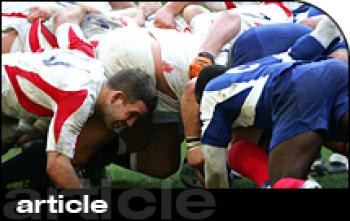 By Jack Sportsbeat
May 24 2016
EDDIE Jones faces his toughest challenge yet at the England helm when the Red Rose head Down Under this summer, but World Cup winner Will Greenwood insists the Australian coach should not be afraid to change his winning formula.
Last month Jones fired out a warning to those in his triumphant Six Nations squad who he felt were underperforming back in club rugby. The message was clear; no-one's spot is secure – and 2003 World Cup winner Greenwood is confident that mentality will see England back to the top of the world rugby ladder. The 43-year-old former Leicester Tigers and Harlequins centre has been impressed by the strength in depth in Jones' squad. And he wants to see as many as three players for every position given their shot in Australia for England's three-test series in June. New Zealand-born centre Ben Te'o, who will join Worcester from Leinster before the England party leaves for Australia, is one of four uncapped players named in the squad, while the likes of Danny Cipriani and Chris Ashton have been overlooked.
"What Eddie has shown is that he is happy to mix and match, to change," said Greenwood, who was at St Michael & St Martin Catholic Primary School in Hounslow to take part in an Aviva Tackling Numbers session.
"Going forward you have to aim to have a squad of 45 players, which means there are three people for each position. If you look at fly-half you've got George Ford, Owen Farrell, and Danny Cipriani, so we are very strong. "It's the same at 12 where we have Farrell alongside Manu Tuilagi and Henry Slade. Then at 13 you've got Jonathan Joseph, Elliot Daly and maybe a young kid like Joe Marchant who is doing good things at Harlequins, although it may be too early for him at the moment.
"So they are in really good shape, and the question he does not need to answer yet is who he would pick if we were in the World Cup final tomorrow. "Instead he needs a competitive midfield mix that allows him to keep all of them on their toes, and he can them come out in the press and be confident about our chances.
"All of the great sides are not afraid to change a winning team. They very rarely rely on only the XV players that start the game. There has to be numbers at 16, 17, or 18 that you rely on as well."
With England securing their first Grand Slam since 2003 – when Greenwood himself was in the side for all five matches – during the Six Nations, expectations will be high when Jones' side get on the plane to Brisbane. But Greenwood believes Red Rose fans should not get ahead of themselves, given the chasm between northern and southern hemisphere sides that was exposed in last year's Rugby World Cup.
He added: "The proof will be in the pudding in terms of how good England actually are off the back of the Six Nations. "Argentina are hosting France, Ireland go to South Africa and Wales go to New Zealand as well. "We go to Australia and we will get a fantastic insight into how much the northern hemisphere teams really bounced back from the World Cup, or whether there is still this giant gulf. "No contest will highlight that further than one between a team knocked out in the group stages, England, and one knocked out in the quarter finals, Australia. "Eddie has developed a really good winning mindset within the organisation, and we can safely say we are the best side in the northern hemisphere at the moment. "That is fine, but on a global scale we don't know what that actually means and this summer we get to find out."
Will Greenwood was speaking at an Aviva Tackling Numbers session. In partnership with Premiership Rugby, #AvivaTacklingNumbers helps 7-9 year olds put foundations in place for better financial skills later in life through the power of rugby.
Take a maths test at aviva.co.uk/tacklingnumbers for the chance to win a signed England Rugby shirt.