England Women finish 3rd in Grand Prix 7s Series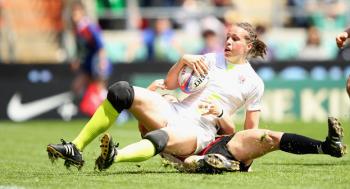 By HQ
September 26 2016
England Women finished third in the Rugby Europe Grand Prix Sevens Series in Malemort, France on Sunday.
The side, playing as GB Lions, turned around their pool result defeat against Ireland in the final game to win 12-5.
England finished day one runners up of Pool C, having found Ireland too good in the opening stages but came back on day two with tries from Abbie Brown and Lotte Clapp, which were both converted by Katy Mclean.
They opened the second day against Wales, playing as the GB Royals, with a 14-5 win. Tries from Katie Mason in the first half and Millie Wood in the second, secured England a spot in the semi-final against hosts France.
France drew ahead to lead 7–17 by half time, using the space to capitalise on any handling errors made by the new England side. However a quick second half try from Abbie Brown was followed up by Millie Wood who made the most of a turnover break from Lotte Clapp. England led the hosts 19 – 17 but with just three seconds left on the clock, France scored to secure their place in the Cup final.
The England side got off to a strong start in the opening pools on Saturday, overcoming Belgium 21-12 and then Italy 14-12. However, their inexperience was exposed against Ireland who dominated to score four times. Kelly Smith was the only England player to put down in the final game running down their sole try in the second half with a final whistle score of 5-27.
Head coach Simon Middleton said: "This is a group that wants to be defined by their ability to compete hard in every game, to be competitive, and have a desire to win whatever it takes. They made a pretty good start in this competition, coming out on day two having taken on board everything we discussed last night.
"We are at the start of what will be a very steep learning curve and this tournament was the first examination of their ability to learn and adapt quickly. That's exactly what they did today matching their day one attitude with their execution. This was a great credit to their resilience, which is one of the most critical factors in sevens."
Malemort is the second of two legs for the Rugby Europe Grand Prix Sevens Series, with the first having taken place in Kazan, Russia, on 11-12 June where GB Lions also finished third.
SQUAD
Abbie Brown (Bristol)
Natasha Brennan (n/a)
Lotte Clapp (Saracens)
Lauren Cattell (Saracens)
Deborah Fleming (Saracens)
Katie Mason (Bristol)
Katy Mclean (Darlington Mowden Park)
Lucy Nye (Lichfield)
Kelly Smith (Worcester Valkyries)
Amy Wilson Hardy (Bristol) ©
Millie Wood (Lichfield)
Rachael Woosey (Darlington Mowden Park)
Third place result
GB Lions 12 – 5 Ireland
Tries: Brown, Clapp
Conversions: Mclean (2)
Semi-final result
GB Lions 19 – 22 France
Tries: Brennan, Brown, Wood
Conversions: Mclean (2)
Quarter-final result
GB Lions 14 – 5 GB Royals
Tries: Mason, Wood
Conversions: Cattell (2)
Pool Games
GB Lions 21 – 12 Belgium
Tries: Brennan, Smith, Cattell
Conversions: Cattell (3)
GB Lions 14 – 12 Italy
Tries: Fleming (2)
Conversions: Cattell (2)

GB Lions 5 - 27 Ireland
Tries: Smith