England Women name Old Mutual Wealth Series squad 2016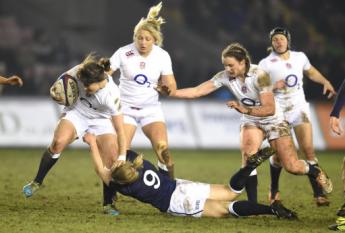 By Red Roses
October 26 2016
England Women's head coach Simon Middleton has announced his 32-player squad for the Old Mutual Wealth Series against France, New Zealand and Canada with an away fixture against Ireland in November.
The Red Roses' squad features seven names who represented Team GB in the Rio 2016 Olympic Games, including Emily Scarratt, Katy Mclean and Danielle Waterman, and have now returned to the 15-a-side programme.
Sarah Hunter will once again lead the side, having been confirmed as captain.
"This season is all about building towards the Women's Rugby World Cup in Ireland next August. In the Old Mutual Wealth Series, we have the opportunity to take on the best sides in the world," said Middleton.
"We have a first-class squad of players and we have a number of options and combinations to choose from."
The Red Roses will get underway against France at Twickenham Stoop
on Wednesday 9 November (KO 7.45pm, live on Sky Sports)
The side will then travel to Dublin to face Ireland at Dublin University College on Sunday 13 November (KO 2pm), having last met at Twickenham Stadium during the Six Nations where the Red Roses enjoyed a 13-9 victory
They next play New Zealand at Twickenham Stoop on Saturday 19 November with kick off at 12pm to precede England v Fiji, before finally taking on Canada following the conclusion of England v Argentina at Twickenham Stadium, KO 5.05pm.
England women's squad:
Forwards: Zoe Aldcroft (Darlington Mowden Park Sharks), Sarah Bern (Bristol), Emily Braund (Lichfield), Rochelle Clark (Worcester Valkyries), Poppy Cleall (Bristol), Amy Cokayne (Lichfield), Vickii Cornborough (Aylesford Bulls), Emma Croker (Richmond), Vicky Fleetwood (Saracens), Sarah Hunter (Bristol), Justine Lucas (Lichfield), Alex Matthews (Richmond), Harriet Millar-Mills (Lichfield), Izzy Noel-Smith (Bristol), Marlie Packer (Bristol), Laura Keates (Worcester Valkyries), Tamara Taylor (Darlington Mowden Park Sharks)
Backs: Claire Allan (Saracens), Rachael Burford (n/a), Natasha Hunt (Lichfield), Megan Jones (Bristol), La Toya Mason (Darlington Mowden Park Sharks), Katy Mclean (Darlington Mowden Park Sharks), Sarah McKenna (Saracens), Fiona Pocock (Aylesford Bulls), Amber Reed (Bristol), Emily Scarratt (Lichfield), Emily Scott (Saracens), Lydia Thompson (Worcester Valkyries), Danielle Waterman (Bristol), Kay Wilson (Richmond), Amy Wilson Hardy (Bristol)