England Women 29 v 15 Italy - 2017 Six Nations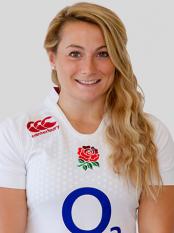 By England Women
February 27 2017
Vicky Fleetwood scored a hat trick as the Red Roses sealed their third bonus-point victory of the 2017 Six Nations after defeating Italy 29-15 at the Twickenham Stoop.
Kay Wilson and Amy Wilson Hardy also scored tries with centre Emily Scarratt adding two conversions to take her tally for the competition to 28 points.
Italy scored three tries of their own through wing Sofia Stefan, scrum half Sara Barattin and full back Manuela Furlan.
The bonus point win moves England to the top of the Women's Six Nations table with Ireland and France facing each other on Sunday in Dublin.
Italy had in fact taken the lead in the fourth minute when Stefan dived on Manuela Furlan's grubber kick through in the corner.
The Red Roses responded 10 minutes later when Scarratt offloaded to Wilson and Wilson Hardy then crossed on the other wing to take her side into the lead in the 17th minute.
Fleetwood scored her third and fourth tries for England in the space of five minutes to seal the try bonus point after 31 minutes, both on the back of catch and drives.
Five minutes after the break the Saracens hooker scored her third of the match from another catch and drive with the Italy pack struggling to contain England's rolling maul.
It was the first hat trick for a front row in the history of the Women's Six Nations.
Italy had their second try after 56 minutes when Barattin pounced on Furlan's kick through and the Aylesford Bulls full back scored one of her own eight minutes from time.
The Red Roses ended the match with 14 players after replacement Katy Mclean was shown a red card for a dangerous tackle, and they were reduced to 13 players in the 68th minute when Poppy Cleall was sent to the sin bin for a dangerous tackle.
England head coach Simon Middleton credited his side's defence at the end of the match when they were down to 13 players.
Head coach Simon Middleton said: "It was frustrating at times, but credit to Italy they were outstanding. Full marks to our players at the end, they showed fantastic character when they were down to 13 with eight minutes left on the clock. Italy were in the ascendancy but we defended for our lives and with a great deal of discipline and shape."
Paying tribute to Fleetwood's hat-trick, he added: "Vicky is a great athlete, she's waited patiently in the wings and showed her versatility today when she went into the back row. She's a great player and we're blessed to have her."
England
Sarah McKenna (Saracens), Amy Wilson Hardy (Bristol), Emily Scarratt (Lichfield), Rachael Burford (Aylesford Bulls), Kay Wilson (Richmond), Emily Scott (Saracens), La Toya Mason (Darlington Mowden Park Sharks); Justine Lucas (Lichfield), Vicky Fleetwood (Saracens), Laura Keates (Worcester Valkyries), Harriet Millar-Mills (Lichfield), Tamara Taylor (Darlington Mowden Prk Sharks), Alex Matthews (Richmond), Marlie Packer (Bristol), Sarah Hunter (Bristol).
Replacements: Amy Cokayne (Lichfield), Rochelle Clark (Worcester Valkyries), Sarah Bern (Bristol), Poppy Cleall (Bristol), Izzy Noel-Smith (Bristol), Bianca Blackburn (Worcester Valkyries), Katy Mclean (Darlington Mowden Park Sharks), Amber Reed (Bristol).
Italy
Manuela Furlan, Sofia Stefan, Michela Sillari, Paola Zangirolami, Maria Magatti, Beatrice Rigoni, Sara Barattin; Marta Ferrari, Melissa Bettoni, Lucia Gai, Elisa Pillotti, Alice Trevisan, Ilaria Arrighetti, Isabella Locatelli, Elisa Giordano.
Replacements: Elisa Cucchiella, Gaia Giacomoli, Valentina Ruzza, Michela Este, Valeria Fedrighi, Veronica Madia, Elisa Bonaldo.