Six Nations 2018 - Italy v England - Post match thoughts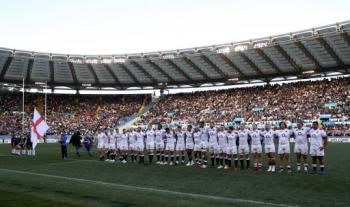 By England Fan
February 5 2018
NAT WEST 2018 6N Championship Seven Try England!
Italy 15 v 46 England
England took to the field at Rome's Stadio Olimpico and for 65mins fought hard against the rejuvenated Italian side. What a match! I am biased of course being an England Fan but 'Hats Off' to Connor O'Shea and Mike Catt who have turned Italy into an outfit who will test the best.
If Italy play as they did on Sunday against England, I can see France and most definitely Scotland being scalped.
The speed and ferocity of tackles in particular the first half was tremendous and at times England looked anxious. I know from our man in Rome that 1000s of England fans travelled to the game but not until the last 12-15 minutes could you really hear them sing 'Swing Low', such was the intensity of the match.
As I said what a match, brilliant to watch and England did what they had to do! WIN, with the Bonus Point and plenty of points racking up on the score board. So they now sit top of the table on game point difference. I also thought the Referee had a particularly good game and overall as thought the match was a great advert for Rugby.
First & Seond Tries Anthony Watson - All Pictures pa/images
That being said, we wish Ben Youngs all the best as he appears to have suffered ligament damage nine minutes into the match and had to be driven from the pitch on the medical cart.
"Ben will have an examination tomorrow (Monday) so we'll know more after that," head coach Eddie Jones said. "He's unlikely to be available for the Wales game. It's too early to make any sort of prediction, but I'm always optimistic."
Owen Farrell third Try & Sam Simmond s scores the Fourth Try

Ford working well with Farrell gets the fith try and Sam Simmonds gets the sixth try/
And what a find Sam Simmonds is! Anthony Watson got 'man of the match' for his two tries and performance but Ben also got two tries and was as cool as a cucumber for his debut in the Six Nations and his fourth cap for England.

And the Boss is a happy man he had this to say........
"Sam's a good young lad with a great set of skills. If he was a cricketer he'd be playing Twenty20. He's a bit different – he's fast and runs good lines," Jones said. "He's a completely humble boy who just gets on with it. He's fitted into the team well. "He's different to Billy Vunipola and Nathan Hughes and sometimes it takes sides a bit of time to adjust to that, but our adjustment was good.
At the end of the game we played some lovely rugby.
"I was really pleased with the effort. Italy were always going to be difficult to play. "Our scrum and line-out was absolutely first-class. I don't think we've scrummed as well as that in the time I've been in charge of England.
"We were completely dominant and that's English rugby. When the game broke up at the end we were able to score tries. "Defensively we made a couple of errors and they were able to capitalise on them but they're something we can work on and fix. It wasn't the perfect game but very, very positive."
and finally the seventh try scored by Jack Nowell

Italy: Minozzi; Benvenuti, Boni, Castello, Bellini; Allan, Violi; Lovotti, Ghiraldini, Ferrari, Zanni, Budd, Negri, Giammarioli, Parisse.
Replacements: Hayward for Castello (73), Canna for Allan (73), Gori for Violi (63), Quaglio for Lovotti (41), Bigi for Ghiraldini (54), Pasquali for Ferrari (54), Biagi for Budd (61), Mbanada for Giammarioli (50).
England: Brown; Watson, Te'o, Farrell, May; Ford, Youngs; M Vunipola, Hartley, Cole, Launchbury, Itoje, Lawes, Robshaw, Simmonds.
Replacements: Nowell for Brown (61), Joseph for Te'o (59), Care for Youngs (10), Hepburn for Vunipola (73), George for Hartley (54), Williams for Cole (54), Kruis for Lawes (59), Underhill for Robshaw (67).