Will Green Exclusive Interview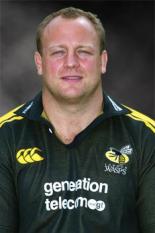 Will Green
By Barney Burnham 17/7/03
April 12 2004
The 29-year-old tight-head prop made his Wasps debut in 1995. Two years later, he was in Clive Woodward's first England team, against Australia at Twickenham. He then went on the ill-fated "Tour from Hell", where he added a second cap. Barney Burnaham talks to Will Green
Since then, his only other full England appearance has come in a World Cup warmup match against the USA in 1999.
Now, after nearly four years in the international wilderness, he's back in the frame. He's been a key figure in a superb season for his club, who won both the Parker Pen Challenge Cup and the Zurich Premiership Trophy.
Named by many journalists in their Zurich Premiership side of the year, he won a place in the England A party for the Churchill Cup - against Canada and the USA - and the trip to Japan.
No sooner had he returned home than he found he'd been named in Clive Woodward's 43-man World Cup training squad.
Barney Burnham has been speaking to Will about the tour, and the season.
BARNEY: You've been on England tours before, including the "Tour from Hell" in 1998. How different was this trip?
WILL: With all due respect to Canada, the USA and Japan, you have to say that the opposition wasn't as strong. As a result, the atmosphere was less intense and more relaxed. We were in Vancouver for three weeks and had a lot of leisure time. This meant we could do things that had nothing to do with rugby, and that was great.
There was, of course, the massive incentive of knowing that World Cup places could be up for grabs. Everyone on the trip was keen to impress, and it was a great tour all round.
BARNEY: Coaches Jim Mallinder and Steve Diamond have only recently given up playing. Does that make their approach different from that of the more experienced coaches like Clive Woodward and Warren Gatland?
WILL: It is quite funny working under people you've played against.! The longer you play, the more likely it is to happen. When he was playing for Sale, Steve Diamond and I had a few tussles on the field. He was a feisty little player!
I enjoyed working with both of them. They're very good coaches. They believe in personal responsibility. They put a great structure in place, then ensured that we worked on the basics. What was difficult was that we played a different side for every game, so it was hard to achieve continuity - but the structure they put in place meant we had a pattern to play to.
BARNEY: You had three weeks in the relaxed atmosphere of Vancouver - one of the world's most liveable cities - then got thrown into the urban jungle of Tokyo. Was it hard to adjust?
WILL: It was a huge change of atmosphere. Vancouver was, as you say, very relaxed. After three great weeks there, it was pretty hard going to the hotbed of Tokyo - but we can't complain. We had three fantastic weeks, then the last week was mentally very hard. We just had to battle it out, then we were home. It's not a bad life!
BARNEY: Much is made of the risk of player burnout. The tour came at the end of a very long season. How tired were you by the end of the trip?
WILL: I was very fortunate, in that Wasps had a great second half to the season. Rugby's not mentally tiring if you're winning.
There were several lads on the tour from Bristol, and the other clubs who'd been struggling. They were mentally tired, as they'd had a draining season. For me it wasn't that difficult. I was on a high: we'd won at Twickenham, I was on tour, my confidence was high. Hopefully, it'll continue like that. I'm not complaining. at all.
BARNEY: You've been named in the World Cup training squad. After several years out of the international arena, that must have been a huge boost.
WILL: It certainly was. It was completely out of the blue. A couple of months ago, I was completely out of the picture. Then, suddenly, you have a few good games and you're right back in it. I've got one month to give it all I can, and I could find myself on that plane. I'm in the mixer, and I'm very excited to be there.
BARNEY: The England set-up must be very different now from how it was when you played in Clive's first game as coach, six years ago.
WILL: Yes it is - but even then , Clive was very innovative. As soon as he came in, he wanted to put this management structure in place. Since then, it's built and built into something incredible. I really want to be involved, and I don't want to let this chance slip.
BARNEY: You'll be 30 in October, so - as props go - you're still reasonably young.
WILL: I don't know about that. I may be young, compared to Jason - but everybody's young, compared to Jason. I reckon I've got about three of four years left in me - but you never know. I'm enjoying it at the moment, and I'll just keep plugging away.
BARNEY: If someone had told you a year ago that Wasps would win two trophies and you'd now be back in the England set-up, how would you have reacted?
WILL: I'd have been over the moon. Let's face it - the reason why I'm back in is because Wasps have been winning. I've always felt that the key is to get your club stuff right and the rest should follow, because they like to select winners. I'm part of a very, very good side at Wasps. Last season was my best year for the team. We want to go from strength to strength this season. It may be hard if we lose key players to the World Cup, but we'll be competing at the end of the season. It's very exciting.
BARNEY: How do you rate our chances of winning the World Cup?
WILL: England have had a fantastic summer, and a fantastic year. We've got an amazing structure going forward. Now it's a case of the right planning - and that's already in place - then going out there and doing the business. At the moment it's very exciting to be an Englishman watching rugby. I'd love to be involved in it.