Sky Sports Presenter Simon Lazenby Exclusive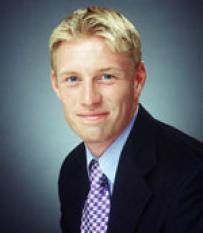 Simon Lazenby
By Barney Burnham 21/8/03
April 12 2004
England Rugby - Sky Rugby Club 2003 - With the new season almost upon us, and Rugby World Cup preparations reaching their final stages, Sky's "The Rugby Club" has returned to our screens. Barney Burnham talks to one of Sky's favourite rugby presenters. With the new season almost upon us, and World Cup preparations reaching their final stages, Sky's "The Rugby Club" has returned to our screens. Barney Burnham our Unofficial England Rugby Reporter has been talking to presenter Simon Lazenby: Barney Burnham:Let's begin by talking about your own rugby background, Simon. What sort of level did you play at?
Simon Lazenby: Nothing special. I was a scrum-half, and occasional fullback.
I captained my college at Durham University. The highlight was winning a sevens tournament in Dubai. Two years running we organised a tour there, and we used to stay in the changing rooms of the Dubai Exiles. We'd play all the sides there, and we also took part in a sevens tournament for all the Emirates. We played against a side from Sri Lanka. They called themselves the Sri Lankan Lions, but I always claim it was their national side - because we beat them. My side was the 2nd seven, and we won the Plate, but we threw a game to get into it. We reckoned nobody was going to beat Kuwait, but that the Plate was pretty open. So we played a game in which we were throwing the ball 20 feet into the air, missing tackles, everything - and pretending to be appalled at how badly we were playing. It was the funniest thing I ever did in rugby. After that I played first team rugby for a number of junior sides, but I dislocated both my shoulders. Everybody knows that once they go, they're likely to keep going, so I decided to pack it in. Everybody becomes a better player when they retire to their seat in grandstand!
Barney:
So how did you find your way in to broadcasting

?
Simon:
I was buying and selling grain from farmers for a private firm Lincolnshire, and I was awful at it - losing money hand over fist. Mark Durden-Smith, who'd also gone to Durham, got me some work experience at Sky. I was offered a job as a runner in the rugby department. Then I got the chance to do a bit of reporting. I asked for a screen test, after which I went on Sky Sports News. They trained me up from there, and I became the sort of Sky whore - covering almost anything, including bowls! I learnt the ropes that way. Then when Durders left, they gave me the Rugby Club job. Maybe they wanted a certain type, but I'd always been his back-up. Also, Martin Turner - the Executive Producer/Director - was the man who'd given me my first chance, so it was a case of being lucky enough to be in the right place at the right time.
Barney:
What's been the highlight for you, since you started presenting the programme?
Simon:
: Last season's autumn internationals, without a doubt. Back-to-back wins over the Tri-Nations. For me, it was the biggest thing I'd ever done on TV. It was a huge thrill. It really set the adrenalin going - and we got the right results, as well. I'm really looking forward to the Lions tour though. That's the pinnacle for us.
Barney:
The Rugby Club got a lot of kudos during the autumn series, for the forensic job they did on South Africa's approach to the game at Twickenham.
Simon:
Well, we had the footage which showed that they'd crossed the line. And they did it again in the recent Tri-Nations game against Australia. I think it's indicative of a team living on their nerves, at the moment. There seems to be a pattern emerging. Whenever they get beaten, they come out very physically - and they get it wrong sometimes.
Barney:
Your partners in crime on The Rugby Club - Stuart and Dewi - seem to be very competitive in their predictions race.
Simon:
They love it. No money changes hands, but there's a little bit of kudos there. Barnsey keeps winning, so I secretly hope Dewi finally beats him this season.
Barney:
What effect has working with Mr. Barnes had upon your liver?
Simon: (laughing). He's not actually as bad as everybody says, and I must say - he's lost a stone this summer. He's stopped drinking beer. He went to the Brecon Jazz Festival, where I think he works as a drayman, carrying the barrels around, but his wife Lesley decided she'd had enough. So she said "on to the wine for you" - not that he's ever been shy of drinking wine! He's got all these old rugby injuries that play up, and I don't think the beer helped.
Barney:
He and Dewi, of course, put their heads on the block every week - knowing that their predictions and observations will infuriate the supporters of clubs they've criticised or tipped to lose.
Simon:
It's a difficult job. They're in there for their opinions, and they want to be forthright. For me, Stuart is one of the great thinkers of the game. Love him or hate him, he has his opinions and he's not afraid to air them. That's something you have to respect.
Dewi is seen as the nice guy, but he also has very forthright opinions on things - and he's just as willing to put them forward.
Barney:
You, of course, sit on the fence when they make their predictions - but now it's time for you to step into the firing line with your own.
Let's start with the Zurich Premiership. Who do you fancy?
Simon:
Northampton won't have as many World Cup calls as some other leading clubs. They'll have very experienced players like Budge Pountney, Andrew Blowers, Bruce Reihana and Nick Beal. They've got a good, strong squad with cover in all the right places. I think they could finish on top of the league - but, as we know, that doesn't mean they'll be champions!
Barney:
Six Nations?
Simon: England. France could get it right - but they could also get it wrong. It's usually down to that one game. I can't see any upsets.
Barney:
And the big one?
Simon:
England. Look at the way England played New Zealand - and the way South Africa and Australia both came close in the last two Tri-Nations games. If you beat the All Blacks up front and stop the ball getting out to their wide men, you can win. Hit them round the edges, go to the air, Jonny'll kick his goals. England have never had a better chance. They've never been better prepared. They've got a huge amount of time together as a squad. I think they'll be right - and I think they'll get it right. **********
Our thanks to Simon for taking the time out to give us this interview and of course to Barney our reporter.