England's Jason Leonard OBE - Dossier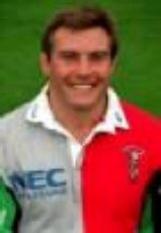 Barking's Finest
By Kath 13/4/04
April 13 2004
England and NEC Harlequins - Jason Leonard OBE - Dossier. Information about the player more than just a profile or fact-file about the player.
Player Dossier - Jason Leonard OBE
Height: 5' 10"
Weight: 17st 7 lbs
Date of Birth:

14th August 1968 - Barking
Playing Position: Prop
Previous Clubs:
Barking, Saracens
Present Club: Premiership -

NEC Harlequins
Country: Debut 28/7/90 v Argentina (21years old) - England & Lions
Playing: Yes - but retiring from International Rugby after 6n 2004
Honours:
OBE 2004 New Year's Honours List.
Articles: Jason Leonard (MBE) A Living Legend
Cotton Hails Lionheart Leonard,
Interesting Facts:
* 2003: Feb: Earns 100th cap. March: Wins fourth Grand Slam as England triumph in Dublin. Nov: Plays in fourth World Cup. Wins 112th cap in semi-final defeat of France to break Philippe Sella's world record. Substitute in England's World Cup final victory. Dec: Made OBE in New Year Honours.
* Jason's nickname 'The Fun Bus', was given to him by Martin Bayfield the former England second row - who saw Jason run across the filed in a red shirt and thought he looked like a London Bus.
* He used to be a carpenter before he started playing rugby.
* He has played 24 matches for the British and Irish Lions.
* Jason was 7lbs 8oz when he was born and doubled that weight in a fortnight?
Sporting-Heroes Stats & Pictures
BBC Player Profile.
Quotes: Sir Clive Woodward "Jason has played at the top level of the game for his country, the British Lions & Irish Lions and NEC Harlequins with distinction and he will be sorely missed by his team mates in the England squad, the coaches, management and of course the fans".

Robert Horner, President of the RFU said, "Jason has been a role model for the game not just in England but around the world. He will be sorely missed by everyone connected with the international game".

Francis Baron, Chief Executive of the RFU said "The longevity of Jason's career at club and international level is a tribute to a player and an individual who has always been 100% committed to the sport".
Nicknames: Fun Bus
Tribute To Jason Leonard - 8/4/04 -The Grosvenor House Hotel, London
Jason Leonard - The Autobiography