England v Barbarians Match Review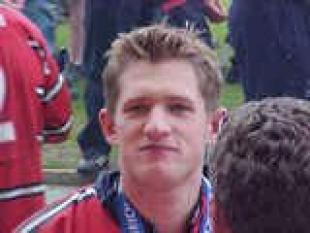 By Patrick
June 13 2005
The result was hardly going to shock anyone, let alone the 1 third full Twickenham, however in the end England, fielding a severly depleted team, lost 39-52 against a star studded Barbarians side on Saturday.
The result was hardly going to shock anyone, let alone the 1 third full Twickenham. The England team having lost over 20 of their best players to the Lions as well as many injuries back home made certain that the England XV to go out on the field on Saturday was far from their full strength team. Hardly an excuse for bad play however, and England shirt is an England shirt. A certain amount of skill and class has to be shown in order to have the honour of wearing one. Luckily for the home side, they were far from poor, and the match's 39-52 score shouldn't leave too many gasps, as it seemed on several occasions that England could very well win the game.
In the end however the star studded Barbarians proved too much for them, scoring 8 tries to 5. Bruce Reihana slotted in 6 conversions to add to his 2 tries. Wendell Sailor, Carlos Spencer (who was a veritable genius in the fly half position), Trevor Halstead, and Brent Russell made the remaining tries for the Barbarians.
England 's Man of the Match would have to go to debutant Paul Sackey who proved to be the most alive and formidable challenge to the Baa Baas. On top of that he scored twice for England and would have probably carried on if given the chance. Ayoola Erinle, James Forrester and Pat Sanderson also crossed the line. Unfortunately it seemed like England were on the defensive far too much, with the greater possession firmly with the black and white team.
England coach Joe Lydon believes that the match today, as well as the result will serve them well as a stepping stone to this summer's tour of Canada :
"The experience is vital, one of the most pleasing things is the disappointment of the players in the dressing room," Lydon said.
"They were disappointed they gave away tries when we had the ball.
"If you give world-class players time, space and opportunities then they will take them. That is a lesson they will have to learn and they will have to correct it."
As was shown by the unconvincing Lions in Cardiff on Monday, a side thrown together after only a handful of training sessions can find it difficult to gel. And so this inexperienced and future England proved, as defensively they were sliced open. A lot of gaps were exploited by the Barbarians, and this is definitely the primary worry for the young team. But to play as such a young and inexperienced team against a Barbarians team filled with caps, and to only lose by 13 points, deserves some credit to the England XV. I for one was proud at their performance when leaving the stadium.
ENGLAND Voyce; Sackey (Tait 75), Erinle, Noon, Simpson-Daniel; Goode (Vesty 61), Gomarsall (Richards 57); Worsley (Mears 54), Chuter, Ward (Morris 16), Deacon, Palmer (Hooper 71), Jones (Forrester 66), Sanderson, Vyvyan.
BARBARIANS Russell (Humphreys 75); Sailor, Castaignède (Burke 63), Halstead, Reihana; Spencer, Robinson (Redpath); Smith, Regan (Ibanez 60), Visagie (Lo Cicero 66), Shaw, Boome (Venter 41), Krige, O'Connor, Chabal (Sititi 66).