London Welsh v Llanelli - B&I Cup Preview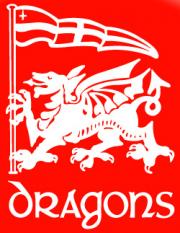 By Mark W-J
March 4 2010
This weekend sees the Exiles welcome a Welsh club to ODP for the first time in nearly 12 years. While we've played 'home' friendlies against Neath (at Ealing), Aberavon (at Camberley) and Celtic Warriors (at Imber Court), Llanelli will be the first club to visit ODP since 1998-99 when they, along with Blackwood and Newport, were on the receiving end of record-breaking displays from the home side.

Llanelli RFC were officially formed in November 1875, ten years before London Welsh, their first fixture being on New Year's Day 1876 against Cambria, a Swansea-based team. It has been suggested that the club was actually formed in 1872, but a lack of opposition meant that the club were forced to wait three years before playing their inaugural fixture. In 1879 they adopted Stradey Park as their home ground, and after a series of colour changes, including blue, black, rose and red & chocolate quarters, finally settled upon the famous scarlet jerseys five years later. The first meeting of our two clubs took place at Stradey Park on Christmas Eve 1886, and three years later, on 31st October 1889, Llanelli were the first Welsh club to visit the Exiles when they ran out at Raynes Park in front of a crowd in the region of 500. The visitors won by a goal and a try in each half, which equated to 8-0 under the scoring values of the day or 24-0 by today's rates. The Christmas fixture didn't switch to Boxing Day until after the Second World War, continuing until 1995, and it was 1948 before Welsh claimed their first victory at Stradey.

Perhaps Llanelli's most famous day came on Hallowe'en 1972 when the All Blacks were defeated 9-3 in front of a crowd of 26,000. That was the season when the club marked its official centenary, but it has since been suggested that the club chose to celebrate three years early in order for the commemorations to coincide with the visit of the tourists. They have a proud history of upsetting touring sides, dating back to December 1888, when they beat the New Zealand Native (Maori) team by a goal to nil. The tour began in June 1888, lasted 14 months and covered 107 matches – 74 in the UK & Ireland, 17 in New Zealand and 16 in Australia. The Maori beat Ireland by four goals and a try to a goal and a try at Lansdowne Road on December 1st; lost to Wales by a goal and two tries to nil at St. Helens three weeks later; and in February were beaten by a goal and four tries to nil by England at Blackheath. Three of the Wales team – Alexander Bland and Norman Biggs of Cardiff and Newport's Jim Hannan – went on to represent London Welsh, whose match with the Maori at Richmond Athletic Ground, won by the tourists by two tries to one, remains the only meeting between the Welsh and a fully-fledged touring international side.

Llanelli's most recent victory over a senior touring side was in November 1992, when they beat Australia 13-9 courtesy of Ieuan Evans' try, famously copied from one of the Wallabies' own moves. That season also saw them win the WRU Heineken League and a third consecutive WRU Cup to claim a self-styled 'treble'. The club has a history of success in the knockout format since its introduction in 1972, having won the trophy 13 times, most recently in 2005, and been runners-up on a further six occasions, including a 27-21 defeat to Neath last season. Indeed, they were finalists in the WRU Cup in each of the first five seasons - although they lost 15-9 to Neath in the inaugural final, they proceeded to reel off four consecutive victories, beating Cardiff, Aberavon (twice) and Newport.

The pool meeting with Aberavon on the opening weekend of this season's British & Irish Cup saw the Wizards claim a 19-16 victory at Parc y Scarlets, and this was followed by a 36-24 defeat at Bedford a week later. Things have picked-up slightly since, with a 21-21 draw at home to Ulster Ravens in round three being followed by a 35-21 win at home to Moseley last weekend. The Midlands team have collected a solitary point from their four games, courtesy of a try-bonus in their second-half fightback against the Exiles in the opening fixture. Despite last week's defeat, we still have a chance – albeit slim - of reaching the semi-finals. With Ulster and Welsh level on 16 points, the head-to-head result sees the Ravens top the table at this stage. What this means is that we have to collect the win complete with try bonus on Saturday and hope that Aberavon – currently fourth behind Bedford as a result of the Blues' 17-15 win in their meeting last Saturday - can prevent Ulster from claiming the full five points at Ravenhill 24 hours later. If we fail to better Ulster's result, they will proceed to the knockout stages.

As mentioned previously, the last meeting, on February 21st 1998, resulted in a record 43-7 win for the Exiles. We were in the middle of the most successful season in the club's history, Rowland Phillips and Clive Griffiths' team winning 28 of 34 fixtures with one draw, racking up 193 tries and 1,304 points in the process. For posterity, here are the two teams that day:

London Welsh – Peter Shaw (1t), Scott Roskell, Andy Currier (2t), Steve Pilgrim, Martin Giraud, Craig Raymond (5c, 1p), Darren Edwards (1t); Simon Emms, Andy Tucker, Andy Millward, Eldon Moors (1t), Cliff Vogl, Dave Muckalt (1t), Luke Jones, Rowland Phillips.
Reps used – Michael Dawes, Tom Lewsey, Garry Holmes, Ryan Campbell, Dylan Griffiths.

Llanelli – Daniel Rogers, Garan Evans, Jamie Evans, Nigel Davies, Matthew Wintle, Frano Botica (1c), Aled Thomas; Aled Jones, Jason Hyatt, Dai Jones, Martin Morgan, Dave Hodges, Ceri Davies, Adrian Chiffi (1t), Hywel Jenkins.
Reps used – Chris Hughes, Stephen Jones, Emyr Jones.

Here's hoping for a similar outcome on Saturday!