Think Pink & All Join Together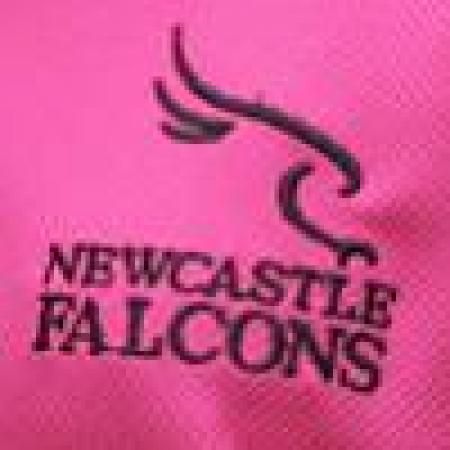 By Mark H
September 15 2006
Cancer. Small word, big meaning. Most of us are affected by it, either through a friend, colleague, or family member suffering from it, and it comes in many forms.
Andy Perry, Joe Shaw, and cancer survivor Emma Duncan launch the Falcons' new pink shirt
I've been affected three times by the disease. My gran died just over 22 years ago; ironically, it's 23 years on Sunday since she suffered the slip that led to the diagnosis. One of my best friends died just over eight years ago from cancer of the colon, having had originally what we all thought (him included) was a cough. He passed away five days after his 27th birthday.
This time last year all was well on the outside. Falcons were just about to beat Saints; the wedding was just over a fortnight away; we were looking forward to our honeymoon in Barcelona, happy in the knowledge that no-one had a clue about our destination. But on the inside, there was a problem - a lump, which had come up clear on a mammogram over a year before, was there in Lom's right breast and, at times, visible. One week in December changed our lives forever.
Wednesday 7th saw what was a routine check in the morning turning into a biopsy. The afternoon took us from that low to confirmation of a very unexpected (and equally unplanned) pregnancy. Friday 9th found us amazed that the dating scan made the pregnancy 21 weeks. Wednesday 14th saw us back at the Breast Clinic, convinced that the lump was hormonal and innocuous from the pregnancy. Wrong, wrong, wrong. When someone says "It's cancer" you literally black out - it is a terrible feeling. The size of the lump meant only one option was realistically available - a mastectomy. If it were not for Christmas, it would have happened in a week. As it was, just under four weeks later, "Adolf" (the 4cm unwanted invader) was removed, along with the rest of Lom's breast. The pregnancy continued, and you all know the results of that.
The treatment goes on - two more lots of chemotherapy, then a month of radiotherapy await. Lom's unbalanced (some would say no change there then) with only one breast, but alive and happy. We're the lucky ones, we have so much to look forward to - World Cup a year from now, the little man growing up and flirting with even more attractive women, the two of us. Many are not so lucky. They need the help that organisations like Cancer Research UK provide. Every penny helps.
Emma, 32, from Cramlington, was diagnosed with breast cancer three years ago at the age of 29, and has since undergone a double mastectomy.
And that's why we, like the players, will be proudly wearing the new pink shirts in aid of Cancer Research UK's All Join Together campaign – raising money for breast cancer research. Lom's already said that she's going to wear hers at next year's CRUK Race for Life. The shirts are to be worn against Llanelli Scarlets in the televised EDF Energy Cup match at Kingston Park on Friday 6th October.
We're pleased the club have done this. It just feels right. The money raised from the sale of the shirts will make a difference; they will mean that the help and hope that we have can be given to others. People will say it's not a manly thing to wear a pink rugby shirt. Correct, it's not a manly thing, it's a caring thing. It's a Falcons thing.
Please think about it. Think pink.
---------
Shirts can be obtained from the Falcons club shop on 0191 214 2833 or online at the official site www.newcastle_falcons.co.uk. Remember, only shirts bought via the club will generate the donation.
To find out more about Cancer Research UK's All Join Together campaign, visit www.cancerresearchuk.org/breastcancer or call 08701 60 20 40.
For more information about cancer, its risks and treatments, visit www.cancerhelp.org.uk.
---------
And what are we going to do as a site for the cause? Well, we're going to have a link on the sidebar to this story, and how to order the shirts. We're going to provide as much publicity as we can, just because we can. As for the rest…wait and see. You may be surprised.
Emma's also agreed to be our fly-half cover...