Gateway to Heaven?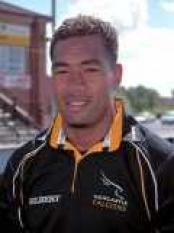 Season's best
By Falcon1 (02/02/03)
February 8 2005
The sun came out on Saturday to thaw the snow and melt the ice at the new look Kingston Park. It also heralded a fresh start for the team that had ended 2002 entrenched at the foot of the Premiership. Newcastle Falcons not only won this game 32–17, a score that flattered Harlequins given that they got a soft try from a Falcons mistake in the first half and a second try late in added time, but in doing so scored four tries and earned themselves a bonus point that could be significant at the final reckoning.
A crowd of 6,109 spectators, and a larger live television audience beyond the confines of Kingston Park, witnessed the Falcons play with an organisation and confidence that had deserted them of late. The contrast between the side that lost to London Irish in December and the side that defeated Harlequins at the beginning of February gives warning that those who write off the Falcons' place in the Premiership should do so with care. There is still a mountain to climb, but the Falcons are looking like a side that will not go down without a fight.
Amidst a party atmosphere and a capacity crowd, both sides started this game with an intensity that made it clear that they had something to prove. Harlequins wanted to put flight to a dismal away record that had not seen them win on the road in the Zurich Premiership since they beat Rotherham in March 2001, in contrast to a home record that boasts six straight league wins, and in doing so push towards qualification for next season's Heineken Cup. As for the Falcons - well there is only one way to go when you are bottom of the Premiership after seven straight league defeats, and out of the Powergen Cup and the Parker Pen Challenge Cup.
The early attacks came from the Quins with Newcastle Falcons tackling and covering to keep Greenwood, Burke and Luger at bay. The first score, however, went to the Falcons after 14 minutes when Jonny Wilkinson, playing his first Premiership game since 3 November, kicked a 25 metre penalty after Harlequins were caught encroaching the offside line. Within a minute Paul Burke responded with a penalty, after Stuart Grimes was adjudged to have held on to the ball for too long, to level the score.
The next 10 minutes saw Newcastle Falcons dominant with the Tongan powerhouse Epi Taione, playing as Rob Andrew admitted afterwards 'his best game of the season', punching holes into and through the Quins defensive line, the forwards wheeling a scrum, and Wilkinson declining to kick for goal and opting instead to place a penalty into touch to provide a lineout platform 5 metres from the Quins try line. All came to nought, however, as the lineout was lost and the Falcons were sent back down the pitch. Reward for the pressure did come on 27 minutes with a Jonny Wilkinson penalty goal from 40 metres, after Quins had pulled down the maul.
The significance of this goal for Wilkinson was perhaps not appreciated by all of the crowd, many of whom may have been witnessing their first taste of live Premiership rugby – Wilkinson had become one of only three players, and the youngest of the three, to receive the Golden Boot award for scoring 1,000 points in the Premiership.
Soon after there was a moment when it seemed like Lady Luck might spoil the party and play a cruel trick on the Falcons. An innocuous attempted clearance kick by former All Black centre Mark Mayerhoffler was charged down by the Quins hooker Tani Fuga, who snatched up the ball and ran in to touch down. Burke's conversion gave Harlequins a 10-6 lead.
But this Falcons side has a strength and character that we had seen emerge during the games against Treviso and Saracens and was there for all to see yesterday. Within a minute of the Harlequins score, Newcastle Falcons had responded in style.
From the restart the Falcons forwards put Harlequins under intense pressure driving them back to their own try line. They turned over the ball, moved it out to the backs who took it left then right with Liam Botham finally delivering the ball out of a tackle with an inside pass to Man of the Match Stuart Grimes to charge home and score a try to the joy of the crowd. With Wilkinson converting the try, the score was now 13-10 to the Falcons, and so it remained until half time.
After the game Mark Evans said that his team "didn't come out and play the second half at all". I prefer to believe that the Falcons turned up the heat.
Newcastle Falcons announced their intention from the kick-off with Joe Shaw, another player giving his best performance for some time, making a break only to be caught. In the resultant breakdown, a Quins player handled the ball on the deck and Falcons were awarded a penalty by Mr Spreadbury.
Although Wilkinson failed to score with the penalty attempt, the pattern for the remainder of the game had been established. The Falcons backs and forwards continued to combine to drive the ball down the pitch. Liam Botham, under the gaze of his father watching from his personalised suite in the West Stand, made a break down the left flank, assisted by Hugh Vyvyan and Nick Makin, to gain a ruck on the Quins line, from which Vyvyan emerged to score a try that was duly converted by Wilkinson to give the Falcons a 20-10 lead.
The next score came from Jamie Noon, playing in Andrew's post–match assessment 'in his best position' at outside centre. On his own 22 metre line he took a long pass from Wilkinson and set off on a run to the right, only to cut back with a superb side-step to tear the Quins defence to shreds, link with Vyvyan, and finally re-take the ball to touch down to the left of the posts. Wilkinson stepped up to convert the try and Falcons had a 27-10 lead.
Shortly afterwards Epi Taione, showing a stamina and determination that we had not seen for a while, made a run from the half-way line to within inches of the try line only to be dispossessed of the ball in the tackle.
The Falcons were now looking for a bonus point and it came with a try from Michael Stephenson, playing with renewed confidence behind a pack that was driving forward at every opportunity. Mark Mayerhoffler broke through the defensive line and off-loaded the ball to Stephenson who needed no further beckoning to turn on the power with a diagonal run leading to a touch down wide on the left. Although Wilkinson missed the conversion, with seven minutes to go it was 32-10 to the Falcons.
To their credit Quins put the Falcons under pressure, fully exploiting the seven minutes of added time kindly provided by Mr Spreadbury to gain a consolation second try from Tani Fuga, which full-back Nathan Williams converted, after a series of penalties had kept the Falcons pinned down on their own line.
After the game Rob Andrew was restrained in his comments to the press, recognising that whilst "It was a good day all round for us - a large crowd, good weather and not a bad performance", there was much yet to be done. Nevertheless he admitted to being "happier than I was two months ago" (as are a few supporters).
Commenting on the performances of the players, Andrew felt that Taione had "responded well to the big occasion", Mark Andrews on his debut had demonstrated a significant presence, the pairing of Wilkinson and Mayerhoffler for the first time had been successful, and the side was now ready to build upon its "very strong defensive unit". Responding to questioning about an injury sustained by Wilkinson during added time, Andrew reported that it was not as serious as had been feared.
Whilst not completely satisfied – "the line outs were not as efficient as they have been in recent games" – the Director of Rugby was satisfied that the Falcons had responded well to the soft try given away in the first half, had been "sharp, focussed and hungry" for eighty minutes and had got what they needed from the game. Commenting on the contribution of the overseas players, Andrew noted that they provide a strength in depth that has perhaps been missing and that if he can keep this side together for the remaining games, "There's a lot to build on and we'll improve."
Speaking after the defeat by London Irish on 29 December, Rob Andrew had said, "I do believe we are capable of turning it around and winning games". Yesterday many supporters left Kingston Park feeling that the corner may have been turned and that they had seen a glimpse of heaven, not hell, both on and off the field.
The Teams
Newcastle Falcons
15 Joe Shaw, 14 Liam Botham, 13 Jamie Noon, 12 Mark Mayerhofler, 11 Michael Stephenson,10 Jonny Wilkinson (Captain), 9 James Grindal, 1 Ian Peel, 2 Nick Makin, 3 Marius Hurter, 4 Mark Andrews, 5 Stuart Grimes, 6 Epi Taione, 7 Andrew Mower, 8 Hugh Vyvyan
Replacements:
C Hamilton for M Andrews (50), M Thompson for N Makin (72), T May for M Mayerhoffler (76), M ward for M Hurter (77), H Charlton for J Grindal (79).
NEC Harlequins
15 Nathan Williams, 14 Matt Moore, 13 Will Greenwood, 12 Viliame Satala, 11 Dan Luger, 10 Paul Burke, 9 Scott Bemand, 1 Jason Leonard, 2 Tani Fuga, 3 Jon Dawson, 4 Bill Davison, 5 Alex Codling, 6 Ace Tiatia, 7 Andre Vos (Captain), 8 Tony Diprose
Replacements:
C Bell for W Greenwood (40min), R Jewell for C Bell (55), B Starr for J Leonard (55), J Evans for B Davison (55), S Miall for T Diprose (75), M Powell for P Burke (80).
The Officials
Referee: A Spreadbury (Somerset)
Touch Judge: M Wilson
Touch Judge: B Campbell
Scorers
Falcons
Tries: Grimes, Vyvyan, Noon, Stephenson
Conversions: Wilkinson (3)
Penalty goals: Wilkinson (2)
Harlequins
Tries: Fuga (2)
Conversions: Burke, Williams
Penalty goal: Burke
Scoring Sequence
3-0, 3-3, 6-3, 6-10, 13-10 (half-time), 20-10, 27-10, 32-10, 32-17.
---
All Photographs courtesy of Newcastle Falcons.