Never in doubt!!!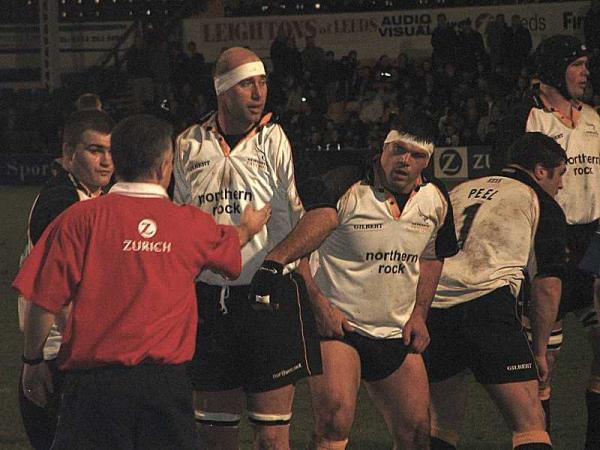 This way boys...
By DJMC (08/02/03)
November 29 2005
I could sum up the match report with the simple phrase "we have played better than this and lost" but Iíll elaborate a little bit more. This was always going to be an intriguing game with Leeds Tykes wanting to consolidate their top three position and us needing to build on last weekís win and fight for every point available. From the Leeds kick off they certainly seemed up for it. After only one minute a penalty was awarded against us for offside and a simple kick from Braam van Straaten put them 3 Ė 0 up. From the restart we couldnít get our hands on the ball and the game continued to be played in our half with another penalty for offside awarded against us after seven minutes which made it 6 -0.
After ten minutes we gained our first line out, which we promptly lost by throwing long. Throughout the match the line out blew hot occasionally, luke warm mostly, but too often cold. As a prime means of first phase possession itís proving to be too unreliable at the moment.
The match then entered a period of sustained Newcastle possession. We were awarded our first penalty after 13 minutes which we kicked to touch. From the resulting line out we built up a number phases in attack but they came to naught as we were eventually penalised for holding on. However after 19 minutes another penalty was given to us and Jonny decided to take his first pot a goal which unfortunately sailed wide.
The game continued to be played in the Leeds half and with the need to turn the pressure into points, on the 23rd minute Jamie had a pot at a drop goal which just didnít have the legs. Another chance came to put points on the board immediately after the drop out when we awarded yet another penalty for a Leeds player coming through. From the line out we set up an attack and drive which was stopped when an accidental offside was given against us. We disrupted their scrum which resulted in us having the put in on a second scrum on the 5 metre line which we lost against the head. Does this pattern of play sound familiar??
On the 28th minute, and bearing in mind we had played for 15 minutes in the Leeds half without a point to show for it, the unmentionable happened when Jonny missed his second kickable penalty. It looked as if it was going to one of those nights especially when on the verge of half time we gave another penalty away which was duly kicked to make 9 -0 when the whistle blew.
At the start of the second half Craig Hamilton came on for Mark Andrews and Hall Charlton switched with James Grindal. I have no way of knowing what was said at half time but the players did come out with rather more fire in their belly and we continued piling on the pressure. Five minutes into the half Jonny went down injured and Iím sure I wasnít the only one who thought "oh my gawd" with this game needing to be won and another quite important one next week. Neednít have worried, after a dab with the magic sponge and a drink of water he got up and ran it off.
The pressure continued and on 52 minutes, Tom Palmer, the Leeds No. 5, was sin binned for taking out one of our players in the line out close to their line. We went for a second line out and from the resulting ruck the ball came out to Jonny and he darted down what looked like quite a narrow blindside to score the first try of the match. Following from this he landed his first kick of the match with the conversion. The score was now 9 Ė 7.
On 57 minutes Matt Thompson came on for Nick Makin. Throughout the second half we continued to try and play attacking, running rugby but often the pace was forced instead of being relaxed and flowing. Meanwhile, Leeds Tykes, it would appear, were happy to play a simple game of kicking to the corners and wait for mistakes to happen, rarely did they play any attacking fluid rugby and never really threatened our try line.
On the 77th minute came the moment all Falcons fans had been waiting for, another kickable penalty. No doubt buoyed by the success of his touchline conversion, Jonny made no mistake. 9 -10 to Newcastle Falcons. Now it was a matter of three minutes plus injury time to hold on.
Then came the drama which makes watching live sport so gut wrenchingly, nerve rackingly enjoyable. On the stroke of full time, Leeds were awarded a penalty on the 10 metre line in their own half which was cleared to touch. They won the line out, however, in what must have been a win at all costs moment, Andy Mower clearly came into the maul from the wrong side to try and snatch the ball away. The result, a sin binning for him and penalty to them. Duly kicked 12- 10 to Leeds.
Luckily for us the referee had a magic time piece and there was time for yet more drama to unfold. We won the restart and carried the ball up the right wing to the try line. There was a maul and we were bundled into touch. Surely this was it. But no there was still time for the line out. It was on the far side from where I was stood so I can only assume we pinched one off their throw as the ball was whisked along the line to the opposite side of the pitch. The attack appeared to have come to a halt with a good tackle but the ball was presented well and Hall Charlton came along, swooped at the ball which stuck to his hand and he ran into the open space that had been created and on to score the vital try.
After the conversion , there was another rare site, Jonny showing raw emotion as he punched the air in defiant celebration (and perhaps as an "up yours" gesture to those Leeds fans who think itís cool to barrack the opposition kicker).
Speaking in the Long Room after the match Tykes' coach Jon Callard said the Tykes' first half defence had been awesome, in particular singling out Mike Shelley for his marking of Epi Taione, but that if Tykes had won the match it would have been "a victory we didn't deserve". Jon Callard was particularly impressed with Epi, describing him as being "like a bus in a schoolboy field".
Newcastle Falcons
1) Ian Peel, 2) Nick Makin, 3) Marius Hurter, 4) Mark Andrews (Craig Hamilton at H.T.) , 5) Stuart Grimes, 6) Epi Tiaone, 7) Andy Mower, 8) Hugh Vyvyan, 9) James Grindal (Hall Charlton at H.T.), 10) Jonny Wilkinson, 11) Michael Stephenson, 12) Tom May, 13) Jamie Noon, 14) Liam Botham, 15) Joe Shaw
Leeds Tykes
1) Mike Shelley (C), 2) Matt Holt, 3) Gavin Kerr, 4) Chris Murphy, 5) Tom Palmer, 6) Cammie Mather, 7) Dan Hyde, 8) Isaac Feaunati, 9) Alan Dickens, 10) Gordon Ross, 11) Diego Albanese, 12) Braam Van Straaten, 13) Tristan Davies, 14) Chris Hall, 15) Dan Scarbrough
---
Leeds Tykes v Newcastle Falcons: Match Preview Photograph - courtesy and copyright of Timofe (a Tykes fan) Thanks very much!