Falcons v Saracens: It's official, we're safe!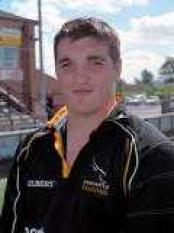 Top Cheerleader!
By Erica (05/05/03)
February 8 2005
We did it without the need of a merger, and without the RFU rescinding relegation. We achieved it on merit, and after the performances of the past seven games (with the possible exception of Northampton), we deserve to be there. But why did we have to do it the hard way again, haven't we suffered enough this season? Watching the clock for the last five minutes with Saracens camped on our line was torture, and it could have all been so different, but for a fantastic steal on our own five-metre line from Jonny Wilkinson.
The game itself, started slowly, with Saracens edging possession and territory for the first half an hour, with Goode having an indifferent game with the boot, missing an early penalty and drop goal attempt. It seemed that the only way Saracens were going to put any points on the board was by crossing the line, and following a five-metre scrum and a pass from Tom Shanklin, that's exactly what Tim Horan did. Goode converted the try from way out on left hand side to make it 0 - 7 to Saracens.
This seemed to vitalise Newcastle, and after only a further five minutes, they were level, following a scintillating try, scored by Jonny Wilkinson (pictured), but made for him by the centre partnership of Mark Mayerhofler and Jamie Noon, and the conversion that followed.
With Goode kicking a penalty, Saracens went in at half time, with a 3-point lead.
Half time score: Newcastle Falcons 7 - Saracens 10
In the next twenty minutes Newcastle were rampant, and with Jamie Noon and Michael Stephenson crossing the line, they managed to put on twelve points in a matter of ten minutes. This possibly should have been more, but the touch judges failed to agree with the home supporters, and the conversion following Jamie Noon's try was not given.
At this stage in the game, the home crowd fully expected Newcastle to go on and make it a five-point win, but no one in the ground would have wished for the circumstances in which it was made possible.
Michael Stephenson, in a one on one situation with Horan, seemed to have the edge on the Australian, but Horan stuck out his arm and took Michael high around the neck.
Horan should have been carded, yellow would have possibly sufficed and probably appeased the home fans, but only the penalty try was awarded, which Jonny Wilkinson, duly converted.
Newcastle Falcons then decided that it was only fair that they give their supporters what they have come to expect, the close finish. With Saracens, going over for two tries in the last quarter, one from Mike Storey, and then Robbie Russell, and with referee Chris White sending Stuart Grimes to the sin-bin for a blatant trip, the scene was set for a frenetic final five minutes.
With Jon Dunbar, auditioning for a role as a Falconette, and superbly rallying the crowd to get behind the team, Andrew Blades came into his own, the effect he has had on the Falcons defensive capabilities shone through and some awesome defence from the fourteen remaining players on the pitch saw Falcons survive.
The reaction from the home supporters was euphoric and most stayed to see the Newcastle Falcons complete a lap of honour, there were even a few sand storm moments, (thanks Barry), with many a cagey regular wiping away a tear.
The win ensures that the Falcons will be playing Zurich Premiership rugby next season and sets up an interesting visit to Bath on Saturday, where a win would see them into the play-offs for Heineken rugby and Bath into the first division.
Final Score: Newcastle Falcons 26 - Saracens 22
---
Saracens Match Photographs courtesy and copyright of Foot Up.
More Newcastle Falcons headlines
Newcastle Falcons Poll