Leipy's Paris Diary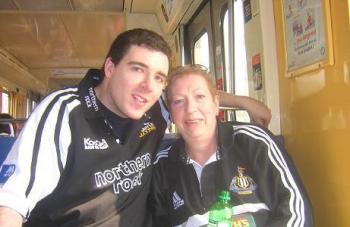 By Leipziger
January 16 2006
Here's the first of the many Paris stories that will be appearing on the site over the next couple of weeks or so. Leipy starts us off with his diary (and photos) from the weekend.
Friday April 1 - 00.23 (BST) - Home.
Less than 39 hours until kick-off in the Parc des Princes. In just eleven hours our plane will leave Leeds/Bradford for Paris CDG, and the adventure will begin for real. Tomorrow we will go to Paris, do some tourist stuff, and then go to the Moulin Rouge in the evening. Then Saturday is the big match, THE match, possibly the biggest in our clubs history. Stade FranÁais v Newcastle, European Cup quarter-final.
Iíve thought of little else this week since Bath on Sunday, and am so excited to be going to this game, my first in France. I canít wait to meet everyone at the Eiffel Tower on Saturday lunchtime; pound a few then cheer the lads on hopefully to a massive victory. The team was named today, well, at least the starting XV: Burke, May, Noon, Mayerhofler, Stephenson, Walder, Charlton, Isaacson, Long, Ward, Parling, Grimes, McCarthy, Harris, Dowson.
Great to have Burke back, but in the forwards we have a few problems. Gross and Peel are possibly going to be on the bench if fit, maybe with Charvis and Wilkinson if they recover from long-term injuries. Quinones has no chance of playing apparently after picking up an injury against Bath. Weíll find out which seven of the eleven replacements named today will be selected on Saturday.
Off to sleep now, up at 6am then driving to Leeds. Soon all the talking will stop and itíll be time for the Falcons fans and players to show what they are made of.
Friday April 1 - 14.32 (CET) - Train from CDG to Paris.
Les Leipys have entered France! After a quiet flight from Leeds / Bradford, we are now on the train to Paris. Itís hot outside and Paris is shining and basking in the French sun.
Iím looking out at a huge rail yard, so I guess weíre approaching the Gare du Nord. A quick look at the map tells me Iím completely wrong and not even past the Stade de France yet. At least weíre in the exact opposite corner of Paris to where weíll all be tomorrow afternoon.
Should be at the hotel by 3.30, then weíll head for the Champs Elyseťs and Moulin Rouge.
ALLEZ LES FALCONS!
Saturday April 2, 10.11 (CET), IBIS.
Just been for breakfast and a walk to try and get rid of my massive hangover. After going to a fantastic show at the Moulin Rouge, having a small but quality dinner and climbing the Arc de Triomphe, me, ma and Tracywilko got back to the hotel about 11.30.
After a round or two with Falcon1, half the Lashing with Lincoln posse arrived with vodka and drinking games took care of our senses for an hour (unfortunately I lost a lot of times!). People drifted off to bed, and then Happy Hooker and Bazmundo and others turned up at 1am. After a quick trip to a 24 hour offy, we drank until about half 3 just before breakfast started and the staff saw all our empty bottles! Mind, ĎBig Joeí of the Lincoln group had already slept about an hour!
We must have left the conservatory in a bonny state, I canít imagine what the staff thought ("Bloody English" probably).
Woke up at 8.30 this morning feeling like Iíd been hit by a truck but after brekkies Iím back in the world of the living and ready for the match. And repeating last nightís merry knees-up after the ladsí victory!
Sunday April 3, 02.01 (CET), IBIS.
Well, the game has been played, and we got hammered! 48-8 to be precise. It wasnít pretty, but at least the lads and lasses up in the stands made a fight of it to create the best rugby atmosphere David Walder has ever known.
After breakfast yesterday morning mother and I met Tracywilko and Mr and Mrs DGNTR and headed early to the BMT. Itís an impressive structure, in fact one could say itís quite an Eyeful (sighs all round!). Once there, gradually more Falcons arrived, and we probably only numbered around 150-200 but we had fun. Banners on the fence, beer in hand, TV and newspaper men and Chinese girls asking for photos and interviews (yes that was me on the local news in the wig. But I wasnít drunk yet, whatever I sounded like!).
Then it was off to the Parc des Princes on the Metro.
Some of us went to the Stade Jean Bouin to watch the Varsity Match, and Stadeís regular ground, for anyone whoís never been, is attractive and colourful, very mainland European with a running track. It is really small though, and it is hard to believe they can host huge Heineken Cup ties there, though obviously today the real action was next door.
About an hour before kick off, after exchanging scarves with a couple of young Stade fans, we passed 4 security and ticket checks to get high up in the Presidentielle Stand and join 3,000 other Geordies.
News filtered through that neither Jonny Wilkinson nor Colin Charvis were on our bench, but we still held out hope that our boys could pull off a famous win. As Iíd told the TV interviewer, if we didnít believe that, what was the point in going?
The clock inched ever closer to 4pm, when 2Ĺ months of talking would come to an end and the real action would begin. As the Falcons took the field they received huge cheers from their supporters and we continued it throughout most of the game, often out-singing the 40,000 French.
However, we quickly went behind to a penalty from David Skrela, and Stade ran in 3 tries in the first half to lead 22-3 at the break, Matt Burkeís penalty being our only consolation so far. We had reason to be aggrieved at the awarding of the first two tries though. I am told that there was a knock-on in the run up to Mathieu Blinís opening try, but what I do know is that their and Blinís second came from a lineout in our 22 inexplicably given to Stade when they had kicked the ball clean out! Olivier Sarrameaís first of three scores completed the first half scoring in the 30th minute.
The second half got worse as the hosts scored another 4 tries, and after only 49 minutes we went to uncontested scrums as Matt Thompson and David Wilson came on for the injured Micky Ward and James Isaacson. Wings Poulain and Arias scored for Stade, before Matt Burke finished off a crossfield move for a consolation try in the right corner, but failed to convert.
We threw on Epi Taione, Mathew Tait and Luke Gross to try and make a fight of things but when the former was sin-binned for what in many peopleís view was a perfectly legal tackle which happened to leave an opponent spread on the deck, Stade scored their final two tries, both by Sarramea to complete his hat-trick. Only their failure to convert the final score denied them 50 points, and fortunately for us, the referee played no injury time before blowing for full time.
After the match fans and players applauded each otherís efforts but the disappointment was clear.
It was the same things letting us down as against Bath - ill discipline and a failure to change tactics once it became obvious that the kicking game wasnít working. Our forwards won too little ball, and mistakes in the backs wasted a lot of what we did have. Having said that, Stade were a very good team who stifled our attacks effectively and look like they will take some beating.
But there was still the night to enjoy at least. Back up to the Montmartre district, we sang on the Metro with Lincolnís Lashers, Tracywilko and the DGNTRs, and had a steak dinner before heading for OíSullivanís bar which had been taken over by Geordies for the night.
Players and fans mingled easily, friendly and on equal terms - we might expect this but we must be grateful and not take it for granted. Top marks go to Epi for apologising for the result - not because we wanted it (we told him it was unnecessary), but because it showed he cares about the fans and the club. Tom Mayís views on footballers might also find some sympathy amongst those one-eyed rugby-obsessed nuts at KP.
Then it was back to the hotel for a last few before whatís now bedtime. Bon nuit!
Sunday April 3, 16.05 (BST), in the car to Newcastle.
After getting lost on the way out of Leeds airport, weíre now halfway home on the M1 north.
Our trip to CDG airport this morning threatened to go pear-shaped when some guy on the Metro explained that there were no trains to the airport because of strikes, so we changed near the Stade de France to catch a bus (of course, he hadnít known where the bus stop was), but there was actually a train, although it seemed like one of those hourly ones Transpennine throw on when their staff walk out. Still, got there in plenty of time, and with Ian Peel stowing away discreetly on the flight, landed in Leeds just before 3pm.
So the weekend will be over soon, and apart from the match result itís been fantastic. A big thank you to everyone we met in Paris, everyone whose company and craic contributed to our great time. I hope we did the same for you. And though the result didnít go our way, well done to all fans for keeping their voices up right until the end. Big thanks also to the team for getting to the quarterfinals and giving us all the opportunity to have this brilliant weekend away.
We now have the benchmark for the atmosphere we have to try to produce at every game. We have to show everybody, our own boys and everyone else, that we are a group of fans united by one thing - a shared and unshakeable belief that although our team doesnít always make us happy, they do always make us emotional and, in our own minds, we support the ONLY team worth supporting.