Big Metal Thingy 2005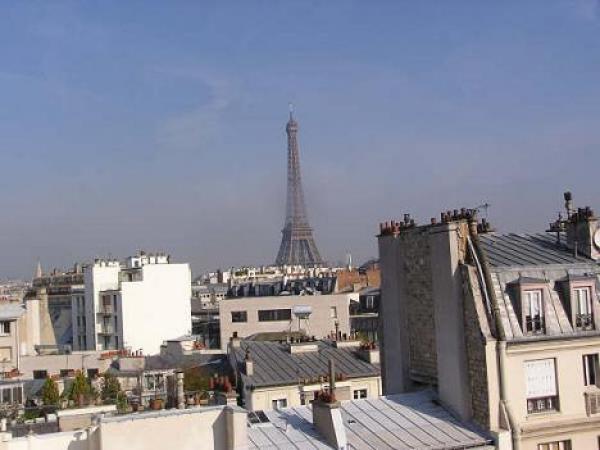 By Mark H
April 7 2005
It started off as a joke. Back on 21 January, when we were all working out whether we were going to Paris and where we were staying, I posted this on the message board:-
"Well, it looks like the Northampton-soon-to-be-Milton Keynes branch (membership - 2) may well be doing a day trip…",
and with no-one else posting on the thread after me for two days, I followed it with:-
"...or alternatively they will be travelling on a Friday Eurostar and coming back on Sunday. All for a meet at the Eiffel Tower on Saturday morning?"
Just a casual comment on a message board had become a fast moving object by the Gloucester game - unbeknown to me, plans between friends had been taking place for three weeks, and after some discussion about the time, we (being Monkey1 and I) decided to announce our intention to have a get together on this site the following week - Eiffel Tower, midday, Saturday 2 April.
There then followed a month of trepidation. Would anyone turn up? Even though we had heard that over a hundred supporters had committed to it, there were no guarantees. By the time I arrived in Paris on Friday night, the press release that I had sent to assorted parties had been mentioned on Radio Newcastle, Look North and Tyne Tees, and they'd taken the theme on of it being a Big Metal Thing. Even on Saturday morning, in sight of the Big Metal Thingy, I still thought that there'd only be about ten of us there. Standing right under the tower at 11.55, I still wondered where everyone was.
And then I saw the throng, just near the gardens. People had turned up, every one as important as each other, but who also included Dawn Thewlis and the Tyne Tees team, and Jeff Brown and his Look North bunch (a personal massive thanks to them for the publicity and for following it up).
Enough of words, they can't do justice to the pleasure I felt in seeing people there. What follows here are some of the photos of the gathering. I haven't named anyone but myself and Lom (because you've seen us before). If you want to come forward and "out" yourself, feel free.
And thank you.
1
2
3
4
5
6
7
8
9
10
11
12
13
14
15
16
17
18
19
20
21
Lom (and others)
22
23
24
25
26
27
28
All pictures, as always, are the copyright of the individual photographers and www.falconsrugby.co.uk. Thanks to Leipziger, TracyWilko, FalconInWales, and Monkey1 for adding to the photos that I took.
Of course, if anyone's got any more pictures or stories, e-mail them to me at markhazell270500@aol.com and I'll put them on site.