Lashing Avec Lincoln - Paris, Avril 2005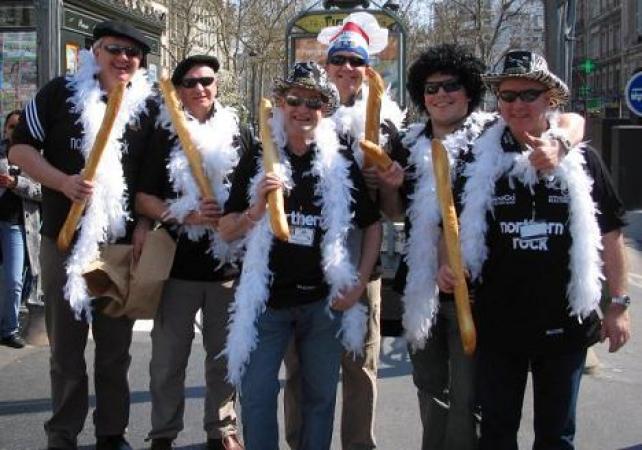 By Kev Boyle
April 10 2005
After negotiating Perpignan, Kev Boyle takes us through the adventures of the Lashing With Lincoln Posse in Paris. Or at least what he can remember.
The Paris posse for this latest Lash with Lincoln consisted of John, Ian, Joseph, Alan, me, and a new debutant Mark.

For some strange reason that now eludes me, having got to "Durham Tees Valley" well in advance of the flight, and being first into the bar, somehow or other we didn't quite manage to be first in the check-in queue. Fortunately BMI Baby don't operate the "rolling maul seating policy" of EasyJet and RyanAir and as we'd pre-booked seats all was well. After a quick flight to Paris, and despite using a pre-booked minibus, we took longer to get from CDG to the hotel than we had spent in the bar at Teeside. This was entirely down to the incredible Paris traffic. Mark got us all laughing when we appeared to be lost by leaning out of the bus window and singing to a passing pedestrian "Show me the way to Trocadero" to the Tony Christie tune. The jams were appalling but even the seasoned travellers amongst us were shocked by the total lack of road markings that make the Place de l'Etoile such a nightmare, but we went straight through the middle of it, and we lived! Then via the Arc de Triomphe, the Trocadero, and Blackpool Tower, we were there. All in all not too bad a start!

We eventually got to the IBIS Cambronne at about 1930 on the Friday night and I must say it was most disconcerting being approached by lots of people whom I've never met before asking me if I was Kev Boyle. In circumstances like this my normal response is "who wants to know" or "why, does he owe you money". In this case it was several other posters (Workie Ticket for definite and Happy Hooker and DGNTR I think) and Louise from the Gosforth-clan came up to me and actually apologised that her party hadn't managed to suss out a local hostelry with the necessary pre-requisites that I'd (jokingly) stipulated in a recent posting.

[I'd said it was the duty of touring falcons advance parties to find a bar which had very cheap beer, lots of nice attractive things to look at, had very good local French cuisine (again cheap), and on top of this, be within easy staggering distance of the hotel. (As if anyone finds staggering difficult)]. Though, I must say Louise and her clan appeared to have had a happy time surveying the local bars. It must have been hard work though as quite a few were a little tired from their efforts and seemed quite emotional. Hats off to you all guys, it was great meeting you!!

After a couple of beers catching up on the local craic we rounded up the posse (now including Michelle and Michael, and Nigel and Pat), wandered around the corner and found a decent little place for scran, yet more beer, and several bottles of a decent little Cote du Rhone if I remember. From this point onwards it becomes a little blurred but most of us turned-in around midnight, and didn't stay-up playing dubious drinking games and losing an argument with several bottles of Vodka…… unlike I some I could mention. But what goes-on on tour stays on tour – well most of it anyway.

At breakfast next morning, I must admit to having the privilege of hearing one of the funniest comments I've heard on a "Lashing" trip – and I've heard a few. Alan, Mark and I were just debating where we would visit that morning (for some cultural stimulus) when one of the posse appeared (don't worry no names, no pack-drill Joe) and flopped into a chair, nursing a major Vodka-induced hangover. Now dear reader I will ask you to imagine a Dublin accented answer to our question about how well he felt.


"I'm as sick as a small hospital" began the reply.

There may have been more but it couldn't be heard above the whoops of laughter as we rolled around the floor, unable to breathe, let alone listen. As you can imagine this became the catch phrase for the rest of the trip.

We got the Metro up to Abbesse and walked up the hill toward Monmartre, and savoured the view. Inside one quite delightful little bar we decided that not just Ian and John should have the right to wear silly hats, and Mark and Alan were despatched to buy French berets from one of the numerous cheap gift shops. I'm still not clear about how I ended up with a cheesy white chef's hat. Feeling quite proud of this "new look", and posing for a photo taken by a strangely bemused customer in the bar we again fell about when Joe swanned-in with a white feather boa, and when he'd sufficiently recovered Alan went out and bought the other five! Later on we accessorised (surely this can't be a verb) our new matching outfits with some of the biggest baguettes we could find. Sartorial elegance! It's what Lashing's all about!


Now when we found this nice little corner bar in Monmartre and we'd had a couple of beers, and what with the sun beating down from a cloudless sky, I must admit the thought of flogging across town to get to the ground early didn't really seem that attractive. The plan for "getting nearer" so we would have stacks of time for something to eat somehow slipped off the radar. So instead we had another beer and sang with Little Tony.

"Little who?" I hear you ask!

Well, let me tell you! "Little Tony" was small - about 4ft 6in, he was dressed in an ill-fitting white suit, and if you describe someone who squeaks in a falsetto voice as a singer, then he was a singer. So we sang and we managed to gather quite a crowd and entertained (I use the term loosely) the passers-by with various renditions of Blaydon Race, Keep yer feet still Geordie Hinnie, and Amarillo. But we had to leave LT squeaking away like a little white mouse and we headed down hill toward Pigalle, and boy did we go downhill!!

You'll have to ask one of the others why we decided to wedgie Ian.
I don't know why we did.
But the fact is we did and it was seriously funny, a literal fall about laughing (and it wasn't even two o'clock by this time). So in order to find a loo so that Ian could check that what needed to remain in his trousers was still there, and what didn't had been removed, we found a little bar and, correct me if I'm wrong but we probably had another beer.

After showing Pigalle our "New Look" and allowing Ian and Joseph to see WHERE NOT TO GO after the match, we bought our baguettes and joined the thong in the tube. At the ground we got a great reception when we approached Dominici's Bar. The atmosphere was electric with loads of Falcons and loads of singing; and a couple more beers; and Dianne showed us how to tie our Boas correctly and to sashay them over our shoulders "like a lady" (think "Little Britain"). We had a great time and met loads of fans.

[If anyone can explain what those Southern guys in the pale pink-hooped shirts were all about then please do. I only know it was unpleasant and tacky and I was pleased when we all got into the ground safely].

WOW! What an atmosphere inside the ground. Despite us being out numbered 42000 to 3000 we tried our best and gave it our all. Don't worry, dear reader, I'll not go into detail about the reason behind our hammering. These postings on the web site are meant to be funny. Suffice to say we were "sicker than the RVI" afterwards and it took us a good hour after the final whistle to come up with the definitive denial.

"We were robbed in the last minute by a bent ref who awarded them 48 points in injury time otherwise we'd played them off the park and we should have won 8 - 0". Or something like that…..

So "Plan C" swung into force. [For new readers there are three post match plans – Plan A being Win and get bladdered; Plan B Draw and get bladdered, Plan C Lose etc). However, assisted by DGNTR and Toon Fan Both Balls, we roundly whupped a carriage full of Stade supporters in a singing contest on the way back to town, so having won something after all we reverted to Plan A. Though I say it myself our repertoire was superb. The depths of the Stade fans' humiliation was plumbed when they ran out of tunes and resorted to a Christmas carol of all things. So we girded our loins (and tonsils) and finished them off with a left-right-left combination of "Baa Baa Black Sheep", "Frere Jacques", and "Show me the way to Trocadero". The latter delivered with superb timing as we pulled into that station, and the doors opened, and we poured out of the train!

With our post-match blues lifted we went back to Abbesse to try and find the bar that the players were going to. Unfortunately only knowing that it was a bar didn't help us find it. But after a pretty decent steak in the earlier "Boa" Bar we found ourselves in a Karaoke joint. (Yeah, I know but just don't ask!). John displayed his usual arm-wrestling prowess, by getting beaten. Though unlike in Perpignan, where the Falcon's owner Dave Thompson had beaten him, here he lost to a young Spanish woman - twice! The singing was about as good as it can ever be in a Karaoke bar with French subtitles, but we joined in all the choruses and had a laugh. It was only after we had seen the pallor of Alan's face (when he'd finally got his round-in) that we realised that after 9 pm the price of beer goes through the roof, though in reality it had already been loitering around in the attic all day. So with the beer indicators hovering on full Al, Mark and I decided to head nearer the hotel.

After pointing out the nearest cash point, we left John, Ian and Joe to have their eyes further opened by the sights and sounds around the Moulin Rouge; and we headed back to the hotel, for a final commiseration with other fellow Falcon fans, and some much needed sleep.

Sunday morning was another glorious day. Ian amused us all by trying to remember where he'd left his much-travelled Zebra-Skin Stetson, (an expensive loss that hat Ian!). Joe had been good enough to try to help Ian find it too! They think they might have left it in the most expensive Taxi in Europe, but unfortunately they hadn't got a receipt for the ride so couldn't ring back.

We all had a wander towards the Musee d'Orsay and around the Big Metal Thingy; had a pretty decent lunch in the sun; and before we knew it, we were in the minibus to the airport. It must be our luck but somehow we got the only driver in Paris who didn't know where he was going. It was only after we'd told him we were going in exactly the wrong direction that we made any progress towards CDG. For a while we shared the Peripherique with every other person in Paris who has a car, but got to the airport with an hour to spare.

If anyone knows a worse airport than Terminal 1 of CDG then they have my sympathy. Thankfully we didn't have to wait too long, the flight was on time and after one last rendition of "Trocadero" we bade "Au revoir" to Paris.

All in all a good trip, and Paris was fine, though hellish expensive. The Parisiennes were warm to us and we saw no trouble at all but I much prefer the smaller away venues.

Anyway if we carry on playing like we are we'll be sure of some out of the way place in the Parker Pen next October. We'll just have to wait and see!!